I fear I might be getting a call from Child Protective Services (CPS). After Apple (AAPL) fan boys and girls read this article, many of the most ardent will likely consider filing abuse charges against me. Why? Because I opted against putting AAPL in the custodial brokerage account I opened for my daughter last week.
In the coming weeks, months and, I hope, years, I will track the portfolio I set up for my 8-year old here on Seeking Alpha. A few points, for the record. First, we have other accounts set up with her in mind. Second, she pretty much has control over this thing. We came to the initial selections together, but she drove the process. I just answered questions and provided a little bit of direction.
For example, she wanted to buy different stocks each time (we will likely invest monthly on a scheduled basis with other random purchases thrown in between). I told her that it might be best to stick with three to start, keep an eye on them and build a watch list of several others.
Why No Apple?
When introducing your kid to the stock market, I feel like you need to make the process fun, but, at the same time, put across a casual seriousness that drives home the power of methodically investing money. That's why I had to politely steer my daughter away from the idea of buying three or four different stocks each month. With this philosophy as a guide, I also think it makes sense to use at least some hybrid of Peter Lynch form.
So, alongside a discussion of Lynch, I refreshed my daughter's memory on topics such as profits, growth, dividends and risk. It's somewhat remarkable how well she "gets it."
The first two stocks she said she wanted to buy - Pandora (P) and Apple. After acknowledging how much she enjoys using Pandora, we talked a bit more about risk. I let her know that I already have quite a bit of exposure to the stock (FYI- my cost basis is down to $11.13, after picking up shares sub-$10.00 last week) and did not think it was prudent to add more in another account, as I intend to keep adding to my now-established position. She was cool with that.
Then, she looked to her iPod Touch and wanted to buy Apple. I explained to her that I like the idea, but then I showed her the chart. She took one look at it and recognized the obvious. This thing is due for a breather. Additionally, I am not a big fan of getting somebody with a 50-year time horizon into a $600 stock that, at the moment, appears to be powered and momentum-driven by institutions. Those situations often do not end well. One misstep at Apple and it falls hard and fast.
An 8-Year Old's First Three Stocks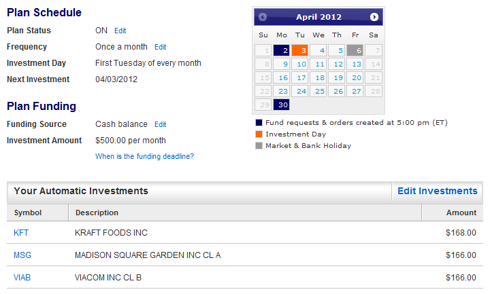 Click to enlarge<
(Click to enlarge)
Our initial plan is to start off with a $500 investment between the three stocks. That hits this Tuesday. The following week, we will split $100 between the holdings. From there, we will do $100 to $200 monthly investments. At times, we will make other purchases between the regularly-scheduled moves.
I will update the portfolio once or twice a month on Seeking Alpha. This will give us the chance to cover a variety of topics, ranging from dollar-cost-averaging and dividend reinvestment to coverage of the companies in the portfolio.
We kick things off with two dividend-paying stocks and two out of my favorite space, media.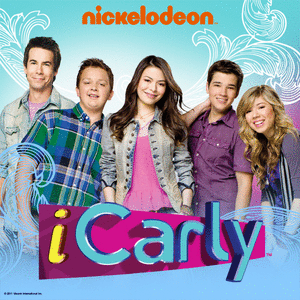 I asked my daughter to use the same thought process that took her to Pandora and Apple to find other companies. That naturally led us to Viacom (VIAB). The media giant counts Nickelodeon among its holdings. You could call my daughter a big fan of the network's hit series, "iCarly". And I am a big fan of VIAB, as a core dividend-paying, long-term position.
While the dividend is nice (presently $1.00 per share) and you could call the company "undervalued" (forward P/E of under 10), I tend to invest on the basis of a "story" that tells me the dividend is more than stable and could continue to increase and that growth has little chance of fading away over the long haul. And, as is often the case in the media, that story focuses in on content. Viacom owns plenty of it and I could see it, as a new wave of media partnerships and consolidation begins to unfold, diversifying further and adding more content.
While other targets certainly exist, our second holding, Madison Square Garden (MSG), would look nice in Viacom's stable. I've got to think that an American company or two will attempt to challenge the relatively tight regulatory environment in the states and go after something resembling the foothold Rogers (RCI) and Bell (BCE) have on multiple areas in Canada.
MSG makes sense because, at least from a regional standpoint, the company controls and/or has access to a significant amount of premium content, particularly the New York Rangers and New York Knicks. That's one thing Viacom lacks - appointment viewing. And, the main point of concern I have with MSG is its seasonality. This past year the company took an even longer and larger hit thanks to the NBA lockout. The work stoppage stunted revenues from many angles, including ticket and concession sales and various types of advertising revenue.
When you consider the gaps in businesses like Viacom and MSG, the notion of them coming together makes some sense.
Kraft (KFT), of course, runs in an entirely different space. With that in mind, we'll save a deeper discussion of the company for a future article. Aside from the dividend and relative stability, I like Kraft because it's really an international play. You might think of Oreos and Macaroni and Cheese as all-American, but the company derives most of its revenue internationally, and that number continues to grow:
We sell our products to consumers in approximately 170 countries. At December 31, 2011, we had operations in more than 80 countries and made our products at 220 manufacturing and processing facilities worldwide. We generated approximately 60% of our 2011 net revenues, 57% of our 2010 net revenues and 49% of our 2009 net revenues outside the U.S.
And here's another relative shocker at Kraft - a pretty swift growth clip:
Net revenues increased 10.5% to $54.4 billion in 2011 and increased 27.0% to $49.2 billion in 2010.
And that's one reason for the decision to spin Kraft off into two publicly-traded companies by the end of 2012. The global business is humming, thus the breaking into two could "unlock shareholder value" and provide one of those spin-off opportunities that I know my Seeking Alpha colleague Todd Johnson keeps his eyes on. Plus, this move should help Kraft continue the process of becoming leaner and meaner, as it continues to consolidate operations and trim the fat heading into the spin-off.
In any event, after the first two weeks of buys take place, I will update the portfolio, focusing on the early days of dollar cost averaging and dividend reinvestment, ahead of the anticipated regular monthly schedule.
Disclosure: I have no positions in any stocks mentioned, but may initiate a long position in KFT, MSG, VIAB over the next 72 hours.
Additional disclosure: I am long BCE, P, RCI. The KFT, MSG and VIAB positions will be in a custodial account set up for my daughter.