"If you don't have time to do it right, when will you have time to do it over?"
- John Wooden
Part 7 (see part 1 and part 2 and part 3 and part 4 and part 5 and part 6)
Click to enlarge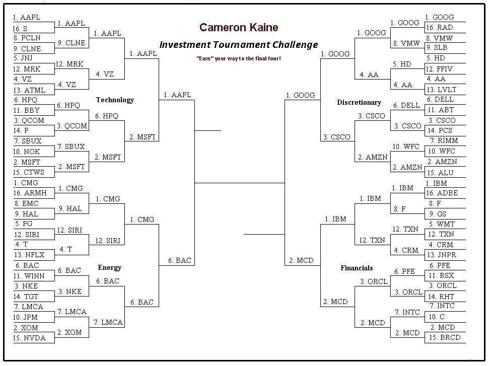 Click to enlarge
Just like in the SEC conference in college football, on any given year, you can pick LSU or Alabama and even Florida against the rest of the field and the odds would always be in your favor. It seems that this investment tournament is turning out as some have predicted. In a game that was much closer than analysts expected, technology powerhouses Apple (AAPL) and Microsoft (MSFT) showed investors that any notion that tech was no longer the dominant sector on the market was completely false.
The Match-Ups
Apple entered as the No. 1 seed in the technology region and so far it has not disappointed. Leading into its elite 8 match-up with Microsoft the company had dominated its opponents by an average of almost 30 points per game. In its third round match-up, it defeated communication giant Verizon (VZ), the No. 4 seed in convincing fashion, by selling 3 million of the new iPads in its first weekend on the market. Just to appreciate how remarkable of an accomplishment this was - one only needs to remember that it took the company 80 days to reach 3 million sold of the original iPad. As fast as Verizon's wireless offense was during the match-up to the extent that it even overwhelmed rival AT&T (T) in head-to-head comparisons, it was just unable to keep up with the demands of Apple's new iPad.
Its 4G LTE network is considered one of the most advanced services anywhere. Users are able to download movies, photos, Apps, games, news and pretty much any content within a matter of seconds. The best part about it is that it is available whenever you want it. I think this is one of the things that perhaps investors have begun to take for granted. But Verizon will rebound from this defeat, there's no doubt about it. Because the company understands exactly what it takes to make things easy on corporate infrastructures. So from an investment standpoint fans have to be pleased that the company is not only investing in its own network but also realizing that in order to remain dominant it cannot afford to rest on its laurels. Unfortunately it just faced an Apple team that appears to be on a mission.
For Apple, as far as its Microsoft match-up was concerned I think any coach will tell you that it was a "wake-up call." While there is a term that says "too close for comfort" teams value the many lessons in things not coming as easy as expected. Microsoft came in with a chip on its shoulder as it realized that it has become the forgotten titan whenever Apple is in the discussion. But is has gotten a lot more respect of late from investors and seems poised to continue. Microsoft started the year at $25.79 and in the first three quarters of the year is has appreciated by 25%. But yet with a P/E of 11 for a tech giant of its stature, I hardly consider this enough respect.
As great as a performance it demonstrated during the game, I continue to think that its biggest impact going forward is going to arrive with its release of Windows 8 as well as the company's cloud strategy - an initiative that has been ongoing over the past couple of years. The company was on a roll as it fought off a surge from Hewlett-Packard (HPQ) in its third round match-up. HP decided to merge both its printing and PC divisions together to bring more synergies to various areas of its operation - these include its procurement procedures, supply chain as well as its assembly line processes, just to name a few. IT did this as a way to overwhelm Microsoft's offense but unfortunately it was not enough.
For Microsoft, as noted, with a P/E of 11 the stock continues to be significantly undervalued from an investment standpoint and a price of $35 to $40 should be considered easily attainable by December.
What's next?
For Apple, as the tournament's No. 1 overall seed, making it this far should not have come as a surprise. The company however understands that things are now only going to get a bit harder and nobody is just going to hand it the trophy. It started last week at price of $596 and then surged to as high as $621 only to see its share price fall back to close at under $600 for the week.
The company is due to report its second quarter earnings in approximately three weeks and fans are eager to see what magic numbers it reports to continue its recent trend of defying logic while demonstrating that high expectations are only as high as the company's imagination allows. It is precisely this level of success that has caused the stock to have already appreciated by almost 50% this year alone, helping it achieve its No. 1 ranking as the world's most valuable company.