Kirby Corp. (NYSE:KEX) hauls cargo, and the only curbs are riverbanks. The company is the largest inland tank barge operator in the US. Its fleet, operated by subsidiary Kirby Inland Marine, consists of about 900 barges and more than 240 towboats. The vessels are used to transport liquid bulk cargo such as petrochemicals, crude and refined petroleum products, and agricultural chemicals. Exxon Mobil affiliate SeaRiver Maritime accounts for about 12% of Kirby's sales; longtime customer Dow Chemical accounts for about 11%. Overall, marine transportation generates more than 80% of Kirby's revenue. The company also is a leading provider of diesel engine services for marine, rail, and industrial customers.
Kirby has done well over the last 5 years, going from a low of $10.20 to a recent all time high of $42.40 (prices adjusted for a 2 for 1 split in 2006). While it hasn't been without a few small downdrafts, the stock has performed admirably and fairly consistently. Now, can it keep haulin'?
Earnings are increasing at a respectable pace. In 2004, they were 99 cents a share. Then in 2005, they went to $1.34, followed by $1.79. This year analysts are looking for $2.15, then $2.40 next year. Over the next 5 years, they're predicting growth of 12.5% a year, on average while revenues ramp at a rate of 8.5% a year, on average in the same time period.
The main reasons for improved earnings are price hikes, better operating efficiencies from added horsepower, and a strong agricultural market. Countering these positives are crew wages increasing and higher training expenses. Still, operating margins should improve as strong demand is currently seen in oil, petrochemical and fertilizer shipments. In fact, revenues would grow even more rapidly except for a labor and tugboat shortage at the company.
In pricing, spot rates are about 20% higher than a year ago. Long-term contracts are being boosted by 4% over last year, and shorter term contracts are up 7% - 9%.
Other numbers: The company is increasing its capital expenditures this year to $155 million, $16 million more than last year. Fleet capacity will increase by 30 barges. Seven more towboats will also be added. Net profit margin is 10%. Current assets are about 1.7 times current liabilities. Revenues were $984 million last year, expected to be $1.145 this year and $1.250 next year. There is no dividend. Market cap is $2.0 billion with 53 million shares outstanding.
So how exciting is all this? Not very. While demand is high at the moment, this business is like every other: it runs in cycles. If gas were to come down in price, some of the tonnage would certainly travel over highways. That's a big if, but it's an example of factors that can influence Kirby over which they have no control. The next few years appear to be very good ones for Kirby, but beyond that, the crystal ball gets pretty fuzzy. Still, the stock doesn't have a lot of fluff in the price so expectations aren't very high. A good acquisition or better than expected earnings could be a catalyst for a short term boost.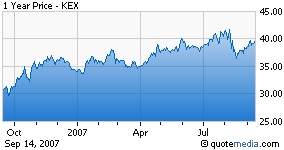 Disclosure: none