"I asked a ref if he could give me a technical foul for thinking bad things about him. He said, of course not. I said, well, I think you stink. And he gave me a technical. You can't trust 'em."
Jim Valvano
Part 8 (see part 1 and part 2 and part 3 and part 4 and part 5 and part 6 and part 7)
Click to enlarge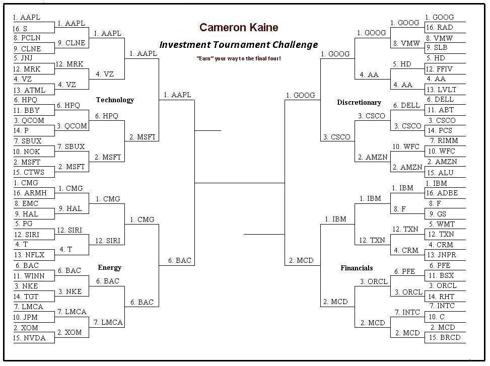 Click to enlarge
As this investment tournament continues, one thing that investors can always trust is that search giant Google (GOOG) will keep on playing as well as it has since the season started. As the No. 1 seed in the discretionary region, Google used a dominant mathematical search algorithm to overcome the surge of Cisco (CSCO), the No. 3 seed in route to its first ever birth in the Final Four where it is expected to face the other No. 1 seed IBM (IBM) out of the financials region.
The match-up
Google continues to be one of those technology teams that are just hard to read. Sometimes I'm not exactly sure that it understands its own identity or its dominance. But for as prolific as it has been in several scoring categories it did reach a rough patch recently where it seemingly did not put together enough of an offense to dominate its opponents as fans expected with its Q4 full year earnings results - a report that prompted its shares to drop 9% after the release and falling below its $600 average, although it has since regained that level (and then some). Though Google won the game against Cisco, analysts were concerned that the company allowed Cisco to remain competitive. In other words, the margin of victory was not large enough.
But fans are overlooking the fact that Google reported the highest revenue total that it has ever had in a single quarter at $10.6 billion. This was an increase of 25% year-over-year. It seems the concern for analysts was what it reported net revenue of $8.13 billion versus the expected $8.4. It seems that it didn't matter that the company would likely have met expectations had it not been for a deduction in advertising commissions. To be fair, the company did disappoint in its profit growth numbers. The concern is that Google is spending too much money by virtue of the 35% increase in operating expenses.
But Wall Street often forgets that it costs money to grow - particularly as Apple and now another technology bellwether Amazon (AMZN) strive to secure the remaining pieces of the mobile devices market. This was indeed an area that Cisco felt was a weakness and tried to exploit. To combat this threat, Google has been on a mission to maintain it leverage by hiring more aggressively, spending more money on its marketing campaigns as well as making several key acquisitions - one of which being Motorola Mobility(MMI) last year.
For Cisco, the networking giant has absolutely nothing about which to be ashamed. It has beaten its last three opponents, including rival Dell (DELL) as well as the aforementioned Amazon in convincing fashion by rededicating itself to its core competency - and that is in its routing and switching business. I say rededicate because it is no secret that Cisco did lose some focus recently. But I think it is fair to say to fans that the company is back and it is once again ready to compete for market share against rivals such as Hewlett Packard (HPQ), Juniper (JNPR) and F5 (FFIV). Cisco is not only focused on the now, but the company is also focused on the future, particularly as it relates to the growth potential of networking/data demand going as far as into 2016.
Although this time it has fallen to a much more dominant team in Google, Cisco has operated in such a more efficient way that the company is now well positioned to grow its business while also tackling new markets. From an investment standpoint, I definitely rate the company a buy at current levels. With the stock now trading right at $20 and a relatively small P/E of 15, it is clear that Cisco is not being valued as the tech bellwether that it is. The company will likely see a $25 - $30 price tag at some point during the year.
What's next?
Remarkably for Google, even at $640 the stock remains relatively cheap. Even with a P/E of 21, when one considers its true growth potential and the fact that it grew the past three years under significant market and corporate pressures, it is easy to expect bigger things in less strenuous economic environments. A price of $700 at some point this year is not out of the question, but will it be able to get past No. 1 seed in IBM to make it to the championship match-up against favorite Apple (AAPL)?