I take a lot of junk and some good-natured ribbing from dozens of cats who think I am nuts to be long Pandora (P). While I do not wish to ruffle the feathers of that debate here, the discussion does bring up a topic of considerable importance to investors.
Is there ever a place and a time for averaging down?
When you "average down," you buy a stock at a lower price(s) than your original purchase/cost basis in an effort to bring that cost basis down, ultimately getting it closer to the stock's market price.
In this article, I show how I have done this with my position in Pandora. Then I discuss the merits of averaging down, arguing that its worth ultimately depends on the stock; your objective, not emotionally-driven outlook; your risk profile; your time horizon; and the amount of space the position takes up in your portfolio.
I own just over 191 shares in Pandora. Over the next few months, assuming no material changes at the company or on my end, I intend to build the lot to a point where it makes sense to use options in conjunction with the position.
Here's how I got to where I am now with P: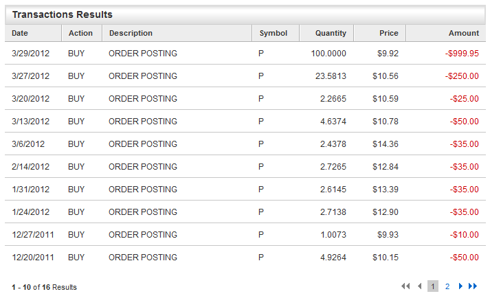 (Click to enlarge)
I bought P for as high as $15.16 and as low as $9.92. I stepped up the level of last week's buying with an unscheduled purchase when the stock breached $10.00. From the moment I got into a position in this stock, I, barring some major change in Pandora's long-term story, committed myself to it. I believe in the company's future as it redefines "radio" and snags a meaningful share of exponentially growing mobile ad revenue.
Additionally, I have a long-term time horizon both on the stock and with regards to when I "need" my money. I allocate a good portion of my aggressive dollars to Pandora, but it takes up a relatively small percentage of my overall portfolio.
When we do debate the merits of Pandora as an investment on Seeking Alpha, it often takes place with Sirius XM (SIRI) longs. For as much as we hammer one another over our differences, some similarities do exist between today's P long and yesterday's SIRI long. While Pandora has not been left for dead on the verge of bankruptcy, it does bear the brunt of a similar level of bearishness investors directed towards Sirius XM when its future was under scrutiny. Not a perfect comparison, but likenesses do exist.
I genuinely would like to hear from SIRI longs with their stories of how they managed their position in the stock when it seemed the company was slated for extinction. While I am sure a good chunk of longs got in at or near the bottom, looking at the long-term chart, I have to imagine several had a decision to make: Do I bail and take a loss or do I average down? So, if you, at one time or another, had a high cost basis in SIRI, what was it? And what made you decide to take on the risks associated with averaging down? As SIRI looks to test its all-time highs, has your move paid off yet?
(Courtesy of Yahoo Finance)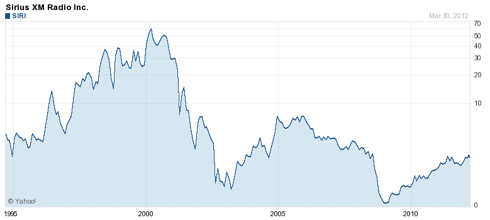 (Click to enlarge)
A fine line stands between following your conviction or buying when others are afraid and making an investment on the basis of emotion and a hope and a prayer. While it's almost impossible for most humans to eliminate the latter, particularly emotion, from the equation, making an investment that goes against the grain can bring rewards if you're correct, but also patient. When things get hairy, however, it can feel next to impossible to be patient.
Consider Netflix (NFLX) last year from the standpoint of a bear. I got shook out of several long-dated put positions as the stock powered higher and higher, ultimately topping out at over $300. Every new 52-week high felt like it had to be the last. I was not necessarily impatient, but, in all honestly, I was "scared." Not terrified and about to cry scared, but concerned that I was throwing money away on a trade I wanted to see work out, not one that I absolutely knew would.
Throughout 2011, I often urged caution in relation to going short or buying puts on NFLX. Bears, including myself, continued to get run over by the stock's misguided momentum. If, however, bears bought a long-dated, OTM put at every perceived top many would be much wealthier for averaging down the cost basis on those option
contracts.
On NFLX, SIRI and P - in certain situations - I can see the reasoning behind averaging down. There are times, however, when investors simply refuse to chalk up being wrong as the cost of doing business in the stock market. Even when they stop believing in a company's prospects, some investors do everything they can to salvage a losing position. You've got to check your original convictions and the emotional tendency to rationalize them at the door as you contemplate making the decision to buy what everybody else considers a horrible investment.
Disclosure: I am long P. I am long NFLX June $40 put options.