The Danish Economy

Denmark is a Nordic country with seventh-highest per capita income in the world. It is a member of European Union but remains outside the eurozone. It has frequently been called the happiest country in the world and has a very level of income equality. It is one of the least corrupt nations as well. However, it has very few natural resources and depends largely on human capital. Denmark has a large welfare system for its citizens and has relatively high taxes (corporate, VAT, excise, income) to fund these programs.
The economy of Denmark is relatively small compared to some of its other European neighbors like Germany, France and Sweden. Additionally, not many companies are listed on the US exchanges. My favorite Danish company - Lego - is unfortunately private and not listed. I was a bit surprised to find few investment-worthy companies from Denmark. In this article, I present stocks that can be bought on the US exchanges and are worth of closer inspection for investment opportunities. My personal goal is to diversify my portfolio globally. I want to be significantly invested in foreign stocks and not just US companies that get a portion of their sales from abroad.
Dividends as Stock Screen
I firmly believe that dividends are real cash and hard to fake. They are paid out of positive cash flow and while accounting gimmicks (and even fraud) can be used to window dress earnings per share, dividends are typically honest. I use inconsistent dividend history and/or big cuts to exclude stocks. I prefer stocks with increasing dividend amounts in native currency. I do understand that the US dollar amount may vary due to conversion rates but since I don't use dividends as income that does not bother me at all.
I have included a simple chart for each company that shows the kr. (DKK or Danish Krone) dividend amounts. I was pleased to find that almost all companies have an English website with easy access to Investor Relations section. Some companies make it straightforward to collate dividend history while for others I had to sift through previous annual reports in PDF format. The latest dividend distribution and yield is quoted in US dollars.
Withholding Tax on Dividends
Norway withholds tax on dividends at the rate of 15% for US-resident investors though for other non-resident investors the rate is 27% (recently reduced from 28%). An individual investor can file for tax credit on Form 1040 if the shares are held in a regular brokerage account subject to certain limitations. Amounts up to $300 ($600 for joint returns) can be claimed directly on the 1040 but greater amounts or carry-forward/backward requires Form 1116. If the shares are held in a tax deferred account like IRA or 401(k) then there is no mechanism to recover the withholding foreign tax and is lost thereby reducing the effective dividend yield. As always, consult your tax advisor on all tax-related matters since each individual case is different and I am definitely qualified to give tax advice.
A.P. Moller Maersk (OTCPK:AMKBY)
A.P. Møller-Mærsk is a conglomerate with primary interests in transportation and energy sectors. It is one of the largest container ship and vessel operators in the world. Its biggest unit by revenue is Maersk Line that operates 550 vessels. The group also operates tankers and APM terminals. Finally, the group has interests in retailing and operates Dansk Supermarket.
The group revenue increased for 2011 but the profits came down substantially due to low container freight rates. The dividend per share is proposed at DKK 1000 which is the same as 2010. The group had losses in 2009 and the latest EPS is still much less than the EPS for 2008. As such, I am not willing to invest in the stock right now but am going to add to my watch list since I believe that global trade will continue to increase with time and entry barrier to this business is pretty high. The latest dividend amount is approximately 36 cents per OTC share priced at $16.25 which gives a yield of 2.2%. The P/E is 12. In spite of the fall in 2009, the 3-year dividend growth is 15.5% and 5-year dividend growth rate is 12.7% - both very attractive numbers.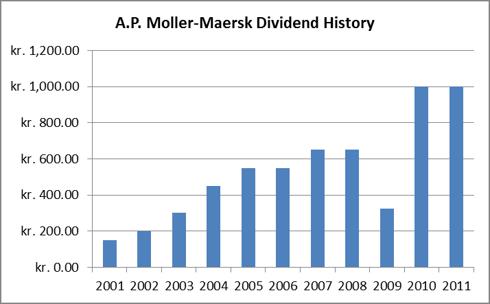 Coloplast A/S (OTCPK:CLPBY)
Coloplast is a medical care company. Coloplast's business includes ostomy care, urology and continence care and wound and skin care. Coloplast has increased revenue and profits every year for the last 5+ years. The company has increased the dividends at a very fast pace. The latest increase is 40% over previous year and the 3-year dividend growth is 32.6% and 5-year growth is 28.5%. The current dividend yield is low at 1.5% and the P/E is relatively rich at 22. The company is a niche medical segment and growing nicely. It is definitely worth further investigation and potential investment on dips. The investor relations website has a lot of useful information including access to 5-year history as well as cash flow details in the annual report, all in English.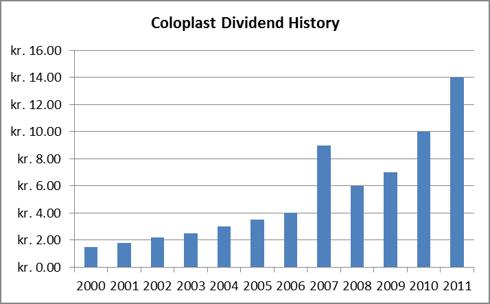 H. Lundebeck (OTC:HLUKY)
Lundebeck is another Danish pharmaceutical company working in a niche area. It focuses entirely on brain disorders - making drugs for treating depression, schizophrenia, Alzheimer's, Parkinson's, Huntington's, epilepsy and insomnia. The revenues have been growth at a slow and steady rate over the last few years though EBITDA margins have come down even while the cash flow per share has increased. The latest P/E is 9.5 and the dividend payout ratio has been kept constant at 30% over the last decade. As a result, the dividend growth hasn't been very consistent though still quite attractive - 15% over the last 3-years while the 5-year growth has been 17.3%. The current yield is 3.1% based on proposed dividend amount of $ 0.63 and the latest price of $20. I think there is some advantage to being a small focused medical care company compared to the mega pharma companies facing patent cliffs and propects of declining revenues and profits. There is always the possibility of mergers and acquisitions though given their independent status for decades, I doubt that would happen.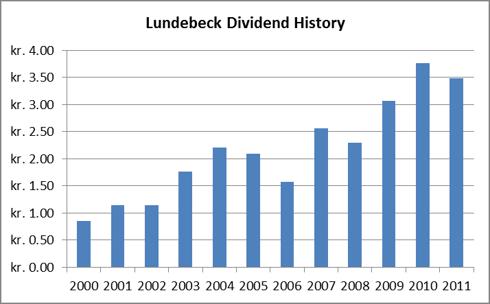 Novo Nordisk (NVO)
Novo Nordisk is the third pharma company from Denmark and perhaps the most recognized stock from there. It is the world's leading diabetes care company along with leading positions in hemophilia care, growth hormone therapy and hormone replacement therapy. Novo Nordisk is also beginning research in autoimmune and chronic inflammatory diseases using new technologies. The company is widely followed in US stock investing circles including Seeking Alpha contributors and forums. The company has been growing revenue and profits nicely over the last few years. The dividend growth is as good as it gets - 1-year growth of 40%, 3-year growth of 32.6%, 5-year growth of 32%. The 2011 operating profit increased by 18%. The P/E is rich at 26 based on the latest annual EPS. The latest proposed dividend distribution will be approximately $2.51 that gives a yield of 1.82%. This is a great stock and worthy of investment especially if it ever comes closer to its 52-week low price of $95. The stock is listed on NYSE and the company has an excellent investor section on the website with a lot of financial details and reports.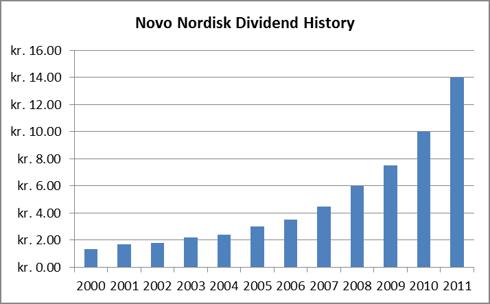 Novozymes (OTCPK:NVZMY)
Novozymes is the fourth pharma company from Denmark. It is a biotech company with a strong focus on enzyme production. In fact, Novozymes has a 47% share of the global market for enzymes. Its other businesses include Microorganisms and Biopharmaceutical ingredients. One of Novozymes' largest focus area is enzymes that can turn starch, e.g., from corn and cellulose into fermentable sugars for the biofuel industry. Annual sales for 2011 increased by 8% compared to 2010. The dividend growth has been super over the last decade with a 1-year growth of 18.7%, 3-year growth of 21.8% and 5-year growth of 16%. The current yield is low at 1.15% only and the P/E is rich at 28 based on the 2011 EPS.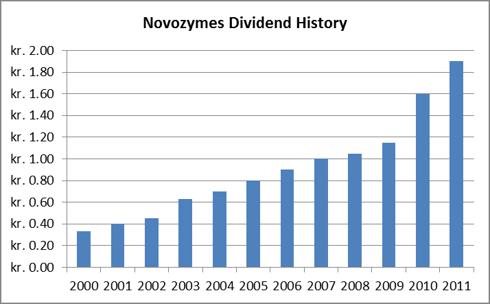 Pandora Group (OTCPK:PNDZY)
Pandora A/S based in Copenhagen designs and markets jewelry. It is a relatively new company that was started in 1982 and listed on the exchange in 2010. It does all its manufacturing in Thailand and manages a vertically integrated business model from in-house design and production to global marketing and direct distribution. The company faced revenue growth hurdles in 2011 after growing rapidly in 2009 and 2010. The share price also fell drastically in 2011 but it appears that the company is taking the right steps to return to growth. The company has a new CEO and is planning to open 200 more concept stores while focusing on growing in France, Russia, Japan and China.
The company has a declared dividend policy of distributing 35% of net profits in dividends. It increased the dividend 10% from DKK 5.0 in 2010 to DKK 5.5 in 2011. This translates into a US dividend distribution of $0.246 which implies a yield of approximately 8%. The balance sheet is strong and debt has come down which should allow the company to open more stores and expand. The P/E is approximately 4 based on EPS for 2011. There may be a significant chance for total returns with this stock (dividend yield, dividend growth as well as stock price appreciation).
Other Stocks from Denmark
I briefly looked at some of the other stocks that can be purchased on the US stock exchanges. Unfortunately, the following stocks did not make it to my short-list. Most got eliminated due to poor dividend yield and/or dividend growth history.
Concluding Remarks
I am a US resident with most of portfolio consisting of US-based stocks. I want to reduce geo-political risks and hedge against declining US economic superpower status. I am slowly selling some of my US stocks and investing sale proceeds along with any new savings into foreign dividend paying companies. What are you doing? Are you looking abroad? Why? I look forward to a lively discussion in the comments section of the article. Unfortunately, I didn't find any super attractive hidden gem from Denmark other than Coloplast. Novo Nordisk is a great investment but everyone knows about it. I will keep looking at other countries and companies.
Disclosure: I have no positions in any stocks mentioned, and no plans to initiate any positions within the next 72 hours.