Looking for utility companies with room for growth can be a bit of a challenge sometimes but I believe we have found one in Sempra Energy (SRE). For a gas utility, one look at its price ratios and little is left to wonder if the stock has value or not. Let's look at its four current ratios as compared with the industry as a whole:
P/E Ratio: (10.7 to 17.2)
Price/Sales Ratio: (1.44 to 2.69)
Price/Book Ratio: (1.46 to 2.62)
Price/Cash Flow Ratio: (6.2 to 9.8)
With a "forward" annual dividend yield of 4% (thank you Morningstar!) Sempra looks like a great low risk buy, even for utility standards. It costs less to make money with the company. It looks to be a better value with a price/book ratio 79% less than the industry, and Sempra is only two-thirds the average of the industry, which allows it to free up its cash.
Citigroup recently upgraded its pricing on Sempra to $65 (presently it is trading at $59.89) and had this to say about the company:
"We believe the historical level of earnings volatility continues to weigh on the stock, albeit, the discount has narrowed by 50% over the last 8 months. We believe sufficient momentum and earnings visibility now exists for SRE to achieve a full industry multiple."
Earnings have recently been adjusted back and sales growth is expected to slow down this year, but we believe momentum will carry the stock higher before it levels out this year. For this reason we would like to take advantage of this movement with a short-term options play.
(Click chart to enlarge)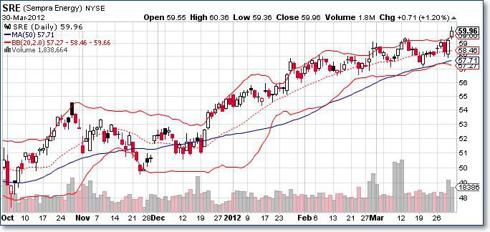 The Option Play
We like a Bull Call Spread here.
Buy October 2012 '60' put (priced at $2.45)
Sell October 2012 '62.5' put (priced at $.90)
Net Debit to Start: $1.55
Maximum Profit: $1.45
Reasoning behind this Trade
The stock currently has strong upward momentum, enough to carry it through our trade.
The upgrade in price by Citigroup is well within our trade zone.
The stock looks like a great value currently.
Sempra Energy is a gas utilities company located in Southern California. Its subsidies include San Diego Gas & Electric Company, Sempra Commodities, Southern California Gas Company.
Disclosure: I have no positions in any stocks mentioned, and no plans to initiate any positions within the next 72 hours.