Array Biopharma Inc. (ARRY) focuses on the discovery, development and commercialization of small molecule drugs to treat patients with cancer and inflammatory diseases. The company has five new drugs and 10 partnerships to develop and commercialize drugs. Array has 260 employees including 150 Scientists & Physicians in a 220,000 square feet building. The company recently raised $56 million in a stock offering to finance research and cover administration costs. Its drug discovery process is one of the best in the industry. It has costs under control and receives income from its partnerships to help cover its research costs (quarterly income and costs).
The Offering
Array Biopharma Inc. announced on February 14, 2012, the closing of a public offering of common stock and the exercise of an over-allotment option at $2.60 a share. It sold 23 million shares of stock for $56 million after underwriting discounts and commissions. Array intends to use the net proceeds from the public offering to fund research and development costs, including clinical trials of Array's proprietary candidates and for general corporate purposes. $56 million is alot of money for a small biotech and it should last a long time.
Array Discovery Platform
The Array Discovery Platform is a drug discovery and development technology to create drug candidates and to conduct preclinical and clinical development. Proprietary software is used to share information across the company and analyse databases of existing drugs to generate new drugs with potential advantages over current therapies. The resulting compounds are tested for safety, efficacy and metabolism to select the best candidates. The company believes that their drug discovery process can significantly improve on the industry's existing failure rate of new compounds. This discovery process has resulted in many new drugs and 10 partnerships for further development.
Arrays' Drugs
Array Biopharma has five drugs in development that have not found partnerships yet. The first drug ARRY-520, a kinesin spindle protein inhibitor in Phase 2 clinical trial for patients with multiple myeloma. The second drug ARRY-614, a p38/Tie-2 inhibitor in Phase 1 clinical trial for patients with myelodysplastic syndrome. The third drug ARRY-797, a p38 inhibitor in Phase 2 clinical trial for pain. The forth drug ARRY-502, a CRTh2 antagonist in Phase 1 clinical trial for allergic inflammation. The final drug ARRY-981, targets GPR119 and is just entering trials for diabetes.
10 Partnerships
Array Biopharma has 10 partnership programs that include many drugs under development. These 10 programs generate enough cash for Array to nearly cover its development costs. Under the current agreements Array may receive over $3.5 billion in milestone payments as development and commercialization objectives are reached. Furthermore, they may receive up to double digit royalties on these partnerships. Their most advanced drug is InterMune / Roche's Danoprevir in Phase IIb development for Hepatitis C. The drug programs are listed below.
AstraZeneca (AZN) Cancer drugs; drug name Selumetinib in Phase 2 development
Novartis (NVS); Cancer drugs; drug name MEK162 in Phase 2 development
Amgen (AMGN); Diabetes; drug name AMG in Phase 2 development
ASLAN; Gastric Cancer; drug name ARRY-543 in Phase 2 development
InterMune (ITMN) / Roche (OTCQX:RHHBY);Hepatitis C; drug name Danoprevir in Phase 2 development
Genentech; Cancer drugs; drug name GDC-0068 in Phase 2 development
Eli Lilly (LLY); Cancer drugs; drug name LY2603618 in Phase 2 development
Genentech; Cancer drugs; drug name ARRY-575 & GDC-0425 in Phase 1 development
Celgene (CELG); Cancer drugs; drug name ARRY-382 in Phase 1 development
VentiRx; Cancer drugs; drug name VTX2337 in Phase 1 development
Array Biopharma's Chart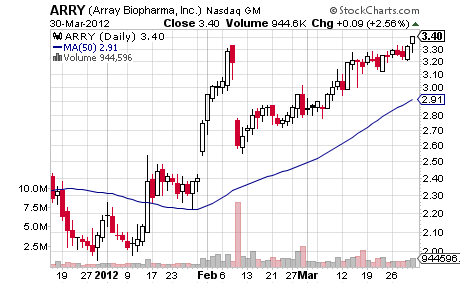 Array Biopharma has been on a steady uptrend since the beginning of January 2012. The uptrend was interrupted by the stock offering around February 10, 2012, when the price briefly spiked down. Since then it has resumed its upward march. ARRY has the potential to continue upwards because it's still a bargain at below $300 million capitalization. The company has 10 partnerships for many drugs and is researching five drugs of their own. Array should also have about $120 million in cash after the recent stock offering.
Disclosure: I have no positions in any stocks mentioned, but may initiate a long position in ARRY over the next 72 hours.