As an avowed dividend growth investor, I regularly scan the declared dividends of stocks to see which companies are serious about raising their payouts. I couldn't help but notice that one sector has been increasing their dividends like crazy the last couple of years: precious metal miners.
Not exactly a sector known for dividends, I know. Dividend investors may be cautious of the highly cyclical nature of miners or simply distrust the sector's commitment to dividends: after all, it has taken a decade long bull market to get these stingy companies to open up their wallets.
Still, in a world where it is easy for the average investor to access gold directly through ETFs, the miners are desperate to attract investors to their stocks and have suddenly got religious about dividends.
I ask you all to have an open mind and let's take a look at the numbers behind a few gold stocks.
Barrick Gold Corp (ABX) is a major gold producer with operations on all five continents. Last year Barrick produced 7,676,000 ounces of gold for a cash cost of $460/oz. They also have largest reserves of any gold producer, with a provable reserves of over 140 million ounces.
Barrick started the dividend party earlier than most of their competitors. They increased their semi-annual dividend to a quarterly dividend and have hiked their payout for five years running for a total increase of 100% over that time.
| | |
| --- | --- |
| Barrick Gold Corp | |
| Dividend Yield | 1.4% |
| Dividend Payout Ratio | 7.8% |
| 1 Year Dividend Growth Rate | 25% |
IAMGOLD (IAG) operates seven mines on three continents and has three more mines in development, with a geographic focus on Canada, South America and West Africa. IAMGOLD Corp produced 967,000 ounces of gold last year at a cash cost of $574/oz.
This mid-tier gold miner has hiked their dividend three times in the last three years for a total dividend growth rate over that time frame of 283%. Their semi-annul dividend has a forward yield of 1.9%, and with a payout ratio of only 5.6% they can easily afford to continue hiking their dividend at a triple digit rate.
| | |
| --- | --- |
| IAMGOLD Corp | |
| Dividend Yield | 1.9% |
| Dividend Payout Ratio | 5.7% |
| 1 Year Dividend Growth Rate | 56.3% |
Yamana Gold Inc (AUY) is a Canadian gold producer with significant gold production and gold development in Brazil, Argentina, Chile, Mexico and Colombia.
Yamana Gold has a record 2011 production of 1,100,000 ounces of gold and is planning on increasing production 60% by 2014. If Barrick was early to the dividend party, then Yamana was the straggler, having only started to hike dividends in 2010. However, they have been raising their dividend with zeal: a 400% increase in only two years.
| | |
| --- | --- |
| Yamana Gold Inc. | |
| Dividend Yield | 1.4% |
| Dividend Payout Ratio | 11.8% |
| 1 Year Dividend Growth Rate | 67% |
Newmont Mining Corp. (NEM) is a global gold and production company, with assets in the United States, South America and Asia. Newmont is significantly engaged in exploration, with over one hundred drill sites.
Newmont has announced a fluctuating dividend linked to the price of gold. Their pay out according to this new method has a forward yield of 2.7% -- downright rich by this sector's standards. If gold were to hit $2000/oz, everything else being equal, Newmont's yield would be
5.3%. See the below table for details: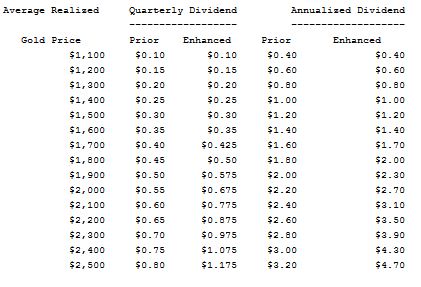 Silver Wheaton (SLW) is a silver streaming company. Since they don't actually own a mine this stock promotes itself as the perfect inflation play: if inflation raises the price of silver, it falls right to the bottom line, without having to worry about increased mining costs.
Silver Wheaton has also announced a fluctuating dividend: they will pay out 20% of the last quarter's operating cash flow. Their first dividend under this policy will be a 300% hike for a forward yield of 1.1%. Earnings are slated to increase for this company by double digits over the next five years, providing potential dividend increases even without a rise in the silver price. Still, the spot price for silver will still be the most important metric for Silver Wheaton.
Conclusion
I believe there is a lot of potential for dividend growth in the precious metals mining sector. For investors like myself that are long in a stock-only portfolio, precious metals equities also offer a bit of much needed diversification.
Please do your own diligence on these or other miners. There are a lot of variable -- production projections, mining costs, etc. -- to consider before making an investment.
Disclosure: I am long NEM.