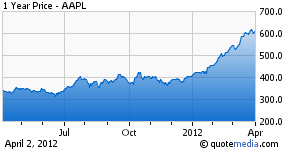 Apple, Inc. (AAPL) has had a great run over the past few months, but unless you are investing for the very long-term, now might be a great time to take at least some profits. The stock has just hit the $600 level, thanks to plenty of good news which includes the recent launch of the iPhone 4S, the latest iPad, the announcement of a dividend and share buyback. Plus, the market rally over the past couple of months has helped push most stocks like Apple higher.
The stock is not overvalued by any means, and it is trading at a price to earnings ratio of about 13, which is similar to the market average. However, after the huge run it has had and with all the recent positive news and product launches, the stock might need to consolidate around the $600 level or even correct a little in the coming weeks and months. Most stocks need time to digest a move after big gains, especially when psychologically significant levels like $600 a share are reached. Here are several reasons why short to mid-term investors might want to consider taking profits and sit on the sidelines for now:
1) Apple shares have had a major run since the new iPad was announced and launched. In fact, some would call the recent move as parabolic. Apple shares were trading around $500 just before the new iPad was launched, and in a short span of time, the stock has tacked on about another $100 per share or about 20%. Based on the current market capitalization of Apple, the gains this stock have made since the iPad was launched are equivalent to about $95 million in additional market cap. The new iPad is an amazing product, but it's very hard to justify nearly $100 million in market cap valuation for what is a just a few new features on an already existing product. Furthermore, some analysts believe the new iPad is not going to meet the lofty sales expectations that the market has set. A recent article states:
"We wanted to highlight something we have noticed of late that gives us pause, and forces us to take the sidelines here at nearly $620 per share," wrote Brian Blair, technology analyst for Wedge Partners, in a note to clients. "We're concerned iPad sales may not be as strong as expectations, and we believe March could disappoint and full year production iPad expectations/forecasts may be pulled down as a result."
2) Everyone seems to love Apple stock now. Even Jim Cramer who was saying Apple was "just another stock" a few months ago, now seems to love it. A bunch of analysts have recently upgraded the stock. Some of these stocks analysts weren't nearly as bullish just months ago when the stock traded well below $400, and yet now many of them are falling over themselves to upgrade the stock.
3) Famed investor Doug Kass has a contrarian view on Apple and he thinks that the stock has downside, after the big recent gains. Mr. Kass is the President of Seabreeze Partners and his track record in
terms of investments predictions has been exceptional. Mr. Kass now compares Apple to where Microsoft (MSFT) was back in 2004, which is when Microsoft (just like Apple) announced a major dividend and share buyback. Microsoft shares underperformed after the dividend and buyback were announced and that could mean Apple is poised to do the same. Mr. Kass believes the stock could quickly drop to $550 or so and he even shorted Apple shares recently.
4) Almost everyone I know already has an iPod, iPhone, iPad and other Apple products. These products have become extremely popular in just the past couple of years. While it's easy to make a case for upgrading an older mobile phone for an iPhone, which is what many consumers have done recently, it will probably be increasingly difficult for anyone who is not an Apple fanatic, or just plain well-off to upgrade from the iPhone 4 to the 4s to the iPhone 5, etc. This could lead to slower revenue growth in the near future. There is a point when the market will be saturated with iPhones, iPads and the like, and that might be sooner rather than later.
5) The law of large numbers could make it hard for Apple shares to make further gains. The company is already the most valuable company in the world with a market capitalization of about $560 billion. Yes, that's over half a trillion dollars!!! Exxon (XOM) is the next most valuable company and it is worth about $404 billion. Keep in mind that while Apple has been growing faster, it has a long way to go before catching up in terms of revenues with Exxon. Apple's annual revenues are currently about one-third of Exxon's.
6) The world is not a safe place and even if Apple executes perfectly, the shares could decline in a market correction. If the markets see a liquidity event, Apple shares could be a source of capital (raising) by investors, hedge funds and institutions. A potential conflict is looming with Iran over it's nuclear program, Europe has not fully resolved the debt crisis and countries like Portugal could be the next Greece. The U.S. also has a growing debt crisis and taxes are scheduled to rise in 2013, under President Obama's budget. This could lead the U.S. back into slower growth or even a recession. With the run that Apple shares and the stock market have enjoyed, and with Apple still elevated from major recent product releases and a dividend announcement, now might be a good time to take some chips off the table.
Here are some key points for AAPL:
Current share price: $599
The 52 week range is $310.50 to $621.45
Earnings estimates for 2012: $44.01 per share
Earnings estimates for 2013: $50.02 per share
Annual dividend: Apple recently announced it would pay $10.60 per
share annually, which provides a yield of about 1.8%.
Data is sourced from Yahoo Finance. No guarantees or representations are made. Hawkinvest is not a registered investment advisor and does not provide specific investment advice. The information is for informational purposes only. You should always consult a financial advisor.
Disclosure: I have no positions in any stocks mentioned, and no plans to initiate any positions within the next 72 hours.