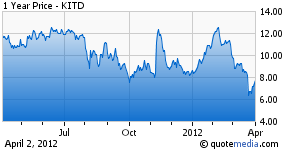 Last week KIT Digital (OTC:KITD) had announced the delay of their 10-K filing. This, along with the changes in the board and management , had sent shares down 25%. Reporting on that we had said:
"So far the management story is plausible. If they can follow up with the 10-K in a timely manner and it has no material change in revenue/net cash the stock may well recover most of its post-announcement losses."
The Good. The company has filed its 10-K as it promised, despite naysayers betting that it would miss the new deadline and keep delaying the filing. KITD's valuation of about 1x forward revenues as a technology company in a rapidly growing space seems unreal so the delay of the 10-K was a significant red flag. One reason the valuation could be unreal is that the revenue itself is unreal or that other significant problems were lurking that would delay the filing. The filing is positive for the longs.
The Bad. As it turns out, an auditing red flag did show up in their recently filed 10-K. Grant Thornton LLP, their New York based major accounting firm issued an adverse opinion on the internal financial controls of the company.
"A material weakness is a deficiency, or combination of control deficiencies, in internal control over financial reporting, such that there is a reasonable possibility that a material misstatement of the company's annual or interim financial statements will not be prevented or detected on a timely basis. The following material weakness has been identified and included in management's assessment.

The Company does not currently have sufficient accounting personnel with an adequate understanding of US GAAP to timely review and ensure that all transactions were reported in accordance with US GAAP."
Understanding the Material Deficiency
How significant is this report of "material deficiency in internal controls" and what does it mean? We have reviewed this here in comparison to a similar situation involving Groupon (GRPN) that also filed their 10-K on Friday March 30, 2012, with a similar issue. The main deficiency for KIT Digital is in "insufficient accounting personnel" with understanding of US GAAP. Kit Digital has been on a buying spree, consolidating its position as a premier provider of end-to-end video management services to content creator and broadcasters. It made 5 acquisitions in 2011, on top of a similar number in 2010, with operations in different countries in Europe, Asia and North America. Some of these companies were large relative to its size and most of these acquired companies were private non-US companies with little need to be in compliance with US mandated accounting standards and controls. Management states it is working to rectify this deficiency by hiring and training additional personnel with the required capability and there is little reason to doubt this unless they are cooking the numbers. Are they?
The Good News Again. The KIT Digital auditors, Grant Thornton, have stated their satisfaction with the financial statements as reported in the 10-K. The statement we were looking for is this.
"In our opinion, the consolidated financial statements referred to above present fairly, in all material respects, the financial position of KIT digital, Inc. and subsidiaries as of December 31, 2011 and 2010, and the results of their operations and their cash flows for each of the three years in the period ended December 31, 2011 in conformity with accounting principles generally accepted in the United States of America."
This is the most significant piece. A major part of the short case was the financials are not reliable. If the financial reports coming from the company are accurate KIT Digital is seriously undervalued.
There still remain a few too many moving parts, including default on debt covenants (that have been waived for now), risk in integration of acquisition and retention of key personnel. There are also related party transactions and deals with the ex-CEO Tuzman who continues as Chairman, including a generous severance. There are some variations in the cash and net income from their original press release. However, the validation of the financial data by the auditors and the filing of the 10-K lifts one big cloud from KIT.
Looking Forward
The company projects revenues between $320 million and $330 million for FY 2012 and "cash-based adjusted EPS" of $1.34-$1.45 a share. How credible are these estimates? We went back and checked the company releases from 2011. In May 2011 the company had provided estimates for FY 2011 revenue of $210 million. With the release of this 10-K, they have certifiably delivered on that promise with final FY 2011 revenue of $214.9 million. Meeting the FY 2012 targets will represent about 30% organic revenue growth. If they continue to show improvement on cash flows and net margin and meet the financial goals they have put out for FY 2012, today's price for the stock at 1x forward revenues and 5-6x adjusted EPS will seem a steal.
Disclosure: I am long OTC:KITD.