TIBCO Software's (TIBX) Q1 earnings, reported Thursday after the bell, underwhelmed investors but likely created a buying opportunity on weakness. TIBCO's earnings beat expectations but the stock had run up handsomely into the report. I've written favorably about TIBCO in the past, when shares were much cheaper (TIBCO Software: A Small Company With Huge Potential).
TIBCO reported Q1 revenue of $225.7 million, edging out estimates of $222.3 million and 22% higher than last year on a GAAP basis. Per share earnings also beat expectations, coming in at $0.20 versus an estimate of $0.19. Gross margin was down year-over-year but both operating margin and net margin increased.
TIBCO Software makes middleware - basically software that allows different forms of companies' software talk to each other. This allows software deployed by one company to talk to software deployed by another - maybe a customer or supplier. As the virtualization of data has created huge databases filled with information, that information needs to be able to cross multiple platforms and be accessible to many people. This is where a company like TIBCO comes in. In addition to creating middleware, the company has its own data visualization software that allows massive amounts of data to be presented in easy, visual form. The software can pick up trends in data that could never be discovered by a human being.
TIBCO's tibbr - think closed social network for corporations - competes directly with Salesforce.com's (CRM) Chatter. Tibbr seems to be gaining share on Chatter in a meaningful way. On the company's Q1 conference call, when asked about tibbr, Chairman and CEO Vivek Ranadive replied "We are absolutely crushing Chatter and the other guys in the market right now..."
TIBCO's stock sold off 6% on Friday, slightly more than the stock was up on Thursday before the report. There was nothing in the report to fret about. Many investors simply decided to take profits since the report was not a blowout. Despite only edging earnings estimates, TIBCO's business is strong. The company, thus far, is not feeling the effects of a European slowdown. If they are, it's simply that TIBCO's cost-saving, efficient products are benefiting rather than being hurt.
When I first wrote favorably about TIBCO, shares were trading at about $24 a share. Shares now change hands at $30.50, roughly 26% higher. Though TIBCO is not a value stock, its exceptional growth and management execution make it a good long-term investment candidate. TIBCO currently trades at nearly 45 times earnings, but only 22 times 2013 estimates. Its price-to-sales ratio is a respectable 5.52. TIBCO has increased earnings at an annualized rate of 14.2% over the last five years.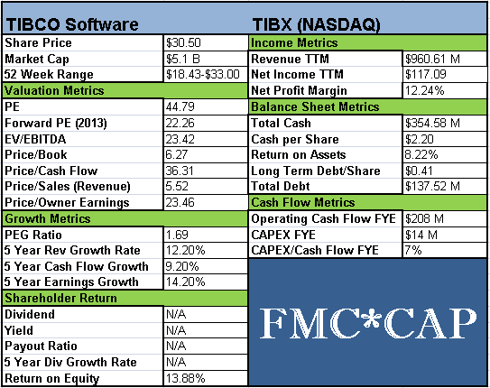 The continued growth in the massive amount of data that corporations, governments, and other organizations need to store, move, and analyze make the future bright for TIBCO. TIBCO holds a competitive edge with its ease of use and speed (what the company refers to as 'the two second advantage). As long as TIBCO remains competitive against the big data players, investors should also have an advantage. Who knows, one of those big guys might think TIBCO is too competitive and make a nice bid - which would also give us investors an advantage.
Disclosure: I am long TIBX.
Disclaimer: Mr. Constantino is a proprietary investor and does not provide individual financial advice. The stocks mentioned in this article do not represent individual buy or sell recommendations and should not be viewed as such. Individual investors should consider speaking with a professional investment advisor before making any investment decisions.