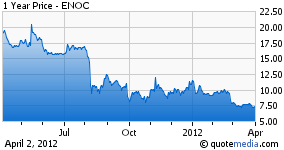 EnerNOC (ENOC), the leader in smart grid management, is currently trading at $7.40, very near its 52-week low and a little over a third its May high of $20.16.
The question for investors is whether this is just a cyclical decline, based on low natural gas prices, or whether the company is in serious trouble.
Let's start with the trouble.
One reason the stock, which went public in 2007, is down is because it missed its last quarterly number and lost a dispute with grid operator PJM over how it counts revenue before the Federal Energy Regulatory Commission (FERC). Wedbush put an "underperform" rating on the stock $2.50/share ago, expecting a drop to $5. The whole smart grid business hasn't lived up to its promises, reported Travis Hoium for The Motley Fool.
Yet Hoium urges patience. EnerNOC claims to have saved $500 million for its customers. (Revenues are running at $280 million/year.) The company continues picking up orders, both in North America and overseas.
While EnerNOC outlasted rival Comverge, recently bought on the cheap, the company is moving to go beyond mere demand response. It needs to. In its current market it's playing a big boy game against Cisco (NASDAQ:CSCO), Honeywell (NYSE:HON) and Siemens (SI), along with Johnson Controls and Schneider Electric.
Perhaps the best news is management is not afraid to pull the trigger on deals it think might enhance shareholder value. The company has done three deals in the last two years, spending about $60 million on acquisitions to quadruple annual revenues.
Such deals can work both ways. Companies can buy other companies, but they can also be bought. EnerNOC's willingness to do deals indicates it could still be bought by a rival that sees current prices as a bargain and might be willing to pay some premium over them.
There are always plenty of reasons not to buy into a company that is trading near its lows. That's what gets companies on the list. But if you're patient, or if you want to bet on a takeover, EnerNOC could be the dog for you.
Disclosure: I have no positions in any stocks mentioned, and no plans to initiate any positions within the next 72 hours.