Hewlett-Packard (HPQ), the company that started the boom of Silicon Valley, is falling apart. The new CEO Meg Whitman doesn't seem to be able to help. HP represents yesterday's world. Its core business is no longer an important enough sector in the economy of the United States. I believe it should be thrown out of the Dow Jones Industrial Average (DJIA).
Click to enlarge.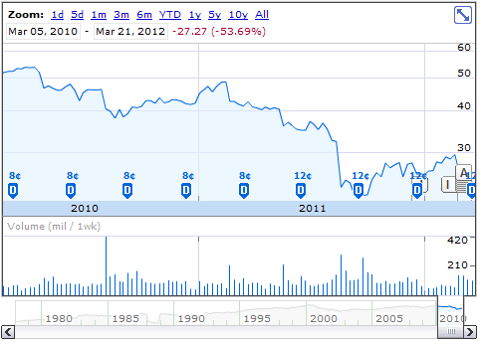 In 2011, none of HP's core businesses had a double digit growth. Its three largest revenue sources -- PC, printing, and service -- grew by -2.9%, 0.1% and 1.2%, respectively (see table below). There is no bright spot in this table.
| | | | | | | | |
| --- | --- | --- | --- | --- | --- | --- | --- |
| | Total | PC | Service | Printing | Server | Software | Financial |
| Net revenue | 127,245 | 39,574 | 35,954 | 25,783 | 22,241 | 3,217 | 3,596 |
| Year-over-year net revenue % increase | 1.00% | -2.90% | 1.20% | 0.10% | 9.30% | 17.90% | 18.00% |
| Earnings from operations | 9,677 | 2,350 | 5,149 | 3,973 | 3,026 | 698 | 348 |
| Earnings from operations as a % of net revenue | 7.60% | 5.90% | 14.30% | 15.40% | 13.60% | 21.70% | 9.70% |
| Net earnings | 7,074 | | | | | | |
Figures in $ millions.
Through its history, HP prospered by innovation. But that was long ago. What was the last invention from HP that you can remember? You have to go back to the 1990s or even 1980s to mention anything meaningful to consumers. Without the capability of leading in technology, HP is not going to sustain a decent profit margin in the tech world.
HP's cash cow is its printing business. In the regard, the trend in the world is moving against HP. With better electronic readers such as Kindle and iPad on the consumer side, cheaper electronic storage on the industrial side, paper printers are slowly creeping into a declining stage. This is reflected in HP's 0.10% growth in its printing business. The industry wide decline has been happening very slowly, but the process will accelerate with the younger generation moving into workforce--these are the kids who are not even going to use paper-printed textbooks anymore.
HP's PC business, the legacy of ex-ex-ex-CEO Carly Fiorina, while big, has a very low profit margin. And PC business in general has been a big laggard for some time now. Nowadays, iPad and its copycats are booming. Consumer demand in this sector is becoming smaller and more mobile. HP ruined Palm after the doomed acquisition. Its PC business has no product in the pipeline to lead in the market. I believe HP should have gotten rid of its PC business, quietly and quickly, but not by doing what the previous CEO did, broadcasting the intent before even having a deal in the making.
Recently, HP announced that its new CEO Meg Whitman decided to merge its PC and printing business. It is both understandable and puzzling at the same time. It is understandable because both sectors represent slow growing business at HP. And they are the children that HP is going to reap instead of cultivate. But why handicap your cash cow with your dog? I don't know the answer for sure, as I am not Ms. Whitman. But I do not see much positive side of this move other than signaling to the printing employees that they are, like PC employees, the unwanted children. This will almost surely hurt the morale at the printing sector and lose some key people there.
For better to worse, HP has to change, hopefully becoming another IBM, the elephant that got itself out of hardware business and successfully moved into IT services. The change has to come from HP's service and software sector. The big headache HP faces is that its service sector isn't doing well, growing by only 1.2% in 2011. When I talked to businesses that have used HP's IT service, the usual complaint is: ambitious but incompetent. HP would take on a big project at a cheap price, hoping to grab business from another company like IBM (IBM) or Oracle (ORCL). But in the end, HP couldn't deliver the system on time and had to abandon the whole project.
So really, I see no hope for HP, at least until some real moves emerge that can make a tangible difference in the company. HP's stock has been beaten down a lot over the past a few years. It may surprise you by going down even more.
Finally, which company should replace HP in DJIA? There are at least two candidates. Oracle is a better representation of a important business sector--database and IT services--in the United States. Google (GOOG) as the search engine leader in the United State, would also make a great DJIA component.
Disclosure: I have no positions in any stocks mentioned, and no plans to initiate any positions within the next 72 hours.