"All of us learn to write in the second grade. Most of us go on to greater things."
- Bobby Knight
Part 9 (see part 1, part 2, part 3, part 4, part 5, part 6, part 7 and part 8)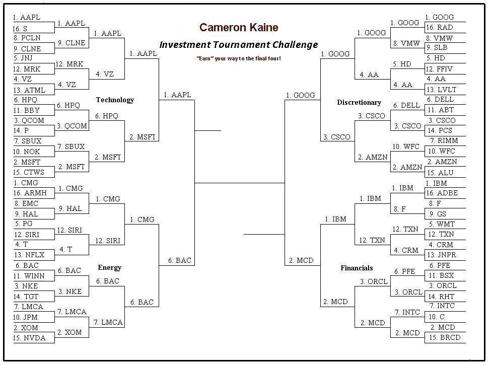 Click to enlarge
As great of a college coach Bobby Knight has always been, the quote above is one of his many famous axioms that I have never really quite agreed with. I tend to think that, doing here what I've learned in the second grade happens to be one of the many great things that life has to offer - in addition to being a head coach at the collegiate level.
Another one of those great things in life is eating hamburgers and if you don't believe me, just ask my seven year old son. The hamburger joy was indeed a tough lesson and one that technology giant IBM had to learn as the #1 seed fell in overtime to the golden arches of #2 seeded McDonald's (MCD), whose fast moving drive thru lines and affordable dollar-menu was just too much to overcome.
The matchup
McDonald's has always made the claim that "they love to see you smile" - so much so that they called their kid-friendly combos "happy meals." During the tournament however, the team went out of its way to kill the hopes of four consecutive technology teams in Brocade (BRCD), Intel (INTC), Oracle (ORC) and most recently, IBM. Clearly, making their opponents happy is not a part of the company's stated mission. But remarkably, as dominant McDonald's has been, it is rarely talked about whenever discussions are held about the prevailing stocks that one must own on the market. But I have a suspicion that this will soon change. Unfortunately for #1 seeded IBM it had to be a casualty and made an example of by a team that continues to feel disrespected.
There were very few teams, or for that matter Dow components, that performed as well as McDonald's at any point in 2011. In fact, the team's success spans back as far as a decade ago where it has increased average annual sales by at least 6 percent while more than doubling its operating margins. To make it even more remarkable, the hamburger giant boasts an almost 30 percent operating margin over the past five years where its closest competitor within its sector comes in at just 14 percent. With the company having announced that CEO, Jim Skinner plans to retire effective June 30 and COO Don Thompson will be taking over, the question is, what impact will this have on the company's performance going forward?
That question is hard to answer, but the first reaction that I have is that it might in fact prove to be a positive. As noted, McDonald's has been on a roll and the company has for 106 consecutive months reported growth of same store sales that have been positive. This is unheard of for a company of its size. So given the company's stellar fundamentals on a long-term basis, as well as what appears to be a quality succession plan, I don't anticipate any kind of hiccups at all - temporary or otherwise. But the question is, does it have enough to overcome its upcoming matchup against top seeded Google (GOOG) - who many had expected to be facing IBM instead.
For IBM, it arrived to the tournament as the #1 seed in the financials region expecting to dominate with its imaginative offense built around innovation. It just didn't anticipate the power of the Big Mac. The company has been riding a wave of new 52 week highs en route to its current price of $208 after starting the year at $183. What investors have recently noticed is that the company has been on a bit of a shopping spree of late and has made several key acquisitions and help strengthen its position with a more diversified portfolio of products as well as the cloud. Although fans had higher expectation for IBM in this tournament, as a team, it still has many things about which to be excited.
For investors, excitement should come with IBM's aggressive stock repurchase program - something that will certainly help drive its earnings per share. This is certainly an incentive to buy the stock, as the company certainly believes in itself as is evident by the fact that it spent $15 billion last year in its buyback program while also utilizing its earnings to pay shareholders in the form of dividend. It is hard not to like IBM at these levels considering these many factors for which favors investors. This year analysts are expecting the company to earn $14.84 - a number that puts its ratio at slightly under what other names within the sector trade for. At $208 and with a current P/E of 15, the company remains relatively cheap and value investors with 12-24 month horizons should certainly give IBM a long look at these levels.
What's next?
Well, for McDonald's it has a matchup against Google to now look forward to. Clearly this won't be easy and it will do what it can to "search for a victory." But as the year progresses, it still faces some macro-related challenges in the form of commodity costs as well as some corporate strategic improvements - which includes an investment of $2.9 billion to open an additional 1,300 stores world-wide. 250 of which are scheduled to open in China. But there is no doubt that the company whose mission is to put a smile on investor faces will be able to overcome any challenges that lies ahead.