In our previous article on Emerson Electric (EMR) we wrote about how we liked the company as a long-term investment. We noted its emerging market sales growth in 2011, which is a large part of the company's strategy. As we continue to see the economy inch its way toward recovery, the future continues to look good for Emerson.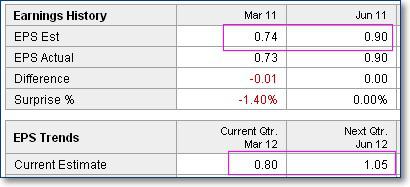 The stock was trading at $51.88 when we last wrote about it a month ago and now trades at $52.18, so it hasn't moved a whole lot. However, analysts are expecting a lot from Emerson this year. Though current EPS trends are slightly lower for this quarter, they are still higher year to year through all of 2012. Growth this year is expected to be 8% and 14% in 2013, so the future continues to look bright.
Oppenheimer recently increased its price target on Emerson to $61. The decline in revenue last December was due to shipment deferral from Thailand floods. Backlog supports guidance from Emerson, so the increased sales expected this year will keep momentum going for the stock. For this reason, we are bullish on playing Emerson as a short-term options play as it continues to move up.
Click to enlarge.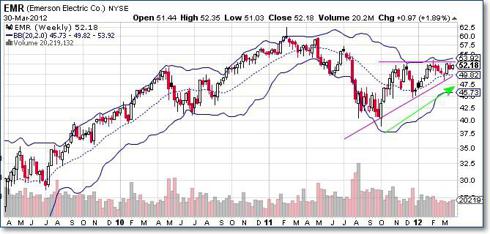 The Options Play
We like a Bull Call Spread here.
Buy a September 2012 '52.50' call (priced at $2.85)
Sell a September 2012 '55' call (priced at $1.60)
Net Debit to Start: $1.25
Maximum Profit: $1.25
Reasoning behind the Trade
An Ascending Triangular pattern signifies a continuation pattern, so we believe it will continue moving up.
The current revision of $61 for a high is in our trade range.
Emerson provides manufacturing equipment for pulp/paper and pharmaceuticals processing plants. It also makes air-conditioning units, refrigerators, welders, and motors. It competes against some of the big conglomerates, such as General Electric (GE), Caterpillar (CAT), and ABB (ABB). It is a well-balanced company with five segments of business almost evenly balanced in bringing in revenue. Its largest segment is Process Management, at 28.3%.