Two positive notes on Baidu.com (BIDU) this morning:
-RBC Capital is upping their tgt on Baidu.com to $333 from $302 saying they believe 3Q07 is tracking well as BIDU should be able to add at least as many advertisers as it did last quarter. July was better than June, August was flat to slightly better than July, and September is tracking to be better than August.
Salesforce Headcount Continues to Increase: RBC believes this is a good indication of the management team's confidence in underlying business trends.
Longer-term the firm believes company is reaching critical mass and e-commerce is starting to emerge as a key thematic catalyst. Their high-on-the-Street 2009 GAAP EPS projection of $7.58 may prove conservative as they believe there is an upward bias to estimates. Firm also notes that fully-loaded SG&A costs are about $11k for person for BIDU. It is likely 15 times this for Google.
Maintains Outperform.
-Citigroup is also out positive on Baidu.com (NASDAQ:BIDU) this morning saying that according to o the latest survey report on China's Search engine market, published by China IntelliConsulting Corporation (CIC) today, the China search market continues to concentrate with Baidu and Google accounting for 92.4% of total primary users, or 88.7% of total daily users in any given day.
Baidu maintains lead as Google gains at the expense of Yahoo and Sogou.
Perhaps the most important point: Baidu beats Google among high-end users - Baidu continues to excel in the high-end user market, encroaching on Google's traditional core users. Baidu's high-end share rose from 51.5% to 53.4% over the six-month period while Google's share slipped from 41.9% to 39.6%.
Reiterates Top Pick & US$250 PT; Strides at Google not coming from Baidu - This latest survey result from CIC confirms Citi's earlier published views that Google's recent share gains are coming at the expense of smaller players, and that Baidu has maintained its leading position - in fact, it is still growing its overall market share. Firm believes 3Q07 results will be strong, providing a further catalyst for the shares.
Notablecalls: RBC's target on BIDU is the new Street high. This alone will make BIDU buyable today. I see it hitting $240 by noon easy. Actionable trading call alert! Must say I'm surprised by the lack of upside in BIDU stock in the pre market.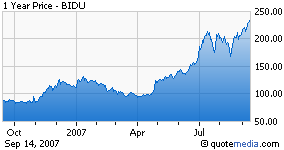 Disclosure: none