Imagine 128 gigabits inhabiting something smaller than a U.S. penny. That's 128 billion bits of information stored on the tiniest silicon die, and SanDisk Corporation (SNDK) has just made it a reality, in its pursuit of better, smaller, faster flash memory storage solutions, without which today's data mobility would not exist. (Press release)
Consumers may only be familiar with the company's removable memory cards, flash cards, memory sticks and USB flash drives, for use in their camera, smart phone, notebook, tablet, TV, gaming system or car audio. Yet embedded memory devices used by leading electronics manufacturers (OEMs) are an even more significant revenue source for SanDisk.
SanDisk also makes Sansa brand MP3 players, solid state drives to enhance laptop and gaming performance, data transfer devices, and, through recent acquisitions, a suite of software products to enable data capture, sharing, management, security and recovery.
Following the May 2011 acquisition of Pliant Technology, the company is also involved in enterprise storage solutions, producing high performance solid state drives (SSDs) to transform cloud and data center applications by reducing space requirements, purchase cost and power usage. SanDisk's corporate headquarters are in California, but its 4,000 employees are distributed across the Americas, Asia-Pacific, Europe and Israel. High volume manufacturing facilities, three of them in partnership with Toshiba, allow the company to ship more than two million flash products every day, and have contributed to a 50,000-fold reduction in the cost of flash memory over the last 20 years. (Corporate profile)
R&D expenditures totaled $513 million in 2011, with a focus on constant innovations, new devices for consumers and enterprise solutions ahead of the market. SanDisk maintains relationships with OEMs, operating system vendors, mobile network operators, universities, system integrators, application developers, standards bodies and even Hollywood studios. A recent press release announced a joint venture with Twentieth Century Fox Home Entertainment (NWS), Warner Bros. Home Entertainment Group (TWX) and Western Digital (WDC), to create easier and faster ways of organizing, storing and accessing digital movies and TV shows. At the February 2012 Mobile World Congress in Barcelona, SanDisk highlighted its close collaboration with companies like Microsoft (MSFT), Intel (INTC), Texas Instruments (TXN) and Freescale (FSL).
SanDisk and its competitors operate in a market subject to major fluctuations in supply and demand for products, and downward price pressures coupled with increasing memory capacity and performance expectations. The company's fortunes also depend largely on the success of its OEM customers. In 2011 SanDisk's 10 largest customers accounted for 48% of revenue, led by Samsung with 10%. Competing with SanDisk in this challenging market are U.S. companies like Intel, Micron Technology (MU) and Fusion-io (FIO), as well as foreign-owned Samsung, Toshiba, Sony (SNE), Verbatim and Hynix.
SanDisk's FY 2011 ended on January 1 2012. Total revenue for the year was $5.7 billion, up 17% on 2011. Direct product sales accounted for 92% of revenue. More than half the company's sales are generated outside the U.S. Both gross margin and operating margin declined significantly when compared with 2011, contributing to the fact that pre-tax income of $1.48 billion was only 1.3% higher than 2011. Earnings per diluted share fell from $5.44 in 2011 to $4.04 in 2012. However, the company's GAAP to non-GAAP reconciliation interprets net income as slightly improved. Senior notes to the value of $0.98 billion were issued in 2011, and the company's cash flow also reveals heavy investment activity, probably linked to its targeted acquisition strategies. (Q4 2011 Financial statements (pdf))
During the Q4 2011 earnings call, SanDisk president and CEO Sanjay Mehrotra observed that the $1.5 billion revenue from mobile embedded business was almost double the 2010 figure, and that SanDisk iNAND technology was a key element in the mobile device designs of eight out of the top 10 chipset vendors for both the Android and Windows platforms. CFO Judy Brunner pointed to yen exchange rate fluctuations and necessary increases in R&D expenditure as two of the reasons for the fall in gross and operating margins.
In a presentation to analysts (pdf) on February 16 2012, SanDisk emphasized its worldwide No.1 market share in memory cards and USB flash drives, the more than 250,000 retail stores now selling its products and its $2 billion in revenue growth in the last two years. A breakdown of FY 2011 revenue showed that $3.5 billion was generated by sales to OEMs (25% growth year-on-year) and $1.8 billion (8% growth) by retail sales, with royalties and licensing fees providing the remaining $0.4 billion.
Industry-leading technology includes advances in scaling for NAND flash memory and initial production of the industry's smallest chips for 2012. A smart/mobile way of life across all demographics - the very young and the elderly, and non-mainstream lifestyles as well as the expected business and health care users, students and schoolchildren - points to a secure future for the company's products. Its potential market is expected to be over $46 billion by 2015, and SanDisk believes it is in a strong position to win a large share of the total. SSDs in particular are expected to grow from their current 3% of revenue to 25% by 2014. Guidance for 2012 puts revenue in the range $6.2-6.6 billion, with a 23-27% growth in operating income.
SanDisk benefits from its diverse offerings and vertical integration, and from current market trends led by cloud computing and virtualization. The forecast explosion in the use of mobile devices, especially in emerging markets, increases the need for fast delivery of cloud data for e-commerce, social media and video content. It may not have the same buzz as 128 gigabits, but $46 billion is still a sizable number, and this future-focused company appears to be positioning itself to reap the rewards.
With the recent troubles related to hard drive manufacturing due to flooding in Thailand, SanDisk may have benefited with increased sales and potentially increased pricing. With the company's future prospects, SanDisk looks like a bargain at this point with a Price-to-Earnings (P/E) ratio of 12 and a Price-to-Sales ratio of 2.2. An investment to consider for SanDisk is a married put. A married put may be entered by purchasing a put option in order to protect an investment in a stock, yet continue to participate in an upward movement in the stock's price.
Using PowerOptions, a table of October married put positions for SanDisk was found with respective maximum risks as shown below:
Click to enlarge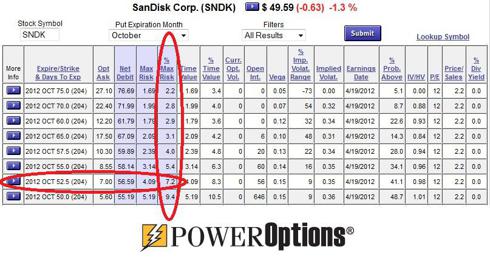 In order to reduce time value decay per day, it's typically best to select married put options further out in time, at least six months.
Since SanDisk's stock price has been in the $54 price range (shown below) in the last six months, it would be best to select a put option with a strike price less than $54, yet select a position with an acceptable maximum percent risk.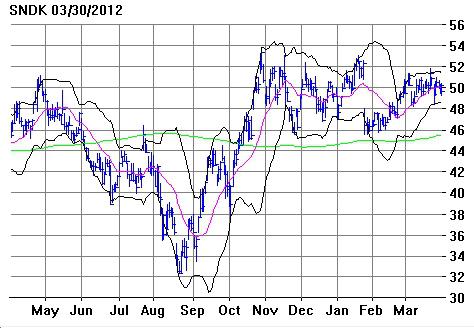 Based on this, an attractive married put position for SanDisk is the 2012 October 52.5 at $7.00 with a maximum potential risk of 7.2%. A profit/loss graph for one contract of the married put position is shown below: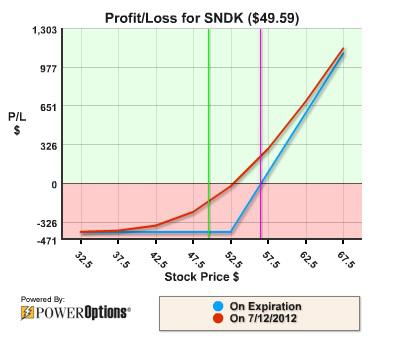 For a stock price below the $52.5 strike price of the put option, the price of the married put position remains unchanged (at expiration) and the maximum potential loss that can be experienced is 7.2%.
Once the price of the stock increases to the $52.5 strike price of the put option or greater, income methods as outlined by RadioActiveTrading.com can be applied in order to receive income and reduce risk.
Disclosure: I have no positions in any stocks mentioned, and no plans to initiate any positions within the next 72 hours.