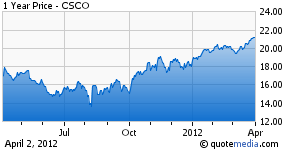 Cisco Systems shares (CSCO) have had a lot of trouble maintaining a consistent upward trend over the past decade. In 2011, shares underperformed the Nasdaq by 8.83%. So far this year, CSCO has underperformed the market by 1.7%, but it has been able to somewhat keep up with a very bullish market. In this article, I supply some insight on what Cisco shares will do going forward.
Cisco Systems is a very mature company, especially when looking at the fast growing industry it operates in. The company is expected to grow earnings per share by 8.7% per year over the next five years. It already has strong business relationships with almost every major company and its success depends on keeping current with its existing product line while branching out into new technology trends. There is a lot of growth opportunity overseas, but those growth numbers are muted by the small growth of its cash cows.
Right now, large companies have record cash piles as they try to remain liquid to prevent hardship in the event of another great recession. In addition, the aftermath of the great recession has limited the amount of projects that companies can undertake to experience positive returns. Communications and information technology solutions are generally an excellent investment for large companies because these investments are generally cheap for what kinds of cost savings and revenue growth that they can create.
I believe that we will find out if Cisco Systems is a good investment after their next earnings call in May. I believe the stock right now is properly valued by the market and right now serves as a blue chip portfolio stock more than anything.
If Cisco Systems can prove itself by exceeding expectations, I believe that there will be a strong bull run that will follow. Cisco's short-term performance will lay the groundwork for its earnings going forward and a strong performance in this quarter will improve analyst opinions and most likely allow investors some time to get in before stocks soar too high. If Cisco Systems misses earnings, we can expect more of the same, slightly underperforming activity from CSCO.
Disclosure: I have no positions in any stocks mentioned, and no plans to initiate any positions within the next 72 hours.