I am a big believer in valuing companies based on their underlying free cash flow. Much of this is related to the fact that in Berkshire Hathaway's 1986 Annual Report, Warren Buffett, who is arguably the world's greatest investor in history, revealed for the first time his valuation method and what he referred to as 'Owner Earnings'. He stated that the value of a company is simply the total of net owner earnings to occur over the life of the businesses, discounted at an appropriate discount rate. He defined owner earnings as:
"These represent reported earnings plus depreciation, depletion, amortization, and certain other non-cash charges...less the average annual amount of capitalized expenditures for plant and equipment, etc. that the business requires to fully maintain its long-term competitive position and its unit volume....Our owner-earnings equation does not yield the deceptively precise figures provided by GAAP, since capital expenditures must be a guess - and one sometimes very difficult to make. Despite this problem, we consider the owner earnings figure, not the GAAP figure, to be the relevant item for valuation purposes."
What Warren Buffett defined is identical to free cash flow. I find it ironic that in 1987 the Financial Accounting Standards Board (FASB) mandated that public companies produce a third financial statement entitled 'Statement of Cash Flows' when reporting financial data. Is it a coincidence that FASB added this statement a year after Warren Buffett revealed the most important metric he looks at when determining whether an investment is attractive? I don't know. But I think it shows the importance of free cash flow.
Coca-Cola (NYSE:KO), which Warren Buffett and Berkshire Hathaway own, is arguably one of the best companies in history. The company generates large amounts of free cash flow, consistently grows its business and has a large economic moat around its business. I also like the qualitative elements of its business as it has a lot of emerging market exposure which most likely will be the area in the world with the highest growth over the next decade.
Below are some key metrics I look at when valuing a company. I like to see consistent free cash flow margins, a high free cash flow return on invested capital and a growing intrinsic value per share. The lowest 10 year growth rate over the past 25 years for Coke is 7.3%. As a result, I believe Coke is an outstanding business with the 'wind at its back'.
click to enlarge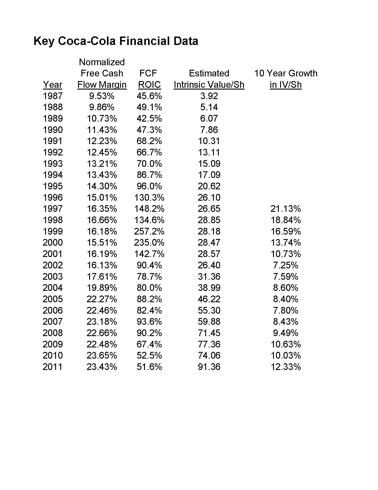 Click to enlarge
In the case (no pun intended) of its valuation, Coca-Cola's stock is attractively priced based on a discounted free cash flow valuation. Below is a chart that compares Coca-Cola's intrinsic value (the discounted value of its future free cash flows based on a discount rate of 9% and 5% growth) against its stock price since 1986.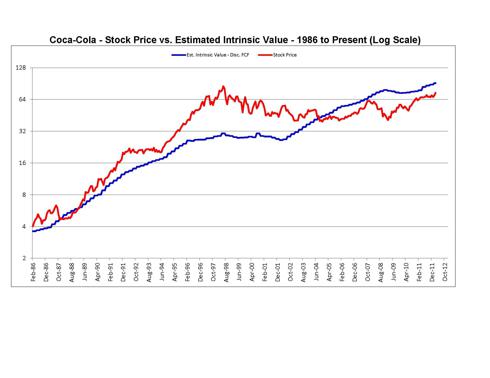 Click to enlarge
You will notice there have been times where Coca-Cola has been massively overvalued and modestly undervalued. Below is a chart that compares Coca-Cola's stock price against its Price/Intrinsic Value from the chart above. Outside of the Great Recession of 2008-09 the stock has rarely been cheaper. In fact right now it is cheaper than when Warren Buffett bought it in 1988.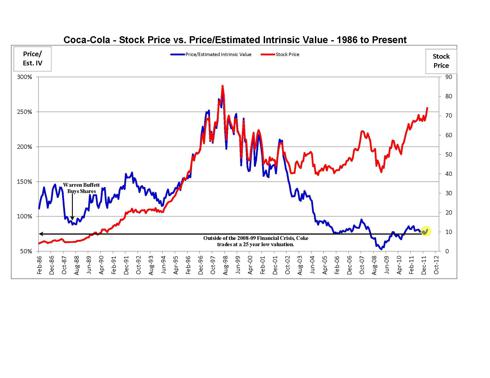 Click to enlarge
My current estimated intrinsic value of the company is $91. Last month I was a big buyer around $69. Despite the recent pop in the stock's price, investors buying Coke at its current level should do well over the next 5 to 10 years. Over the next seven years, barring a massive macroeconomic blow-up, I believe it is likely Coke could generate an annualized rate of return in the low double digits percentages.
Here's the math behind my belief. If the business grows at its minimum 10 year growth rate of the past 25 years of 7.3%, and you add in the 2.8% dividend yield and the gap between its current price closes with the $91 intrinsic value per share price, an investor would get a 12.8% annualized return. If the gap between price and intrinsic value does not close and even widens a little bit, an investor should still get an annualized return in the 8 to 9 percent range. Regardless of the unpredictable nature of trying to predict stock prices and growth rates, based on its current valuation, Coke is a very attractive investment.
Disclosure: I am long KO.