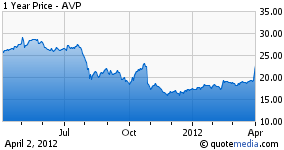 Shares of Avon Products (AVP) rose 17% in today's trading session after its board of directors rejected an offer from privately held fragrance producer Coty, which is willing to pay $10 billion for Avon.
The offer
Coty offered to buy the struggling door-to-door beauty product seller for $10 billion in an all cash transaction. This offer would come down to $23.25 per share, a 20% premium compared to Friday's closing price. Coty made the offer public after "extensive but unsuccessful attempts to engage Avon in discussions regarding its proposal" did not go far.
The company already had extensive talks with financiers about debt and equity financing and is confident about having access to sufficient financial resources to complete the deal.
Avon stated that "the bid is opportunistic and substantially undervalues the company." The company said it remains confident in its stand-alone prospects and is committed to its search for a new CEO after former CEO Jung announced her departure in December.
Valuation
Factoring in today's jump in the share price, the company is valued at $9.8 billion. The company holds $3.3 billion in debt and $1.3 billion in cash indicating a net debt position of $2 billion.
Avon has been able to generate single digit revenue growth rates again over the last couple of years but it saw its net margin shrink from 8.5% in 2008 to 4.7% in 2011.
At the current share price the company is valued at 0.9 times annual revenue and 19 times earnings. Despite today's jump, shares trade at a sizable discount to competitor Estee Lauder (EL) which is valued at 29 times earnings and 2.7 times annual revenue. I therefore urged investors to pick up Avon shares earlier this year.

Investment Thesis
Avon has been on the decline for years now. Shares have tumbled from highs of $45 in 2008 to $23 at the moment as the company has reported sluggish revenue growth amidst the global financial crisis and the company has seen margins declining as a result of an outdated business model.
The company is in play after today's announcement. Investors can pick up some shares knowing that Coty might raise its bid to attract the board of Avon, or new management has to come with a detailed plan to create more shareholder value in a stand alone case.
I am a buyer of Avon.
Disclosure: I have no positions in any stocks mentioned, and no plans to initiate any positions within the next 72 hours.