Monday was a great start to the second quarter with a decidedly "risk on" slant to the markets. The latest manufacturing data from China was positive. The official Purchasing Managers' Index (PMI) that highlights large factories soared to its highest level in nearly a year to 53.1 in March, up from 51 in February. This seemed to rouse stocks pegged to the global growth story as a Chinese soft landing was underpinned by the results. Furthermore, the Institute for Supply Management's manufacturing index rose to 53.4% in March from 52.4% in February which was slightly higher the Street's expectations. A reading above 50% indicates expansion.
The statistics were positive. Although many analysts are still skeptical, I on the other hand am not. I believe China is in control of its economy and has plenty of fire power left to steer it whichever way it sees fit. Some feel with the outstanding returns we had in the first quarter, we have run too far too fast in 2012. One caveat to that scenario is the fact that we were so far in the hole by the end of 2011. The run in the first quarter of 2012 was induced when the ever-present reports of a European debt contagion debacle stopped. This allowed investors to focus on fundamentals and earnings rather than macro issues. Once everyone saw the value created by the fear of an EU sovereign collapse, it was off to the races led by tech and bank stocks.
Now, I see basic materials and industrial goods sectors as area to find value. The following five companies are down significantly from recent highs and may post substantial comebacks if the global growth story comes to fruition.
United States Steel Corp. (X)
(Click to Enlarge Charts)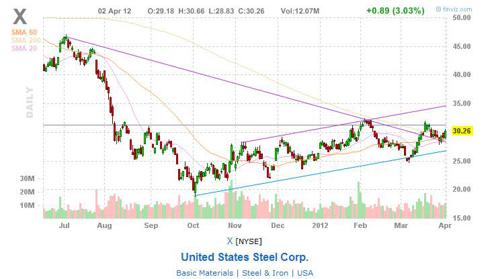 Click to enlarge
(Charts provided by Finviz.com)
U.S. Steel is down big based on the recent perceived downturn in the global economy. This is a turnaround play. U.S. Steel has been a laggard. Nevertheless, this also makes it a stock with significant upside. Once global markets gain traction, I expect this stock to recover substantially. Now is the opportunity to buy low in order to sell high.
U.S. Steel is trading near the bottom of its trend channel and slightly over book value. Next year's EPS is expected to rise 48.46%. X has a RSI of 55.81 and is 45% below its 52 week high. This is the beaten down stock of the bunch. Nevertheless, it has the most upside. I like U.S. Steel here.
Freeport-McMoRan Copper and Gold Inc. (FCX)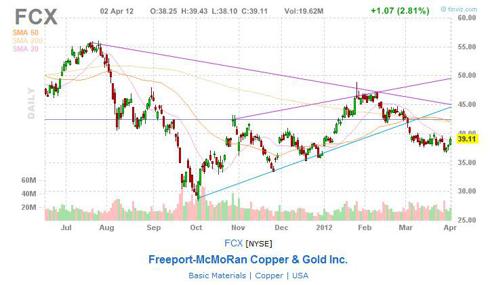 Click to enlarge
Copper climbed to a one-month high after the upbeat readings on U.S. and Chinese manufacturing activity. May copper rose $0.096, or 2.5%, to settle at $3.921/pound. Freeport-McMoRan is a major supplier of copper to the world in addition to gold. The company is down as of late based on a strike at one of its productive Indonesian mines. The strike has subsequently been resolved and the estimates of potential lost production may be overblown, in my book. Freeport-McMoran recently hiked its quarterly dividend payout by 25% to $0.3125 per share.
Freeport-McMoRan has a PEG ratio of 1.5, a forward Price to Earnings ratio of 7, Price to Book ratio of 2.31 and a projected EPS growth rate of 25.76% for next year. Freeport-McMoRan is 32% below its 52 week high. These fundamentals are positive. Additionally, with an RSI of 45.47, Freeport-McMoRan is technically neither over bought nor oversold. I believe global growth will reignite in 2012 and spur Freeport higher. In an earlier article I stated I was waiting for a pullback to get in to Freeport and I believe this is it.
AK Steel (AKS)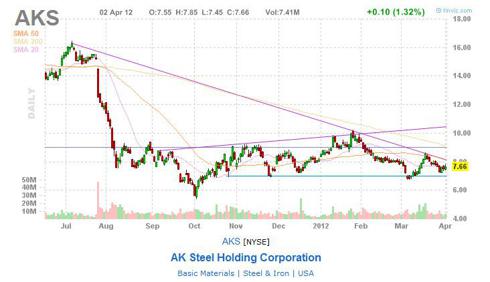 Click to enlarge
One major positive for AK Steel is it recently announced plans to increase prices for some of its products. AK Steel Holding Corp. stated it will increase prices for all carbon flat-rolled steel products by $50 per ton. The increase is effective immediately with new orders. Nevertheless, business is expected to recover in the second quarter, steered by the automotive market. Second-quarter shipments are anticipated to be greater than the first and the company expects to produce profits.
I see any weakness in the stock price as a buying opportunity. These opportunities are few and far between with the recent run up in most stocks. Look for a positive auto sales report tomorrow as a sign to start a position in the stock. AK Steel has been trading sideways for nearly six months and is slightly over twice book value. Next year's EPS is expected to rise 132%. AKS has a RSI of 45 and is 54% below its 52 week high. I believe AKS is set to move up from here. An additional boost to this stock could be provided by traders taking profits or their winners and rotating into stocks that have underperformed the market.
Caterpillar Inc. (CAT) and Deere (DE)
Caterpillar and Deere's recent pull back is a definite buying opportunity. They pulled back based on unwarranted fears that China was heading for a hard landing. These companies are posting record sales and revenues currently. Several strong catalysts remain. Emerging market construction continues to boom providing a never-ending stream of customers for their construct equipment and vehicles. Additionally, farmers are expected to plant record amounts of crops in the coming years to keep up with increasing global demand for food. They are going to be in the market for all the latest farming equipment.
Caterpillar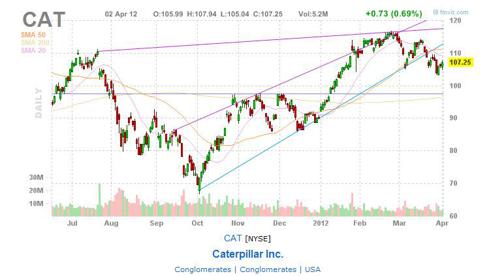 Click to enlarge
Caterpillar is significantly undervalued with a PEG of .6. Next year's EPS is expected to rise 19%. CAT has a RSI of 44 and is 9% below its 52 week high. I believe CAT is set to move up from here. The top of the current rend channel puts the first upward price target at $127 providing a slightly under 20% upside potential.
Deere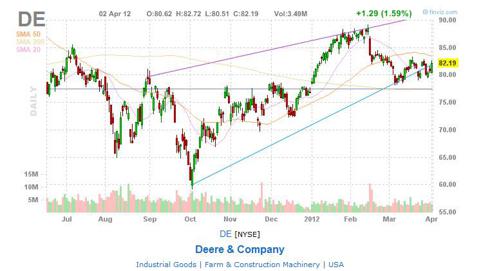 Deere is trading up for nearly six months and is currently resting at the bottom of its trend channel. Deere's current PEG ratio is 1.12 which makes it an undervalued buying opportunity. Next year's EPS is expected to rise 7.17%. DE has a RSI of 51 and is 16% below its 52 week high. The top of the current rend channel puts the first upward price target at $96, providing 20% upside potential.
Conclusion
There is always going to be short term gyrations in these stocks caused by the variance in monthly global growth data. Nonetheless, the fact of the matter is the global growth story remains intact in the long run. We simply have no choice but to grow. The rest of the world has acquired a taste for the middle class lifestyle. The newly burgeoning middle classes of India and China desire an enhancement to their current diets and modes of transportation.
As the standard of living increases changes take place. A shift from staple foods such as rice or wheat to animal protein coupled with fruits and vegetables occurs along with the purchase of upgraded modes of transportation such as vehicles. These catalysts among others will continue to drive these stocks higher for the foreseeable future. If you have a long term time horizon the current risk/reward ratio in these stocks appears favorable.
Use this information as a starting point for your own due diligence and research methods before determining whether or not to buy or sell a security. If you choose to start a position in any stock, I suggest layering in a quarter at a time on a weekly basis to reduce risk and setting a 5% trailing stop loss order to minimize losses.
Disclosure: I have no positions in any stocks mentioned, but may initiate a long position in FCX, CAT, DE, X, AKS over the next 72 hours.