In its latest statement on monetary policy, the Reserve Bank of Australia (RBA) dropped more hints that it is likely biased toward further easing of monetary policy and has a preference for a lower Australian dollar. The RBA does not yet have the data to support a rate cut, but the wording of this statement indicates to me that it expects to soon see such data:
At its next meeting, the Board will have the opportunity to reassess the outlook for inflation, taking into account not only data on demand and output but also forthcoming information on prices…the Board judged the pace of output growth to be somewhat lower than earlier estimated, but also thought it prudent to see forthcoming key data on prices to reassess its outlook for inflation, before considering a further step to ease monetary policy.
Economic growth is not quite meeting expectations ("the balance of recent information suggests that output growth was somewhat below trend over the year") in an environment in which the housing market remains "soft," and the RBA expects the world economy to grow below trend. This combination suggests that the risks to inflation are weighted to the downside.
Moreover, the 4.25% interest rate remains well above the 1-2 year projected range of 2-3% with inflation expected to fall within the next two quarters. This gap gives the RBA plenty of room to reduce rates: "…were demand conditions to weaken materially, the inflation outlook would provide scope for easier monetary policy."
Finally, the RBA included two reminders that it thinks the currency is likely stronger than it should be. The RBA reiterated its now common refrain that Australia's terms of trade have peaked. In fact, "the exchange rate has remained high over recent months, even though the terms of trade have declined somewhat."
On balance, I interpret the RBA's smoke signals to indicate that it will take a surprisingly strong economic and inflation report to prevent the RBA from easing within the next meeting or two. In the meantime, the Australian dollar might still be good for short-term trades and hedging against other currency pairs, but I continue to prefer staying out of the Rydex Currency Shares Australian Dollar Trust (FXA). For more details see "My Love Affair with the Australian Dollar Has Officially Ended."
click to enlarge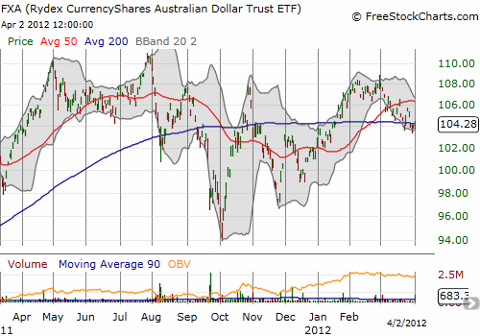 The Australian dollar is essentially flat against the U.S. dollar this year, significantly underperforming the S&P 500's double-digit year-to-date performance.
Be careful out there!
Disclosure: I have no positions in any stocks mentioned, and no plans to initiate any positions within the next 72 hours.