We ran a quick scan of our database to generate a list of lesser-known stocks that have seen big increases in the number of filers since last quarter. Our first example is a Canadian oil and gas exploration & development company called Lone Pine Resources (LPR) (LPR spun off from Forest Oil (FST) in 2010. Lone Pine has seen a 167% increase in the number of filers reporting a position since last quarter:
Click on any image below to enlarge: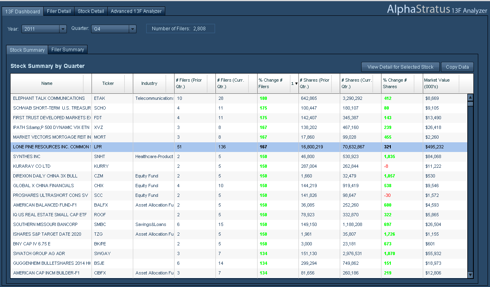 A quick look at just some of the top filers reveals a lot of hedge fund names, all of whom have been significantly increasing their stake over time: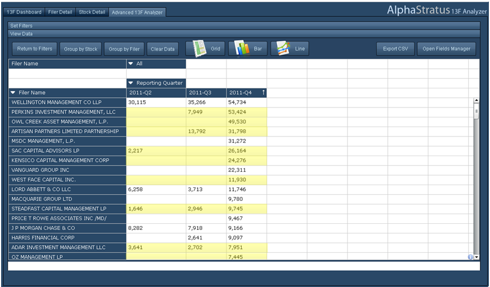 Scrolling further down the list shows more familiar names including: Citadel, Diamond Hill, Two Sigma, Caymus, Highbridge, Millennium, Copia Capital and Scout Capital.
Lone Pine Resources sports a market cap of about $550M and a TTM P/E of 15. Shares have languished since it was spun off at $12 a share (the record low price of natural gas certainly having something to do with that). But that hasn't kept the hedge fund crowd from moving in in search of a potential bargain. If the price of natural gas does rebound, this company stands to benefit: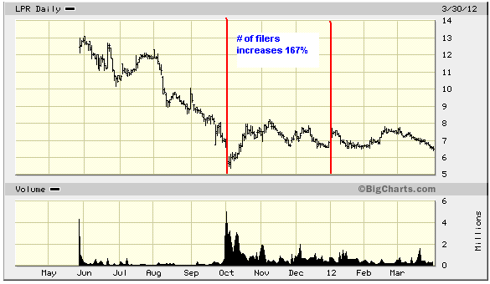 The next stock of interest is Alkermes PLC (ALKS) which saw an 86% increase in the number of filers reporting a position (124 in Q4 vs. 67 in Q3). ALKS is an "integrated biotechnology company, develop[ing] medicines that enhance patient outcomes. The company has a diversified portfolio of approximately 20 commercial drug products." Unlike LPR, which only recently spun off, ALKS has been around for awhile but has only recently seen this kind of increased interest: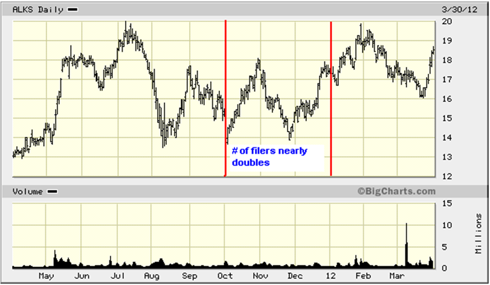 An excellent writeup of why ALKS is a bargain is provided here, but suffice it say, the hedge funds took notice last quarter (which was a volatile one) and came out of the woodwork to start (or increase) a position. Kingdon Capital started a position in Q3 with 326k shares and increased it to 381k in Q4. Geode Capital had consistently increased its position from 177k shares in 2008 to 284k shares in Q2 of 2011 only to sell out of the position completely in Q3 2011 and then re-initiate it in Q4 with 294k shares.
The next stock to show up on our list was C&J Energy Services, Inc. (CJES) which provides hydraulic fracturing, coiled tubing, and pressure pumping services to oil and natural gas exploration and production companies. The company has a market cap of just under $1BN and a TTM P/E of 5.6 and saw a 74% increase in the number of filers reporting a position in Q4: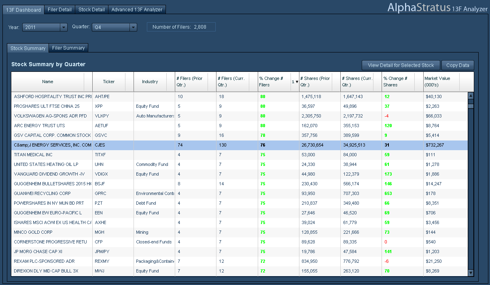 In Q4, Tiger Global initiated a position of 1.24M shares, as did Discovery Capital (with 727k shares), Avalon Advisors (421k shares), Two Sigma Investments (391k shares), Longbow Capital (278k shares), Valinor (250k shares) and Scout Investments (45k shares) - to name a few: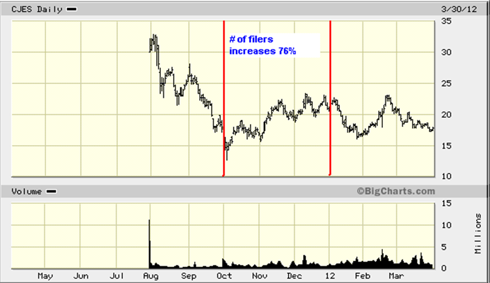 Like Lone Pine Resources, the weakness in the price of natural gas is pulling down CJES as well. This has resulted in a huge decline in natural gas drilling activity. These concerns may be exceedingly bearish for this stock and investors could take advantage of a powerful pipeline of business and strong earnings, as this article suggests.
The last stock in our list is a shipping company called Capital Product Partners (CPLP):


CPLP specializes in providing seaborne transportation services of crude oil, refined petroleum products, has a market cap of $560M, a TTM P/E ratio of 4.6 and sports a massive 11.5% dividend.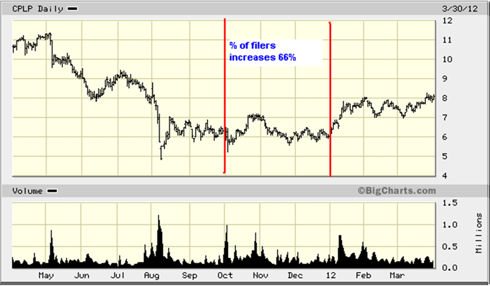 A look at the shares held by all the Q4 filers (going back several quarters) reveals several well-known names (like $15B energy-focused powerhouse Kayne-Anderson) as well as many lesser-known hedge funds such as Austin-based Lafitte as well as commodities-focused hedge fund Vermillion Asset Management and notable long-only managers (like Boston-based Eagle Asset Management):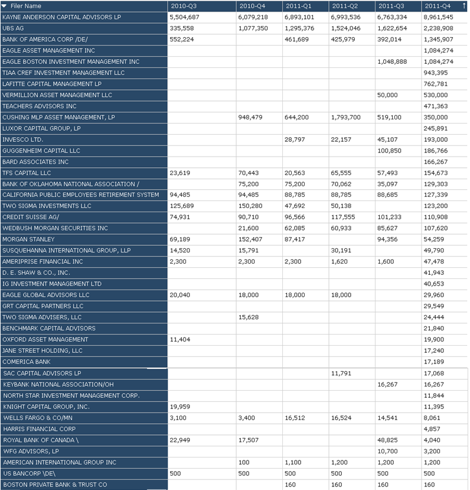 As always, 13F filings can be a fertile hunting ground for investment ideas especially once you focus on the more lesser-known, less trafficked stocks that don't show up on all the "Hedge Fund VIP stocks" lists. Good luck and happy hunting!
Disclosure: I have no positions in any stocks mentioned, and no plans to initiate any positions within the next 72 hours.