Last week, Sling Media announced that they were partnering with UPC, in order to introduce the Slingbox into the Netherlands. UPC is a major cable conglomerate in Europe and could end up being an important resource for Sling. They offer triple play services in ten different countries and are a wholly owned subsidiary of Liberty Global (NASDAQ:LBTYA).
For Sling, the deal makes obvious sense. They get an important distribution partner and marketing support from a cable powerhouse. For UPC though, the benefits are less obvious. They haven't released pricing information yet, so it's always possible that UPC may end up charging some kind of service fee for the Slingbox, but even if they never make a single dollar Euro from offering the service, I still think that UPC ends up benefiting from the deal.
The name of the game in the cable industry is upselling to digital. With the market for cable TV relatively saturated, cable operators are seeking new revenue streams. In order to continue to grow their businesses, they've been forced to think inside, not out. By leveraging their existing customer relationships, MSOs have seen great success in cross selling new digital services to subscribers. Instead of needing to expand by adding new customers, they've been able to expand by maximizing the revenue they bring in from their current customers.
UPC doesn't list any Dutch stats online, but they do give a breakdown of their current subscribers. According to their website, the company has 9.2 million video customers (or which only 1 million are digital subscribers), 2.4 million broadband subscribers and 1.3 million VOIP customers.
I'm not sure what the average broadband penetration rate is in Europe, but when I see 9.2 million video customers and only 2.4 million broadband subscribers, I see a pretty wide gulf between these services. Almost 75% of UPC's customers don't subscribe to their broadband. This not only affects their broadband business, but limits the addressable market for their VOIP services, as well.
In order for UPC to keep moving forward, they need to expand the number of broadband subscribers and this is where Sling comes in. There are a lot of reasons why someone may not want to pay for broadband. If all you do is check your email, maybe you don't see the value or if you only have a laptop, maybe you can get by fine with free wifi. These are all good reasons not to have broadband, but Sling brings a good reason why someone would want broadband. There are lots of people who don't care about video blogs or YouTube or even P2P, but they do care about being able to legally watch the TV that they already pay for, even if they don't happen to be at home.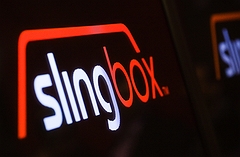 By partnering with Sling, UPC is able to approach their 6.8 million TV customers that don't use them for internet and can give them a compelling reason why they might want to take advantage of broadband access. If they can convince enough video-only customers to upgrade to internet, then the VOIP revenues will shortly follow.
I don't know whether or not UPC plans on expanding their test outside of the Netherlands, but already there seems to be interest from some of the other divisions. Representatives from UPC Ireland told reporters that management was considering the technology and left open the possibility that Irish UPC subscribers might also be able to participate in the distribution agreement.
My guess is that once UPC is able to get some real world data from the Netherlands, it will be a no brainer to move forward with a more broad deployment. If offering Sling to their subscribers can help to increase broadband adoption rates, it gives both companies a powerful incentive to see this relationship expand. I'm too skeptical to believe that their North American counterparts will embrace placeshifting anytime soon, but for now, it's nice to at least see Europe being progressive, when it comes to digital entertainment.
LBTYA 1-yr chart: