It's a fact that AT&T (T) is starting to do its part in marketing the new Nokia (NOK) Lumia 900. Let's see if the U.S. consumer embraces this marvelous smartphone. Nokia's new advertising campaign, called The Smartphone Beta Test, is just a great and humorous campaign, taking on Apple's (AAPL) iPhone.
The pre-orders for the Nokia Lumia 900 started some days ago, and the enthusiasm amongst the Windows Phone community has been really obvious. Hopefully, an early sign of this is that the handset has pushed its way to the top of Amazon's best seller charts for AT&T handsets even before release.
In terms of the U.S. market overall, the handset holds position 4 and 5 overall. The Lumia can help Windows Phone break out of its niche position in the U.S.A.
China
Last week, Nokia paired up with China Telecom (CHA) to formally launch the Nokia 800C, the first CDMA Windows Phone to hit China, and the first of Nokia's Lumia specifically for that market. Both companies also said that it would be following this up with a lower-cost CDMA handset, the 610C, in Q2. This handset is especially crucial in testing whether Nokia will be able to retain its smartphone leadership in emerging markets as it continues its transition from Symbian to Windows Phone.

China Telecom, which is built on a CDMA network, is the third-largest carrier in the country. As of February, it said it had 132.33 million subscribers, with 41.15 million of them on 3G.
Click to enlarge: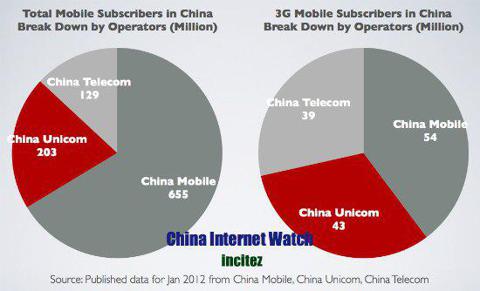 As of January, there were 136.6 million 3G subscribers in the country, according to the Ministry of Industry and Information Technology. Rival carrier China Unicom (CHU) believes that number could double this year. Others have predicted that this year, China will overtake the U.S. as the world's largest smartphone market.
According to data from Enfodesk, China's mobile phone users reached 986 million in 2011, an increase of 14.81%, while 3G subscribers reached 128 million. The mobile phone penetration rate is over 70%. However, the 3G penetration rate only reached 13%. The popularity of smartphones and mobile internet applications in China will greatly push 2G users to switch to 3G. Enfodesk expects that the 3G user group will rapidly increase to more than 300 million users.
Click to enlarge: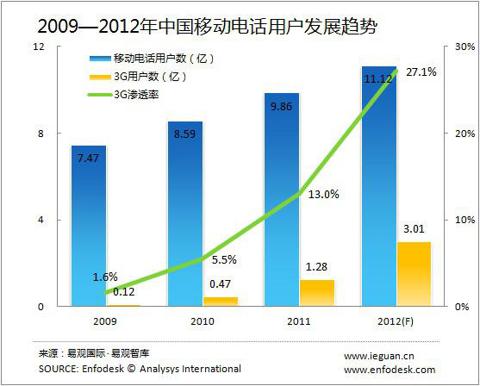 So far, Nokia's pricing for the Lumia 800C is coming in below Apple's iPhone 4S. Without a contract, it's going for 3599 yuan ($570). That gives Nokia (and Microsoft (MSFT)) an opening in the market. It's unclear what kind of pricing the 610C will have with China Telecom.
Nokia and Microsoft are looking to attract Chinese consumers with content that is very much aimed specifically at them. That will include support for popular portals Sina (SINA), SOHU (SOHU), Tencent (OTC:TCEHY) and Renren (RENN); Nokia Maps local content integration from web portals Fantong, Jiepang, Ctrip, Qunar and Soufun; local Nokia Drive navigation; and a selection of Chinese hits in Nokia Music - as well as 20,000 local apps in the Marketplace app store.
Additionally, there are some freebies, too. Those buying Lumia devices in China get 100,000 free plays of Fruit Ninja and PVZ - these will be in the Nokia Collection, which is Nokia's curated selection of apps.
Final Note
Lumia, the U.S. and China are key to Nokia's success. Since emerging markets account for close to 40% of Nokia's overall value, succeeding in China takes the lead. Nokia's important acquisition of Smarterphone AS will help bolster its emerging market prospects in the coming years. Smarterphone AS's proprietary software platform claims to enrich the user experience on feature phones by providing a highly advanced functionality on very moderate hardware.
Nokia's recent initiatives will help it stem the emerging market share loss in the coming years. A successful U.S. debut would encourage other users to switch to Nokia. Thursday, April 19, Nokia will release its Q1 results which will give us a clear indication what we can expect for the rest of the year.