Fellow Seeking Alpha contributor GuTone recently published an article that highlights Chipotle's (CMG) exorbitant implied value per restaurant and the potentially misleading positive impact that changes in liabilities have had on the Company's reported operating cash flow. GuTone's conclusion is that Chipotle represents one of the most attractive short opportunities in the market today. I strongly agree and intend to fan the flames of his short thesis by illustrating that the market currently values Chipotle at what it would realistically be worth five (to eight) years from today if it can achieve an aggressively optimistic (and highly unlikely) growth scenario. Given my findings, I firmly believe that when reality does eventually set in [and it always does] CMG's chart will depict a textbook example of 'staircase up, elevator down' price action.
The bulls are in control, but not for a lack of bears
Chipotle certainly has become a battleground stock. The diametrically opposing commentary attached to GuTone's report serves as one example of how, for the most part, those who follow the Company are either unwaveringly bullish or doggedly bearish - very few sit on the fence. Even the analyst community appears divided over CMG at these levels: twelve brokerages rate the stock a buy or strong buy while fourteen recommend holding and three suggest the equity will underperform. FYI: As a former private equity due diligence analyst turned professional proprietary equities trader, I almost always consider a 'hold' recommendation to be a veiled endorsement to sell. Nevertheless, no one has done much selling for months now… well almost no one. Insiders have been dumping shares hand over fist as the stock continues to set new all-time highs.
Chipotle's one-year chart clearly reveals that the bulls are handedly winning the battle… but my money says the bears will win the war. Despite the stock trading relatively thinly, it is seemingly on everyone's radar. Jim Cramer regularly touts CMG on national television and just this past week used Chipotle, up 24% year-to-date, as a primary example of why "this quarter's [market] strength was not an aberration and there could be more to come, maybe much more." So is the stock really a buy simply because its ten day moving average has proven to be a virtually impregnable line of support since late November 2011 and it just keeps drifting higher? Sure, maybe for a day trade, but absolutely not for an investment.
Chipotle is destined to disappoint
On March 22nd Bernstein reiterated their outperform rating on Chipotle and raised their price target to $475 from $450 on the basis of "solid revenue growth" and the "ability to drive comps without material marketing expenditures." If I held CMG shares, I would certainly hope that a company trading at 61.8x 2011 earnings, 47.9x expected 2012 earnings and 38.5x expected 2013 earnings is recording revenue growth at a rate that is far better than just 'solid'. In my estimation, to justify trading at nearly 62x trailing earnings the company should be expected to grow earnings well over 50% for at least the next few years, which of course it cannot and will not.
As for Bernstein's enthusiasm over the Company's ability to drive comps without over-spending on marketing… well just take a quick look at this picture of a bustling Chipotle Grill. Material expansion of same-store-sale [SSS] growth will not be driven via a reduced marketing budget, particularly year-after-year. Recognizing a meaningful difference in SSS typically requires attracting more customers, but here's the rub: Chipotle restaurants are widely acknowledged as operating at full capacity (or close to it) during peak hours. So unless Management can convince millions of patrons to start eating lunch at 2:30 and dinner at 4:15 how can a rational investor expect the Company to continue to report consequential same-store-sales growth quarter-after-quarter? In other words, when your restaurants are already always packed, in an industry where input costs essentially drift higher in perpetuity, how do you generate positive SSS every year without continually raising prices? You don't, at least not forever. At some point CMG will report negative same-store-sales, and I am almost certain that that time will come long before the Company grows into its current 2.5x PEG ratio and $13 billion valuation.
Too much rice, plenty of beans but not enough meat
Employing highly aggressive (and almost certainly unattainable) growth assumptions, I can reveal that the market is currently pricing over five years of unrealistic growth into Chipotle shares.
I purposely erred on the side of likely unachievable growth to more deeply reinforce the degree to which CMG's stock is overpriced:
I assumed 10% same-store-sales growth, year-over-year for the next five years.
Chipotle added 150 new Mexican Grills in 2011. I assumed that the Company will add 150 new stores in each of the next five years.
I have even been so bold as to assume CMG will rollout 150 new ShopHouse restaurants in each of the next five years. For simplicity I modeled the ShopHouse units to generate the same sales/profits as a Chipotle Mexican Grill.
Even further, I assumed that the number of outstanding shares does not increase over time, that sales projections for new units assume no cannibalization of existing units, that new units will be as productive as existing units, that there will be no increases in input costs and that there will be no material impact on sales from discontinued patronage for periodic price hikes.
click to enlarge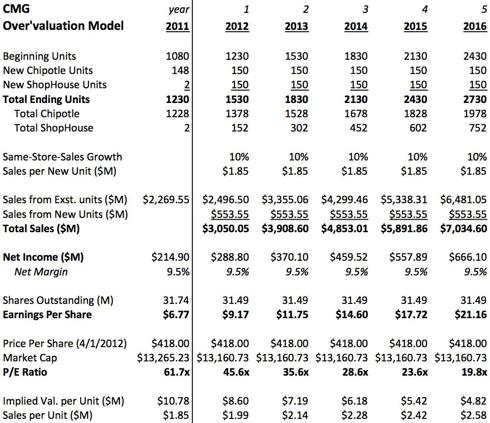 On April 2, 2017, at $418.00 a share, CMG would be trading with a
trailing P/E in the ballpark of 19.8x 2016 earnings per share. The implied valuation per unit (1,978 Mexican Grills and 752 ShopHouses) would be $4.82 million, which would still represent a premium of 60% over the average MacDonald's restaurant today. Again, these projections are the result of baking five years of improbable growth into the cake. Using more realistic assumptions, at $418.00 per share, we shouldn't expect to see CMG trading at a very reasonable trailing P/E of 20x for nearly 8 years, or until 2020.
CMG is so overvalued that the stock can't possibly go higher, right?
Wrong. There most certainly can be additional upside in Chipotle shares at $418. The stock was nonsensically overvalued in the high $380s in early March yet that did not stop traders (yes traders, not investors) from bidding the shares up another 10% over the last three weeks.
My model is simple yet accurate enough to convey my point: even applying a likely unattainable growth scenario CMG would not be reasonably valued for at least five years from today. Over the past twelve months, exuberance has clearly overridden rational valuation metrics and driven Chipotle shares to beyond unreasonable prices. Simply put, anyone initiating a position in Chipotle north of $400 (I personally would not buy it at anything above $250) is solely relying on the hope that he or she will be able to sell to an even greater fool at a higher price down the road. There is no fundamental rationale to buy and hold a position at these levels; the downside is considerably greater than potential upside and if it does not happen sooner, I believe that Chipotle's earnings release on April 19th will be the catalyst for a sharp reversal in the stock.
I will be modestly short into the report.
Disclosure: I have no positions in any stocks mentioned, but may initiate a short position in CMG over the next 72 hours.