Like many of you, it was Hewlett-Packard's (HPQ) history of scandals and low P/E valuation that initially grabbed my attention. Accordingly, two questions popped in my head: (1) what's the story with HP and (2) is HP a buy, sell, or hold?
In this article, I will address the following issues:
HP's Story
Strategy Going Forward
Financial Performance & Analysis
What Do You Get For Your Money?
Conclusion
HPQ's Story
The fun all began (or ended) with a HP press release issued on Aug. 6th, 2010: "…Chairman, Chief Executive Officer and President Mark Hurd has decided with the Board of Directors to resign his positions effective immediately… Hurd's decision was made following an investigation by outside legal counsel and the General Counsel's Office, overseen by the Board, of the facts and circumstances surrounding a claim of sexual harassment against Hurd and HP by a former contractor to HP. The investigation determined there was no violation of HP's sexual harassment policy, but did find violations of HP's Standards of Business Conduct." (Along with this shocking news, HP announced impressive 3Q10 preliminary results and raised full year guidance, which turned out to be one of the last good quarters HP will have.)
Details emerged later that Hurd's crime was submitting ~$20,000 worth of inaccurate expense reports that concealed his personal relationship with the contractor. This doesn't sound like something to fire a CEO over, which leads to a few possibilities:
HP's board is the most ethical board in history. This is probably not true, especially in light of HP's recent (4 years ago, when Hurd was still CEO) espionage scandal which led to the resignation of HP's than Chairwoman, Patricia Dunn.
There are other reasons why Hurd got fired. Whatever the reason(s) is(are), outsiders will have to guess.
The implications are bad: either (1) HP's board was incompetent, (2) something seriously wrong remains hidden, or (3) all of the above.
On Sep. 30, 2010, HP announced that they have hired Léo Apotheker, previously CEO of SAP, as CEO and President. HP boasted that Apotheker helped lead SAP to 18 consecutive quarters of double-digit software revenue growth between 2004 and 2009, but forgot to issue the following disclaimer: "past performance does not indicate future results".
By the release of 3Q10 results on Aug. 18, 2011, a cursory look at the HP's operating results of the past 3 quarters show that the company was falling apart (and the stock trended down accordingly). In addition, Apotheker followed the disappointing earnings release with a left hook by announcing that HP "authorized the evaluation of strategic alternatives for its Personal Systems Group (NYSE:PSG), including the exploration of the separation of its PC business into a separate company through a spin-off or other transaction." (HP later decided to keep PSG under Meg Whitman.) By Sep. 22, 2011, the company fired Apotheker, and replaced him with Meg Whitman as CEO. Under Apotheker, HP lost 45% of its market value.
Strategy Going Forward
So where is HP going under Meg Whitman? Here is what I gathered from various press releases, filings, and conference calls:
In the near term, the focus remains on stabilizing the business, driving execution (poor execution was cited as one of the key reason for firing Apotheker), and getting back to basics like aligning HP's cost structure with its revenue profile
Longer term, HP will invest to capture opportunities in cloud, security, and information management
HP's main strategy is to leverage its broad portfolio of products and services with the hardware business serving as its core; leverage its global reach and scale
HP will have to address its historical underinvestment in R&D in order to increase capabilities
At the same time, HP must cut cost and allocate capital wisely to rebuild its balance sheet, and increase financial flexibility
It doesn't sound like HP will be making big acquisitions anytime soon, but it will try to make the best use of its previous (and highly questionable) acquisitions
Clearly, HP has a lot on its hands, and clearly, HP's turnaround will take years to achieve, if it ever happens.
Financial Performance & Analysis
click to enlarge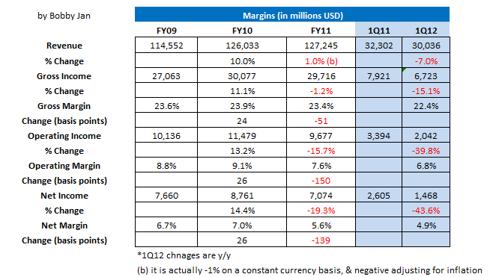 Margin Analysis: HP's decline in revenue, earnings, and margins are very worrisome. Unlike Dell (DELL), HP's numbers do not suggest that the company has given up market share in order to focus on higher margin goods/services. Declining market share AND margins suggests broad-based lack of competitiveness. For Buffett worshipers, this means the moat is narrowing while the castle is under siege.
On the other hand, Dell has successfully pruned lower margin products, which led to nice profit growth even with flattish revenue growth. (I chose to benchmark against Dell in order to put things in perspective.)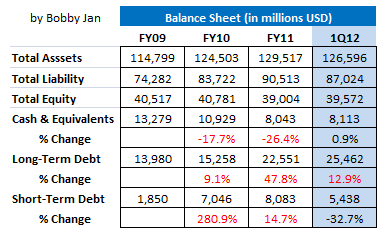 Balance Sheet Analysis:
HP's balance sheet has been deteriorating over the past couple of years. The company's dwindling cash and mounting debt are worrisome, and comes at a time when the company needs financial flexibility the most. To put it into perspective, HP's market cap is 1.6 times that of Dell's, but HP only has half as much cash. Does HP have the firepower to effectively compete at this crucial juncture? (Not to mention cash/share offers downside protection.)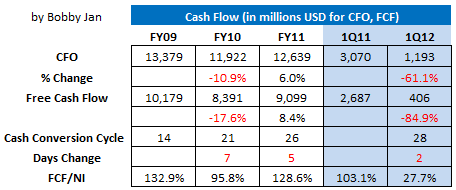 Cash Flow Analysis
Although Net Income (NI) has been declining, we see that Free Cash Flow (FCF) improved in FY11, but dropped dramatically in 1Q12. I also noted that HP's cash conversion cycle (CCC) has been increasing unfavorably. (CCC measures how long a firm will be deprived of cash if it increases its investment in resources in order to expand customer sales.) Since 2009, CCC doubled to 28 days. This compares to -36 days for Dell (this means Dell take money from customers before paying suppliers).
What Do You Get For Your Money?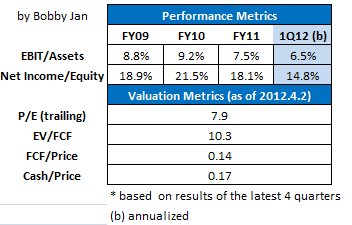 Let's see what you are getting for your money when you buy HP:
You are paying 7.9 times earnings (trailing 12 months), which is cheap, but well justified given HP's difficulties.
EV/FCF tells us that, theoretically, if management stops wasting your money, the company can buy itself back in 10.3 years given its current free cash flow. This does not sound very appealing, especially since Dell can theoretically buy itself back in 5.0 years. [I used the following simplified equation: (market price of equity + debt + preferred shares - cash) / (cash flow from operations - net cap ex)]
Every dollar you pay for HP comes with 17 cents in cash & cash equivalents and another 14 cents in free cash flow. However, every dollar spent on Dell, you get 43 cents in cash & cash equivalents and 17 cents in free cash flow.
Oh, and Dell has been growing earnings and margins in the past few years.
Conclusion
Although Board members have been replaced, HP's Board has lost the confidence of its investors. It has established a terrible record of hiring and firing CEOs. Something might be wrong with HP's culture.
Meg Whitman has a lot on her plate. The only way for HP to bring back investor confidence is to deliver results, and we may not see that in years.
So far, HP has shown broad-based weakness and lack of competitiveness.
I believe the company's low valuation is justified given its performance and financial health.
However, HP is still a very big player with valuable assets: broad portfolios of products/services, global reach/mature distribution channels, brand name, scale, etc.
My guess, and now this is only a guess, is that the upside is greater than the downside given HP's low valuation. There is no good reason to buy or sell HP at this point.
There are better alternatives, such as Dell. Dell's business model and situation is similar to HP's, but Dell has been successfully executing its clearly defined strategy, is in much better financial shape, and has a more compelling valuation given its cash and free cash flow. Click here to read my previous article on Dell.
HP is a hold. Dell is a buy.
Disclosure: I have no positions in any stocks mentioned, but may initiate a long position in DELL over the next 72 hours.