This is part 2 of my discussion of natural gas related stocks.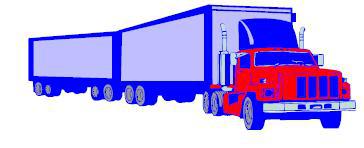 How many trucks operate in the U.S.? What is the magnitude of potential savings?
Government statistics conservatively estimate 2 million moderate to heavy duty vehicles (class 5 - 8) operate in the United States. Industry experts assume 30%-40% of the class 5-8 trucks are considered "high mileage" vehicles. A high mileage vehicle is defined as traveling more than 80,000 to 160,000 miles (or more) annually. These are the trucks that will benefit significantly by utilizing lower cost fuel. Companies like Wal-Mart (WMT), Waste Management (WM), United Parcel Service (UPS), FedEx (FDX), JB Hunt (JBHT), Swift Transportation (SWFT), Old Dominion Freight (ODFL), Con-way (CNW) all benefit.
For illustrative purposes we will calculate the savings on 30% of the class 5 - 8 vehicles (only high mileage vehicles) and use 120,000 annual miles as the "average" annual mileage. If we assume 5 miles per gallon (which can vary dramatically based on load weight) total fuel consumption calculates to 24,000 gallons (120,000 miles / 5 mpg) of diesel used annually. Now if the average cost of diesel is $4 per gallon and a 50% cost reduction (or $2 per gallon savings) can be achieved by switching to natural gas this calculates to $48,000 ($2 savings x 24,000 gallons) per vehicle per year.
The following charts explain this savings calculation and also include detail on other outcomes when the underlying assumptions change. It should be emphasized that even significantly different assumptions still result in substantial cost savings. This further justifies the investment within the area.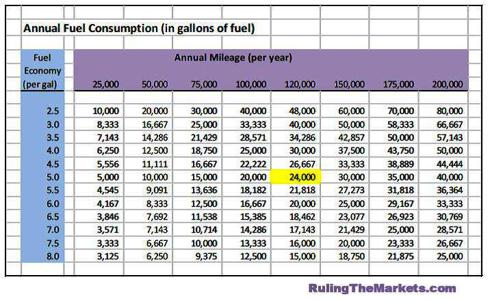 Click to enlarge
(Click to enlarge)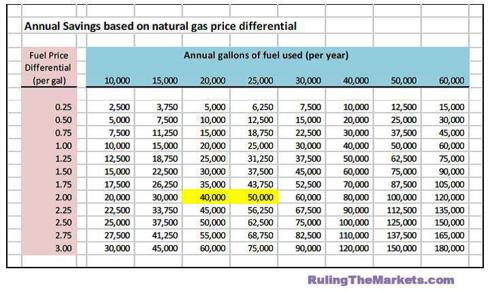 Click to enlarge
(Click to enlarge)
Under almost any scenario, the fuel cost reduction on only the number of high mileage vehicles - 600,000 (2 million x 30%) is BILLIONS of DOLLARS in annual savings. This is absolutely ENORMOUS! A potential savings of this magnitude supports MASSIVE investments for engine conversions, infrastructure, and retail opportunities. Companies adopting the technology can earn HUGE returns on investments which in turn gives substantial pricing power to the companies developing the technology and companies providing infrastructure components (expanding volumes and margins).
I could continue on with the lower mileage heavy duty trucks, medium duty trucks, light duty trucks and everyday cars but, I think you get the idea that the demand for corporate efficiency and a competitive advantage will be driving industry adoption of natural gas for decades to come.
The reality is even better because as long as the structural price differences remain (natural gas prices less than diesel, the magnitude of savings (BILLIONS) will drive the paradigm shift toward adoption of natural gas and support billions of dollars in investments. Additionally, because of the ROI and competitive advantage for early adopters, this change will take place no matter what the overall economic conditions within the United States are at the time, making this a premier area to invest in over the short and long term.
Read that last paragraph again.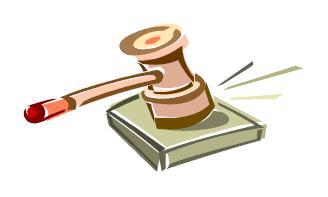 Case is closed !!!
Logistically oriented business will move to natural gas for their primary source of transportation fuel. The potential savings are so large that it offers a significant competitive advantage over peers and the possibility of financial hardships for late adopters due to their cost structure disadvantage.
Data points that could influence our investing thesis
A few factors could alter our investment thesis like: Peace in the Middle East (unlikely); Significant change in the ratio of natural gas to diesel pricing (as previously discussed); New federal or state statutes relating to hydraulic fracking; Any pull back in the adoption rate as illustrated in the graph below which documents "Worldwide" natural gas vehicles from various sources. As you can see other international markets (primarily Asia and the Middle East) where natural gas pricing has historically been lower than diesel, are significantly ahead of U.S. market adoption and infrastructure.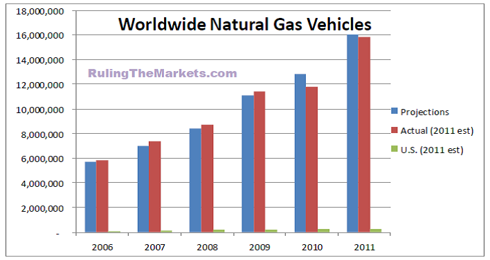 Click to enlarge
(Click to enlarge)
Now that the investment thesis has been plainly laid out, what types of companies should we be looking for?
Natural gas needs to be discovered, drilled, transported (via pipelines), liquefied and finally delivered to the filling stations / end user. Natural gas engines must be designed, manufactured and installed.
Invest in the "picks and shovels" of the exponentially expanding demand for natural gas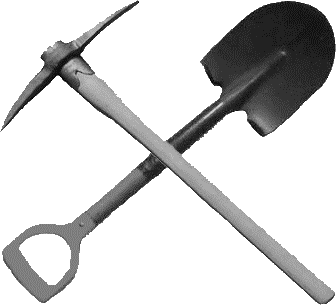 Thankfully, I am old enough to remember the technology bubble and can remember many an internet company that went like a rocket only to explode and fall in pieces back to earth. Remember GeoCities, Pets.com, Info Space, and Webvan (all HUGE market caps and all disappeared) only to name a few. But the majority of the companies that supplied the back bone (think "picks and shovels") of the technology are still around today. A few names I am sure you have heard of are Cisco (CSCO), Intel (INTC), Microsoft (MSFT) and Oracle (ORCL).
In my opinion with falling natural gas prices yet to reach equilibrium, it's much better to be invested in the "picks and shovels" portion of the commercialization of natural gas. So at this moment in time, I do not want to be invested in the speculator, discoverer or the driller of natural gas. I prefer to own stocks of the infrastructure builders, natural gas transporters, engine modifiers, engine manufactures and even the retail filling station owners. All of these industry segments will see a TSUNAMI of demand in the coming years and decades.
OK then, let's have some of the more popular names (subscribe to keep updated on the complete list) that will be covered in upcoming issues - In no particular order.
Some of these companies are more leveraged to natural gas then others.
Sources: Company Reports and other publicly available information
Chart Industries, Inc. - GTLS (March 1st opening price $68.39, Market cap about $2 billion)
Chart Industries, Inc. (Chart) is an independent global manufacturer of engineered equipment used in the production, storage and end-use of hydrocarbon and industrial gases. It is a manufacturer of standard and engineered equipment used for low-temperature and cryogenic applications. Their products include vacuum insulated containment vessels, heat exchangers, cold boxes and other cryogenic components. It operates in three segments: Energy & Chemicals (E&C), Distribution and Storage (D&S) and BioMedical.
Graham Corporation - GHM (March 1st opening price $23.33, Market cap about $200 million)
Graham Corporation (Graham) designs, manufactures and sells custom-built vacuum and heat transfer equipment to customers worldwide. Its products include steam jet ejector vacuum systems, surface condensers for steam turbines, vacuum pumps and compressors, various types of heat exchangers, including helical coil heat exchangers marketed under the Heliflow name, and plate and frame heat exchangers. Its products produce a vacuum, condense steam or transfer heat, or perform a combination of these tasks. The products are available in a variety of metals and non-metallic corrosion resistant materials.
Westport Innovations Inc. - WPRT (March 1st opening price $40.47, Market cap about $2.2 billion). Westport is to natural gas conversion what Apple (AAPL) is to technology.
Westport Innovations Inc. (Westport) is a provider of engine and fuel system technologies utilizing gaseous fuels. The Company's technology and products enable light- (2.4 liter), medium- (5.9 to 8.9 liter), heavy-duty (11 to 16 liter) and high-horsepower (greater than 16 liter) petroleum-based fuel engines to use primarily natural gas. The Company leverages its technology by partnering with diesel engine and truck original equipment manufacturers (OEMs) to develop, manufacture and distribute its engines to a group of global truck and bus OEMs.
Fuel Systems Solutions - FSYS (March 1st opening price $25.90, Market cap about $500 million)
Fuel Systems Solutions, Inc. (Fuel Systems) designs, manufactures and supplies alternative fuel components and systems for use in the transportation and industrial markets. Its components and systems control the pressure and flow of gaseous alternative fuels, such as propane and natural gas used in internal combustion engines. The Company also provides engineering and systems integration services to address its individual customer requirements for product performance, durability and physical configuration. Fuel Systems operates in two market segments: the transportation segment and the industrial segment, including mobile and power generation equipment.
Teekay LNG Partners - TGP (March 1st opening price $39.20, Market cap about $2.5 billion)
Teekay LNG Partners L.P. is an international provider of marine transportation services for liquefied natural gas (LNG), liquefied petroleum gas (NYSE:LPG) and crude oil.
Golar LNG Limited - GLNG (March 1st opening price $42.47, Market cap about $3.3 billion)
Golar LNG Limited (Golar) is the owner and operator of liquefied natural gas carriers and floating storage regasification units (FSRUs).
Cheniere Energy - LNG (March 1st opening price $15.04, Market cap about $2 billion)
Cheniere Energy, Inc. (Cheniere) is an energy company primarily engaged in liquefied natural gas -related businesses. The Company owns and operates the Sabine Pass LNG terminal in Louisiana through its 90.6% ownership interest in and management agreements with Cheniere Energy Partners, L.P. (Cheniere Partners). Cheniere also owns and operates the Creole Trail Pipeline, which interconnects the Sabine Pass LNG terminal with natural gas markets in North America. One of its subsidiaries, Cheniere Marketing, LLC (Cheniere Marketing), is marketing LNG and natural gas on its own behalf and on behalf of Cheniere Partners. Cheniere Partners is developing a liquefaction project to provide bi-directional LNG import and export service at the Sabine Pass LNG terminal. Cheniere operates in three business segments: LNG terminal business, natural gas pipeline business and LNG and natural gas marketing business.
Clean Energy Fuels Corp - CLNE (March 1st opening price $18.79, Market cap about $1.7 billion)
Clean Energy Fuels Corp. (Clean Energy) together with its wholly owned subsidiaries is engaged in the business of selling natural gas fueling solutions to its customers, primarily in the United States and Canada. Clean Energy is a provider of natural gas as an alternative fuel for vehicle fleets. The Company designs, builds, finances and operates fueling stations and supplies the customers with compressed natural gas and liquefied natural gas. It also sells non-lubricated natural gas compressors and related equipment used in CNG and LNG stations, and produce renewable biomethane. It also provides natural gas conversions, alternative fuel systems, application engineering, service and warranty support and research and development for natural gas vehicles, through its wholly owned subsidiary, BAF Technologies, Inc.
Disclosure: I am long WPRT, GTLS. I am looking to buy more of both companies on a market pull back.