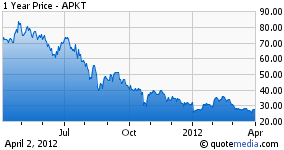 In "Silence of the Lambs," I believe it was Hannibal "The Cannibal" Lecter who said to FBI agent Clarice Starling: "All good things to those who wait." I've had a radar lock on Acme Packet (APKT) for well over a year now, writing articles about the company on April 7th, 2011, and again on November 28th. At both times, the stock was much too expensive for my investing style, although I really liked the organization. Last week it dropped to $25/share, down from its 52 week high of $83, and I took a position in it.
The reason the maker of session border controllers (SBC) has been sent packing is two fold. First, it had a tremendous run in 2009-2010, and became extremely overvalued on a P/E Ratio basis. Momentum traders pushed it into the stratosphere when its sector was in vogue. F5 Networks (FFIV), another telecommunications infrastructure player, suffered a similar fate and was also sent to the guillotine. In early 2011, F5 topped out at $145 and sunk to $69, only to bounce back into the $130 range. I'm not suggesting the same price/action will happen to Acme Packet, but it has the potential to do so based on its projected growth.
The second reason the stock has been unconscious is that they had a bad quarter and lowered guidance for the first half of 2012 during their last conference call. The smoking gun was that North American telecommunications carriers like AT&T (T) and Verizon (VZ) reduced capital expenditures. Andy Ory is at the helm of Acme Packet, and, here are some bullet points from the CEO's presentation during the last quarterly report:
While we expect demand for our solutions to grow at a compound annual growth rate of 25% to 30% over the next three to five years, we expect it to be closer to 20% in 2012.
We expect to maintain our win rate in both the enterprise market and the service provider market in 2012.
Our solutions are deployed at 550 enterprise customers globally including 320 here in North America. What's exciting is that there are over 40,000 enterprises in the United States with at least 250 employees, all of whom are candidates for our solution. We are already the leading provider of SBCs enterprises with 35% market share.
Our enterprise business represents a 21% of our business in 2011 compared to just 3% in 2008.
We've just started to tap into the second major growth driver for our business, the wireless market. Only 1% of the 300 plus million mobile subscribers in North America today use IP voice or video communication.
You probably own a smartphone or tablet, and even if you don't, most people are aware of the explosive growth in the wireless industry. Right now, there is an introduction of LTE (long term evolution) networks by some of the major carries like Sprint (S). Television commercials bombard you with information about these faster 4G networks. Market research firm In-Stat predicts that LTE mobile broadband subscriber growth will increase by 3,400% by 2015. Granted, you are starting with a small user base, but this is where mobile cyberspace is heading. Things just vanish into thin air.
Going back to CEO Ory, he comments about this opportunity for Acme Packet in the conference call: "As LTE networks begin to take hold, we believe that a whole new world of communications known as voice over LTE will be assured in. We expect that significant growth in the number of smartphones and in the percentage of these that are IP-enabled will drive a significant growth opportunity for us. While we have already secured a number of major architectural wins in voice over LTE networks, we believe that material investments in VoLTE , voice over LTE, may not begin until 2013."
Exponential growth in mobile traffic will be the result of these VoLTE networks. Besides your run of the mill phone calls, e-mails, and, text messages, there will also be more robust applications like Skype (MSFT) and FaceTime (AAPL) that will flourish because of the faster mobile broadband.
According to a recent article in Investor's Business Daily: "Mobile traffic is often measured in exabytes. One exabyte is equal to 1 billion gigabytes. By 2016 global mobile traffic is expected to reach 10.8 exabytes a month, an increase of 18-fold over 0.6 per month of exabyte usage last year, says a February report by Cisco (CSCO). In six years Cisco estimates mobile traffic will grow at an annual growth rate of 78%." Faster 4G LTE networks will be a big reason we will see the expansion of data use.
Acme Packet Senior Vice President Seamus Hourihan talks about the macro conditions in the LTE sector in the last conference call: "On the VoLTE side, there are about 40 LTE networks around the world that are in production today. And we're currently on the VoLTE side alone...we're involved in 25 different opportunities today, of those 25, one is either right in production or going about to production or part of that's MetroPCS (PCS). We also have in addition to that nine architectural wins that were part of in three major geographies, North America, Europe and Asia-Pacific."
Another step Acme Packet has taken to get a running head start in VoLTE is a recent partnership with Broadsoft (BSFT). Broadsoft is a VoIP leader, and, the two entities offer a pre-intergrated platform that allows key operator services over VoLTE. These operator services may be functions like caller ID and call waiting; things we take for granted in cellular networks. The two companies did a joint presentation at the Mobile World Congress in Barcelona earlier this year.
The intangibles for Acme Packet sound enticing, but what about the numbers? There are 20 analysts that cover the stock on Yahoo Finance, and the consensus average for earnings in 2012 is $.99/share. With a current price of $27, this gives us a forward P/E Ratio of 27. Expensive when you consider earnings are projected to be flat this year, but, looking at 2013, earnings are expected to grow 31.3%, right in line with the projected five year compound annual growth rate of 33%. This gives us a PEG (price/earnings/growth) ratio of one, a reasonable price for a growth stock.
If the numbers 02-04-23-38-46 and the Mega Ball 23 mean nothing to you, it means you didn't win the Mega Millions Lottery drawing this past weekend for $640 million. A dollar and a dream. I prefer bottom fishing, and, think I bought a good one in Acme Packet. The market had a tremendous run the past six months, and we are probably due for a pullback, so you may be able to pick up some shares at a reduced rate. I backed up the truck at $25, and, unless the market collapses again, I believe I got a great price on this terrific company.
Disclosure: I am long APKT.