Which company is a better investment at this point: Time Warner Cable (TWC) or Time Warner (TWX)? I bet most investors wonder if the answer isn't none of the above.
From a high level, both stocks offer nearly 3% dividends, making the stocks attractive to a large swath of investors. What about for investors that want the 4%+ dividend yielders? Let's first review these two companies that split back in 2009.
Overview: Time Warner Cable
The company is among the largest providers of video, high-speed data and phone services in the United States, connecting more than 14.5 million customers in 29 states to entertainment, information and each other. Time Warner Cable Business Class offers data, video, and phone services to businesses of all sizes, cell tower backhaul services to wireless carriers, and through its NaviSite subsidiary, enterprise-class hosting, managed application, messaging and cloud services. Time Warner Cable Media, the advertising arm of Time Warner Cable, offers national, regional and local companies innovative advertising solutions.
The company has the following customer base:
14.5 million customer relationships
11.9 million residential video subscribers
9.9 million high-speed data services to residential customers and a growing number of business customers
4.5 million residential Digital Phone subscribers
8.7 million Double and Triple play subscribers
The stock is worth $25.6B and trades at a forward PE of 12.2. Analysts estimate the growth rate at 13.7%.
Overview: Time Warner
The company is a global leader in media and entertainment with businesses in television networks, filmed entertainment and publishing, uses its industry-leading operating scale and brands to create, package and deliver high-quality content worldwide through multiple distribution outlets. Divisions include Time Inc., Home Box Office, Turner Broadcasting System, and Warner Bros. Entertainment maintain unrivaled reputations for creativity and excellence as they keep people informed, entertained, and connected.
The stock is worth $36.6B and trades at a forward PE of 10.3. Analysts estimate the growth rate at 11.9%.
Decision Time
Considering these high level overviews barely touch the service, which stock is the better investment? Would you rather be the network provider or the content provider these days?
My guess is that the ability to deliver content is deleveraging from the network and heading into the wireless space. Though content is also becoming easier and easier to create on smaller budgets and distributed through means other than a cable TV channel or newspaper.
So actually it remains a tough decision.
Net Payout Yield
Since these large cap companies are old and complex to understand, the better investment philosophy is to let management tell you which company is better. The way to accomplish this feat is by calculating the Net Payout Yield (NPY) and letting the higher yield show which company has the largest cash flow per market cap plus the management team with the highest confidence in spending that cash flow. So while the dividends are solid near 3%, many other stocks surpass them, but what about the NPY?
Both companies have solid buybacks, but Time Warner takes the cake. This company has a massive 15.6% NPY, while Time Warner Cable isn't too shabby with a yield just below 13%. See the figures below for a quarterly analysis over the last 5 quarters.
Figure 1 - Time Warner Net Payout Yields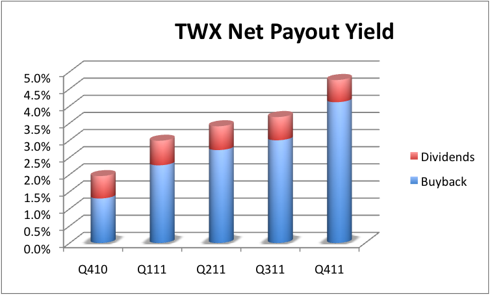 Click to enlarge
Figure 2 - Time Warner Cable Net Payout Yields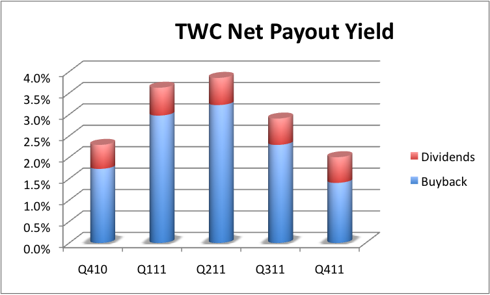 Click to enlarge
Conclusion
On top of the higher yield, Time Warner was also ramping up as 2011 went along. On the other hand, Time Warner Cable reduced buybacks in the 2nd half of 2011.
Management has spoken. The clear winner for now is Time Warner.
Disclosure: I am long TWX.
Additional disclosure: Please consult your financial advisor before making any investment decisions.