I've written extensively on trends that are not going in Amazon.com's (AMZN) favor. For instance, the way digital goods retailing is changing in an unfavorable manner, or the way content and fulfillment costs are eating away the margins. These have little to do with Amazon.com supposedly "investing for the future", which is the thesis holding Amazon.com at irrational valuation levels, but slowly decaying as the ruse becomes ever less credible. Sure, the analysts won't openly challenge this thesis, but as time goes by downgrades creep up, as the disbelief sets in.
Still, new unfavorable trends keep popping up for Amazon.com, and I've just found another one. As we all know, Amazon.com is presently mostly an online electronics retailer. As per the latest 10-K, electronics and other merchandise represented 59.7% of the total revenues.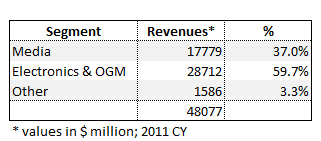 This trend towards being an online electronics retailer had an obvious consequence, acquiesced by Amazon.com itself on the 10-K: It led to higher fulfillment costs, since electronics are rather expensive and so mostly qualify for free shipping. This is the paragraph where AMZN clearly states that the trend in the sales mix towards electronics leads to such outcome (emphasis added below):
We expect our net cost of shipping to continue to increase to the extent our customers accept and use our shipping offers at an increasing rate; to the extent our product mix shifts to the electronics and other general merchandise category; to the extent we reduce shipping rates; to the extent we use more expensive shipping methods; and to the extent we offer additional services. We seek to mitigate costs of shipping over time in part through achieving higher sales volumes, negotiating better terms with our suppliers, and achieving better operating efficiencies. We believe that offering low prices to our customers is fundamental to our future success, and one way we offer lower prices is through shipping offers.
However, there is one further trend regarding electronics that is broadly unfavorable to Amazon.com. This is my new insight: this trend would manifest itself even if the mix between media and electronics were to remain stable. And what trend is that?
Well, electronics keep getting cheaper and cheaper. But shipping the same electronics volume costs about the same anyway. This means that the cost to ship the electronics is bound to eat an higher and higher percentage of the revenue coming in from electronics! For instance, a 42" LCD TV set could cost $1500 a few years back, and now goes for $500, yet the cost to ship it would be the same (actually, higher) today! So its cost to ship would triple in percentage terms!
This trend is also evident on how you keep seeing Amazon's units shipped always growing ahead of revenue, for instance Bank of America's writes in its latest downgrade (bold is mine):
Our model assumes that Amazon will increase headcount by 3,900 people in 1Q, which represents 59% y/y growth, well ahead of 31%, 43%, and 25% y/y 1Q revenue, unit and active customer growth.
Conclusion
Adding to many other trends eating away at Amazon.com's margins, we can add that the trend towards cheaper electronics also presents a challenge. This underscores my thesis that Amazon.com is fundamentally flawed in many different ways, which will probably lead to a large drop in share price at some point, as the market recognizes all the different threats Amazon.com is facing.
In the meantime, there are signs Amazon.com is beginning to understand the dire straits it's in, and the need to improve margins. Amazon.com could try to do this either by increasing prices, or by squeezing suppliers. Right now, it seems Amazon.com has chosen to try and squeeze suppliers.
Disclosure: I am short AMZN.