INTRODUCTION
While the record warm March weather has helped add to the glut of natural gas supplies, in which natural gas futures are heading close to $2.00, soybean prices have exploded on the South American drought, while coffee prices have sold off some 30% from their highs in late, 2011.
Whether or not the U.S. has crop problems this spring or summer and natural gas prices can get out of the doldrums, will be, at least partially dictated by the weakened La Nina event, whether or not El Nino forms, and the very active sun, of late.
GLOBAL WARMING OR SOLAR ACTIVITY AND WARM WINTER THAT KEEPS PRESSURING NATURAL GAS
While I do believe in "man-made global warming," I cannot attribute every unusual weather event by any means, to global warming itself.
There is mixed scientific proof that solar flares can actually increase global temperatures. I believe they were at least partially responsible, for the record warm March weather and continuation of the snow drought that hurt many ski areas this winter. However, this correlation cannot be necessarily made for the summer. Hence, without extreme sustained heat in major U.S. natural gas consuming regions, barring an unexpected major impact on production (hurricanes or some unforeseen government policy to restrict shale production, etc.), natural gas prices could fall to $1.50-$1.80 later this summer. This is not to say a short covering rally will not occur ahead of summer and the hurricane season (traders sometimes book profits and hedge themselves in advance of summer demand); but it will take some extraordinary weather events to get natural gas out of the doldrums, in my opinion.
Here is an interesting video from NASA regarding to the March 7 solar flare.
SOYBEANS SOAR ON TIGHT SUPPLIES AND SOUTH AMERICAN DROUGHT, BUT NEW CROP CORN LAGGING
The last time we wrote a detailed grain report back in January and February, we discussed the South American drought and why the long old crop soybean, short new crop corn spread, might be something that works. Over the last eight weeks, this "spread" has soared, brought on by large crop reductions to the South American soybean crop, while increased planted acreage for corn and a record warm March (early corn planting) has pressured December corn futures.
(Click charts to enlarge)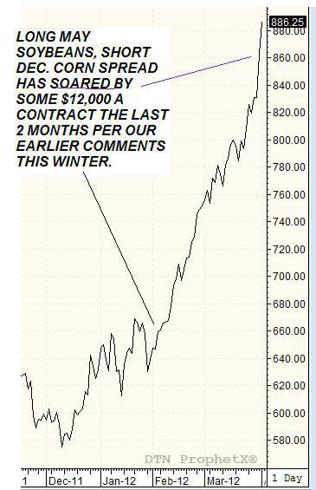 Click to enlarge
SOURCE: PROPHETX
Friday's bullish report for old crop corn, wheat (less spring acres intended to be planted) and soybeans (soared to new highs due to expected lower acreage), continues to widen that spread. However, from here on out, weather conditions in Europe and the United States will be very important to the corn and wheat markets and could have a bearish influence in prices, in the weeks ahead.
The wheat market, on the other hand, still has to struggle with large world stocks and a possible easing in European dryness and good moisture coming to the S. Plains hard red crop.
With the largest U.S. Corn plantings since the 1930s, the active sun and a weakened La Nina, it is possible above normal trend-line yields could be the rule for U.S. corn farmers this summer. If this is the case, then a more medium term "bearish scenario could develop for the corn market, even though the short-term tightness continues to support the Teucricum Corn Fund (CORN)."
The seasonal graphic below shows that in 14 of the last 15 years, old crop corn prices tended to fall in April, as the market separates itself from old crop tightness and focuses in on U.S. Planting weather.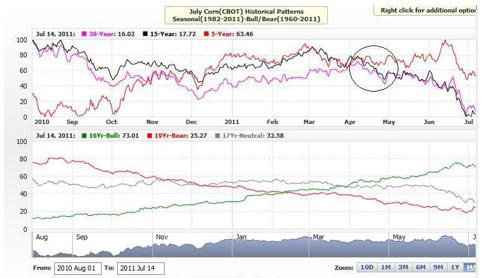 Click to enlarge
Seasonally, as the chart shows above---even July corn futures tend to fall in most years come mid-late April, as farmers step up corn planting. This year, the record warm March will accelerate corn plantings with mostly ample rainfall.
SOURCE: MOORE FINANCIAL
COFFEE/SUGAR AND WHAT WEATHER EVENTS WILL BE IMPORTANT?
A lingering drought in Sao Paulo is lower sugar cane production and it will be imperative in coming weeks that rains fall there, as well as a good start to the Indian Monsoon come June, otherwise, sugar futures will take note.
While we have been bearish coffee futures the last 3-4 months, on the expectation of a big Brazilian crop coming onto the market; presently, the weather pattern is becoming too wet in Colombia for the harvest of the small Mitica Crop, and with the South American freeze season officially beginning in about another month, some "frost risk premium" in coffee prices remain. While coffee prices are perhaps oversold, do we expect, however, a major price rally in coffee that may make it worth buying the ETF (JO), after a recent 45% sell off? Perhaps not, unless we see a major freeze in Brazil come June and July and additional major weather problems in other countries.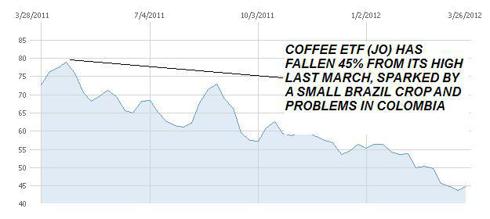 Click to enlarge
SOURCE: MSN.COM
Disclosure: I have no positions in any stocks mentioned, and no plans to initiate any positions within the next 72 hours.