"Price is what you pay, value is what you get." - Warren Buffett
The first day of trading in the second quarter has now officially started off with a bang as all three major indices continue to be discussed with words such as "records" and "decade highs" completing each sentence. The Dow added 52.45 points to close at its highest level since 2007 while the Nasdaq added 28.13 after having completed its best quarter since 1991 - that was over 20 years ago. Not to be overlooked is the S&P500 after recently becoming my favorite index to follow - it has also garnered its best 3-month performance since 1998.
Clearly there is a lot of excitement on the market at the moment. But I found it very hard to quantify the level of enthusiasm experienced on Monday without first appreciating that tech giant Apple (AAPL) has been slapped with a $1,000 price target by Piper Jaffray while also noting the following:
Piper Jaffray said in a note to investors this morning that Apple shares will reach $1,000 in 2014, implying a market cap of around $1 trillion, the first in history. Piper believes Apple will continue to win market share in global mobile devices and raised 12-month price target for shares to $910 from $718. The firm maintains an Overweight rating on Apple.
Piper Jaffray was not alone in the 4 digit party however. He was joined by Brian White of Topeka Capital who initiated coverage of Apple with a $1,001 price target. In other words, just like game show "The Price Is Right" Brian wanted to beat Piper by $1 while citing the company's growth potential in China. As much as I agree with both analysts, they are yet one week late to the 4 digit party and (remarkably) both are $200 short of the $1200 target that I set for Apple's shares just a week ago when discussing valuations and the fact that it had a realistic chance of doubling over the next two years.
SIRI vs. AAPL SIRI challenge
I am leading with the quote above from Warren Buffett because it is often the biggest mistake that investors make during the equity appraisal process. Too often we look at a number that exceeds our imagination and wonder "there is no way that this can happen." Except, we fail to look at the underlying fundamentals to support the idea. Conversely, we will take a "pie in the sky glance" at another stock and claim that it will reach a certain level (again) without realizing that there are no underlying fundamentals to support that target. This is where investors often make the mistake of confusing "price" with "value" and are sometimes incapable of seeing what is built into a stock price.
Case in point, Sirius XM (SIRI) and Apple clearly have two of the most passionate investor bases in the entire market. You don't need too look far on either side to see that the conversations often come with more than their share of fanaticism. But in a recent article I made the claim that Apple's shares will see $1200 before Sirius sees $4.50. At the time, that was a pretty easy bet to make, but it was met with some ridicule and following comments from a reader names brewsterm5: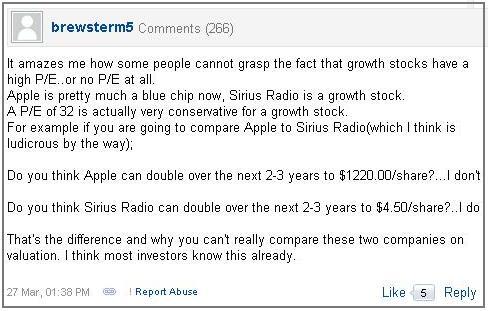 It seems that both Piper Jaffray and Brian White have now also decided to "insult everyone's intelligence" as brewsterm5 mentioned above. This is the good thing about Seeking Alpha - readers often get to acquire similar if not greater analysis than those from mainstream media. What is not often appreciated enough is that readers often get this well ahead of time and long before it is adopted as a sound idea by the masses. We have seen evidence of this on numerous occasions.
What I have noticed is that there are certain investors that look at Sirius' stock performance over the past three years and expect this trend to continue - this is not the case. It is ok to be late to the party and have missed the main event. It is just unrealistic to expect a second act absent similar circumstances and market dynamics that preceded the performance. A year ago today, Sirius was at 35 cents and as of Monday's close of $2.40 it has gained a remarkable 585 percent in just three years. And today at a P/E of 34, we are making the mistake and looking at its low price - one that when compared to Apple is twice as expensive. The question that investors are asking is, why can't Sirius double in price as Apple is said to be capable of doing?
The reason is simple: as an investor I see that there are too many things that have to go right for Sirius when discussing market dynamics and future growth potential because the company has now entered what I call "a different time" where expectations are now much higher. Between 2009 and 2011 I think it is fair to say that most equities received a "pass" for subpar performances and even went higher on some occasions.
I think Sirius benefited from a great deal of "revolving money" as more capital was taken out of some of the traditional stocks and placed into those with "homerun" potential. Now that the market has recovered and corporate IT spending has returned, the trust has been now placed back into the blue chips where growth and earnings are again at a premium.
Summary
For Sirius, in 2012 and beyond, or post recessionary events, earnings and expectations are going to impact valuations unlike ever before. Sirius has to be willing to innovate and inspire. Right now it is unable to do that because, as I've stated, it is "stuck in auto" or it is still heavily too reliant on the automobile. I have said recently that $2.50 seems like it is the cap on the stock and I don't see a scenario where it can go higher especially considering that the market (for a while) has anticipated Liberty (LMCA) making an offer for only that amount.
Disclosure: I am long AAPL.