In an article I published on February 8th, I took a closer look at social media stocks in light of Facebook's soon-to-be glorious IPO.
All the social media stocks appeared way overvalued, to say the least, but my final recommendation was not to short any of them because the trend can be their friend and we might incur substantial losses by following this course of action. In other words, it is always risky to short stocks based solely on valuation.
Over the past 2 months, all the social media stocks have experienced great volatility: LinkedIn (LNKD) skyrocketed by over 20%, Yelp Inc.(YELP) and Angie's List, Inc. (ANGI) have risen by 15% while Zinga (ZNGA) and groupon (GRPN) both lost some value.
I believe now is the time to short GRPN, and that is for the following reasons:
Overly rich valuations
Lets take a closer look at some of the valuations of the recent social media IPOs:
| | | | | | |
| --- | --- | --- | --- | --- | --- |
| | LNKD | ZNGA | GRPN | YELP | ANGI |
| P/E (TTM) | 864 | N/A | N/A | N/A | N/A |
| Price/ Book | 16.5 | 5.4 | 13.5 | 14.6 | 23.5 |
| Price/ Sales | 20 | 8.3 | 6 | 19.3 | 12 |
| PEG Ratio | 3.1 | 2 | 2.46 | N/A | N/A |
| Dividends | Non | Non | Non | Non | Non |
The price/book of all the aforementioned companies is wandering around the dreamland zone of absurdly expensive. There is no other way of putting it. The reason being that these companies are priced solely based on potential future growth and not on fundamental metrics. Even the PEG Ratio which embodies earnings growth is hovering above 2 for all companies, way beyond the conventional value of 1. GRPN is not exceptionally expensive relative to the other social media stocks, but it definitely stands in line.
A malfunctioning business model
The coupon business model of Groupon is falling apart for several reasons:
It never had a real economic moat to begin with. The barriers to entry to the coupon business are slim, at best. All you have to do is coordinate a few salesmen, publish some banners and upload an internet site. That is all. One of the consequences of this slim moat is the quick appearance of such coupon companies worldwide following in the footsteps of the mighty Groupon. In fact, there are hundreds of coupon companies in the U.S alone, not to mention China, India and other friendly consumer- based economies.
Businesses are getting the short end of the stick. Due to the large margin Groupon charges its businesses for the promotion (estimated at 50% of the discounted price), businesses are said to be wary of the company. Last summer Utpal Dholakia of Rice University interviewed 150 businesses that had done Groupon promotions. One-third said they did not make any money from them, and 42% said that they would not do another daily deal.
Consumers are not that eager to rush and buy coupons as much as they used to. The trend that seemed to attract everyone is slowly and gradually coming to a halt. It seems like people eventually realized that checking discounts on an hourly basis tends to increase their monthly expenses on redundant stuff rather than "save" them money.
Accounting Gimmicks
On March 30th, GRPN reported that it was revising its previously reported revenue of $506ML by $14.3ML.
The revisions are primarily related to an increase to the Company's refund reserve accrual to reflect a shift in the Company's fourth quarter deal mix and higher price point offers, which have higher refund rates. The revisions have an impact on both revenue and cost of revenue.
What this basically means is that the company has suffered a high rate of refunds. It is imperative to understand that this error does not end with refunds. It means that the company does not have its risk controls intact. Very problematic for a company whose main business is to manage receivables.
This was not the first encounter of GRPN with the SEC. In its pre IPO phase, the company misleadingly disclosed the total number of customers having ever bought a Groupon offer in a portion of the S-1 clearly reserved for quarterly results.
As you can see, this company is an immediate suspect of accounting gimmicks.
Technical Front
The stock has lost approximately 15% in the past week. While doing so, it violated the 50 day EMA of 18.8, and broke through several support lines at - 18.9 and 16.9 heading towards the ultimate support at 14.85. The price of 14.85 is likely to make-or-break the upcoming trend. You will see that the rate of decrease will speed up as soon as the 14.8 is broken on the way downwards.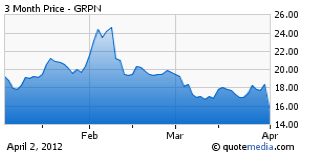 The contrarian view
Some might say that the company has already paid for its sins. In fact, it might have actually over-paid: $1BL was lost in market share value for a 4 cent per-share crime. I, on the other hand, believe that there is an explosive combination of valuation issues together with accounting gimmicks that will eventually lead to the demise of GRPN.
What's an investor to do?
Short GRPN at prices between $14 and $17. Place a tight stop loss at $19 to avoid losses due to volatility, while allowing the winner to run. Take profit at $10.1 to avoid a round number.
Disclosure: I am short GRPN.