Today, I bought some shares of Banco Santander (STD), which is the largest financial group in Spain and Latin America, the largest bank in the eurozone by market capitalization, and the fourth largest in the world by profits; it is headquartered in Madrid, Spain. I am not an expert in financial stocks, but I've been keeping this one in my watchlist for a couple of years - I decided to pull the trigger today for a few reasons.
Personal reasons
Last week, I sold out my investment in Coca-Cola (KO) for a 11% net profit - having bought it in mid-January at $66, that corresponds to an annualized return of almost 50% - not bad. Now maybe I am oversimplifying here, but I just felt Coke has become a little expensive with a P/E ratio of 20 and a PEG of 3, so I decided to lock in some profits and reinvest them in what I felt was cheaper.
The other personal reason is that I have always had a soft spot for Santander: maybe because it is the official sponsor of Ferrari's F1 car - of which I am a fan. Maybe because I like Spain where I've been on holiday many times. Maybe it is just its fiery red logo, suggesting passion and strength.
I consider myself a contrarian investor, that is, I like to buy what the market scorns; sometimes it pays off. Sometimes, however, the market is right about the stock and I end up with a bad investment in my portfolio.
That's the reasoning behind my investment in Gazprom (OTCPK:OGZPY), which I sold recently for a 15% net profit, and my investment in Enel (OTCPK:ENLAY), a stock I advised buying here on Seeking Alpha.
Enel is not doing very well since I bought it. My position is 6% in the red, but I am in no hurry and am confident that eventually Mr. Market will realize that Enel is worth more than $33B.
Financials
If we take a look at the latest financial data available, Santander appears to be in bargain territory. The price/earnings ratio is currently around 9; if we normalize it for the past 5 years, it goes down to only 7. The price to book ratio is 0.6; if we ignore goodwill, the price to tangible book is still a compelling 0.99. Price to cash flow is just 6.33; the return on equity is 11% - which is not bad for a bank that has a debt to equity ratio of just 0.30.
Wells Fargo (WFC), Buffett's favorite bank, has a ROE of 12% and a debt to equity of 1.24; a similar ROE on smaller debt indicates better profitability. Profit margin is an excellent 20%, which is better than most large international banks, and in line with Wells Fargo's. Last but not least, the dividend yield is north of 10% - even if you cut it in half, it is still twice as much as Well Fargo's or JP Morgan's (JPM), which pay 2.5%.
Technicals
I am no longer a fan of technical analysys. While some traders make money analyzing stock charts, after years of stressful practice I have come to the conclusion that it is not my cup of tea. Anyway, from a chartist's vantage point, Santander appears ready for a bounce.
Long-term support is at $7; the most commonly used oscillators signal a possible reversal of trend; the 200-day moving average is at $8.49; and the 50-day moving average is at $8.20 and is in an uptrend, having reversed in mid January. The faster moving average is about to cross the slow one, and the 50-200 moving average crossover is a well known strong bullish signal. Finally, today's price action signaled a candlestick bullish engulfing pattern, a strong trend reversal signal.
Click to enlarge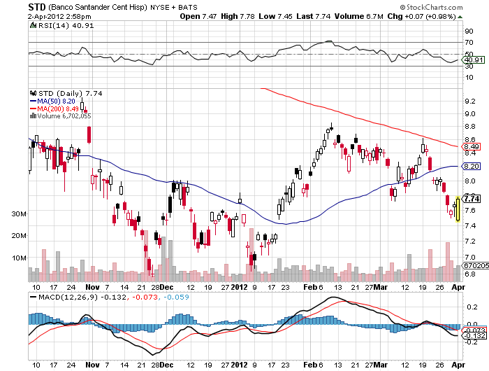 Management
Emilio Botin, the bank's chairman, is an astute investor; he has been able over the years to gobble up assets at bargain prices and grow Santander from a midsized regional player into a global financial powerhouse. For example, in 2000, he bought Banespa of Brazil for just $3.5 Billion. The bank is now known as Santander Brazil (BSBR), a publicly listed subsidiary of the group. It "IPO-ed" in 2009 and now has a market cap of $35B, making it Brasil's 3rd largest bank.
In 2007, Botin bought 25% of Philadelphia's Sovereign Bank for $20 a share. When the 2008-2009 financial crisis was at its peak, he took advantage of the mess and bought the remainder of Sovereign for just $3 a share. Following the same acquisition strategy, Botin expects to grow profits 50% in the next two years by investing in Asia and Latin America, as he explained in an interview for Fortune magazine. The chairman pledged his determination to stick to traditional banking practices without adventuring in risky derivatives trades or reckless investments, an approach he inherited from his father, also a banker.
My Conclusion
Assessing the intrinsic value of a complex business such as that of a big bank is a very difficult task, even for specialized financial analysts, so it would be arrogant on my part to try and guess a fair value for Santander. Even so, I think that if we consider all the qualitative and quantitative factors I have listed, Santander appears to be cheap at these prices and may end up being a good investment. I initiated a small position in the stock, that makes for just 5% of my equity portfolio.
Disclosure: I am long STD, OTCPK:ENLAY.