In this article, I will be featuring an interesting little bio-pharma that a few investors brought to my attention over the past few weeks. This one might be a long term buy and hold, albeit risky for the long term, as most of these lower priced bio-pharmas certainly are. I believe the risk/reward ratio at the company's current price level is favorable for at least a mid-term swing trade.
BioDelivery Sciences International (BDSI) 4/2/12 pps: $2.57 Market Cap: $75.97M.
BDSI focuses on developing and commercializing products in the areas of pain management and oncology supportive care. The company uses its patented BioErodible MucoAdhesive (BEMA) and Bioral cochleate drug delivery technologies in the development of its products.
FDA approved drug: Onsolis
Onsolis utilizes the BEMA drug delivery technology, which consists of a small, bioerodible polymer film for application to the buccal mucosa (inner lining of the cheek). Onsolis is an opioid analgesic indicated only for the management of breakthrough pain in patients with cancer, 18 years of age and older, who are already receiving and who are tolerant to opioid therapy for their underlying persistent cancer pain.
Onsolis is an opioid analgesic indicated only for the management of breakthrough pain in patients with cancer, 18 years of age and older, who are already receiving and who are tolerant to opioid therapy for their underlying persistent cancer pain.
Recently, BDSI had an issue rolling this product out. On Mar 12, 2012 BDSI announced Onsolis distribution was being postponed until the product formulation can be modified to address two appearance issues raised by the FDA following a recent inspection of the Aveva manufacturing facility where Onsolis is produced.
Let's take a looks how the stock reacted after this news broke:
Mar 12, 2012: Volume: 173,100: Closing price: 2.22
Mar 9, 2012: Volume: 75,800, Closing price: 2.37
We can see very little effect on the stock price, so this is surely a positive. BDSI has greater value in my opinion in its pipeline, let's take a look:
Bioral is in pre to early clinical, so although this is certainly a promising treatment designed to make oral drugs more effective with better absorption, it is too early to figure this into the stock price at this time.
BEMA Buprenorphine can be figured into the stock price.
BEMA Buprenorphine is touted as a unique class three opioide, the only one of its kind in existence. The product however, had an issue in the phase 3 efficacy results:
In September 2011, it was announced that BEMA Buprenorphine failed to meet the primary endpoint of a Phase III trial completed earlier this year. Company CEO Dr. Mark Sirgo said at the time that some data from the trial was compelling enough to warrant additional studies. The issue was the 'placebo effect', as the placebo group did better than expected when compared to the actual drug arm.
Only a few months after the BEMA Buprenorphine phase 3 semi failure, Endo Pharma (ENDP) decided to partner with BDSI for the product. The phase 3 results looked much better in the area of eliminating un-titrated-up patients, which was good enough for ENDO to decide to make the deal.
The agreement with Endo is for worldwide licensing and development with exclusive rights to commercialize BEMA Buprenorphine for the treatment of chronic pain. The agreement, worth up to $180 million to BDSI if all milestones are met, included an upfront payment of $30 million at signing and a tiered mid to upper-teen royalty on net sales in the U.S.
I have to ask myself why would a large pharma such as Endo partner with BDSI on this drug if they believe it will fail? It is my opinion the drug will show the correct efficacy this time around. Endo knows the market potential of this drug, estimated to be worth up to 500M a year in sales.
A second BEMA Buprenorphine trial will take about nine months and cost an estimated $8.5 million. The second phase 3 trial could start in the 2nd quarter of 2012. As of February of this year, BDSI has around $40 million in cash on hand, so I do not see any need for the company to raise money via stock dilution.
The other stage three clinical trial drug is BEMA Buprenorphine/Naloxone. This is for the treatment of opioid dependence. The product will combine a "high dose" of buprenorphine along with an abuse deterrent agent, naloxone. Preliminary pharmacokinetic studies have demonstrated the ability of the BEMA technology to deliver the high doses of buprenorphine necessary for the treatment of opioid dependence.
Buprenorphine is widely used in the treatment of opioid dependence and is marketed as Suboxone (buprenorphine/naloxone) and Subutex® (buprenorphine). Accordingly to Wolters Kluwer, U.S. sales of buprenorphine containing products for the treatment of opioid dependence exceeded $1 billion in 2010. Initial pharmacokinetic studies have demonstrated the ability of the BEMA technology to deliver doses of buprenorphine needed for the treatment of opioid dependence. With only one drug for this indication currently in the market place sold by Reckitt Benckiser in the U.K., there seems to be room for other companies such as Biodelivery Sciences to enter.
The estimated market potential of the above drug is $300 million as referenced from the video link below. There is considerable political pressure mounting for these types of drugs to be more readily available on the market. Google around and do the due diligence on this important factor.
I found this interesting video interview with Dr. Mark Sirgo who explains what BDSI is currently engaged in. Clicking on the link above will take you to the video interview. Some highlights include the following quotes from Sirgo:
The two products in our pipeline have much greater value than our first product, explains Dr. Sirgo. We've demonstrated the ability to move products through the regulatory hurdles. Investors need to take a closer look at our pipeline and the value that we plan to create there.

We have one marketed product that uses the same technology that products in our pipeline are using. It's approved. It's been through the FDA and it serves as a great proof-of-concept for our ability to not only take our product through the regulatory pathway, but also partner and get through commercialization.

BEMA Buprenorphine is a unique opioide, it's a class three. It's the only standalone class three. The classifications are by the DEA (Drug Enforcement Administration), the higher the number, the less abuse and addiction potential of the opioid. So, class two's for instance are fentanyl, morphine, and oxycodone. BEMA Buprenorphine doesn't lose any of the efficacies of the C2 narcotics, but it has a much better safety profile.
From this link here, we read the following in a form S3-A:
We may offer and sell from time to time up to an aggregate of $40,000,000 of any of, or units comprised of, or other combinations of, the following securities:

Common Stock:

We may issue shares of our common stock. Holders of common stock are entitled to receive ratably dividends if, as and when dividends are declared from time to time by our board of directors out of funds legally available for that purpose, after payment of dividends required to be paid on outstanding preferred stock or series common stock. Holders of common stock are entitled to one vote per share. Holders of common stock have no cumulative voting rights in the election of directors.

Our common stock is traded on the Nasdaq Capital Market under the symbol "BDSI." As of January 26, 2012, the aggregate market value of our outstanding common stock held by non-affiliates is approximately $49,981,288, based on 29,561,655 shares of outstanding common stock, of which approximately 24,381,116 shares are held by non-affiliates, and a per share price of $2.05 based on the closing sale price of our common stock on January 26, 2012. We have not offered any securities pursuant to General Instruction I.B.6 of Form S-3 during the prior 12 calendar month period that ends on and includes the date that the registration statement of which this prospectus is a part was first filed with the Securities and Exchange Commission
It is worth noting that although the company can choose to sell its company stock with this shelf offering, it has refrained from doing so to date. This shows me that this offering is being used as an insurance policy in place in case the company runs low on cash. This should no longer be a factor since the deal with Endo Pharma ensures the company has more than enough money for current and future operations. If I saw that the company has been dumping shares, I would not be writing this article.
BDSI received an upfront payment of $30 million in early January 2012 with the signing of a license and development agreement with Endo Pharma for BEMA Buprenorphine for the treatment of chronic pain. A $15 million milestone payment, for granting of a patent extending the exclusivity of BEMA Buprenorphine and BNX through 2027, is expected by the end of second quarter 2012. The allowance of the patent was made by the United States Patent and Trademark Office (USPTO) in February 2012, while the formal granting that triggers this milestone payment typically occurs within 3 months of the allowance.
CEO Dr. Mark Sirgo has constantly avoided diluting stock holders and mentioned this before the Endo deal was in place. With The Endo deal in place, it appears the need for dilution at this time has been taken off the table. BDSI has the money it needs to fund its operations, and to mention again, the company does not have a history of dumping off shares, although it certainly can with its shelf offerings, as it has a standing shelf offering from March 2011, and choose not to sell any shares. I consider this bullish for stock holders and shows management is not willing to use share holders as a first resort to raise money, but as a last resort.
Zalicus (ZLCS) is one small bio-pharma that comes to mind when I think of stockholder dilution where that company seems to continually engage in dumping its convertibles on the open market; this is stock holder unfriendly.
This is not to say that I do not like Zalicus' future prospects, it is just that I do not like when small developmental bio-pharmas constantly issue warrants for financing, then dumping on the open market once the warrants become exercisable. This is why Zalicus stock trades on heavy volume and barely moves in my opinion.
Investors look for appreciation in the short, mid, and long term and obviously make investments/trades on this factor. Let's take a look at BDSI's stock structure and compare it to Zalcius's.
| | |
| --- | --- |
| *Shares Outstanding: | 29.56M |
| Float: | 24.21M |
| % Held by Insiders: | 18.07% |
| % Held by Institutions: | 29.20% |
We can see from above that BDSI is a relatively low floating stock. The company has not engaged in any selling of its shelf offering, although it certainly could have. This is responsible and stock holder friendly management in my strong opinion.
Let's take a look at Zalcius:
| | |
| --- | --- |
| Shares Outstanding: | 98.67M |
| Float: | 78.71M |
| % Held by Insiders: | 13.26% |
| % Held by Institutions: | 18.70% |
Zalicus has over 4 times the amount of outstanding shares and 3 times the floating shares. Zalicus currently sells for $1.20 a share. If Zalicus had the same outstanding shares in the pool as BDSI, the price per share would be 4x greater than it currently is, or $4.80 a share. I would not buy Zalicus for that amount, as I would find it overvalued based on where the company is at this time. Let me reiterate this to be clear; I am not bashing on Zalicus or saying the company cannot have a much higher share price moving forward. I am saying that the company engages in investor unfriendly convertible issuance, and seems to be burning far too much cash for my liking to place a long term bet on it.
Ladenburg's Matt Kaplan rates BDSI a buy with a price target $5.00 this year. Kaplan has been spot on some other picks, including his conservative call so far on Antares Pharma (AIS). Antares Pharma year to date has done very well; notwithstanding it is my top small cap long term investment pick over the next 3 to 5 years.
*Top Institutional Holder
| Holder | Shares | % Out | Value* | Reported |
| --- | --- | --- | --- | --- |
| BAKER BROTHERS ADVISORS, LLC | 2,595,044 | 8.78 | 2,101,985 | Dec 31, 2011 |
Seeing Baker Brothers LLC owning a substantial block of shares in BDSI is another bullish factor for me. Recently, it was
my opinion
that Acadia Pharma (
ACAD
) was undervalued at $1.63 and should see a short term move to $1.80, with a midterm price of around $2.25. My short term target was exceeded with the stock almost hitting my midterm target recently. Baker Brothers also have a substantial position in Acadia, and they usually make good 'bets' on small cap bio-pharmas.
In 2012, BDSI is focusing its resources on achievement of the following key milestones:
Initiation of two Phase 3 Studies for BEMA Buprenorphine. In the third quarter of 2012, BDSI expects to initiate two Phase 3 efficacy studies for BEMA Buprenorphine for chronic lower back pain, one in opioid experienced and one in opioid naive patient groups.
BNX registration studies begin. BDSI will work to advance the development of BNX for the treatment of opioid dependence through completion of the pivotal pharmacokinetic study and initiation of the safety study, allowing for a potential NDA submission in the first half of 2013. The data from the pivotal pharmacokinetic study is anticipated in late third quarter of 2012.
Launch of BREAKYL in Europe. BDSI expects its commercial partner, Meda, to launch BREAKYL (brand name for ONSOLIS in the E.U.) in the E.U. during the second half of 2012, which would result in a milestone payment to BDSI of $5 million.
Reformulation of ONSOLIS for U.S. Market. BDSI will work with FDA and Meda to address the appearances issues noted by FDA with the aim of re-launching the product in the U.S. under a class-wide REMS program. BDSI will provide updates on the timing for these efforts as information is available.
The above are a few catalyst events we can expect this year that in my opinion, should move the stock price from its current price range up to around $5.00, meeting Matt Kaplan's price target.
Catalyst event upcoming: A Likely win in its alleged patent infringement lawsuit previously filed by MonoSol Rx, LLC. On March 14, 2012, the New Jersey Federal Court court ordered that the case would be stayed pending resolution by the U.S. Patent and Trademark Office (USPTO) of reexamination proceedings and follows the recent rejection by the USPTO of all claims in all three patents asserted by MonoSol against BDSI and its commercial partners for ONSOLIS. Should the USPTO uphold its initial decisions, the MonoSol patents will be rendered invalid, supporting BDSI's assertion that MonoSol's claims from the beginning had no merit. BDSI is pleased that the court will await the outcome of the USPTO's actions prior to conducting further proceedings in this case.
The final decision is expected soon, which should be a catalyst stock price moving event for BDSI, albeit likely a smaller one in my opinion. The USPTO is not expected to reverse its prior decision that ruled in favor of BDSI.
Let's take a look at the chart: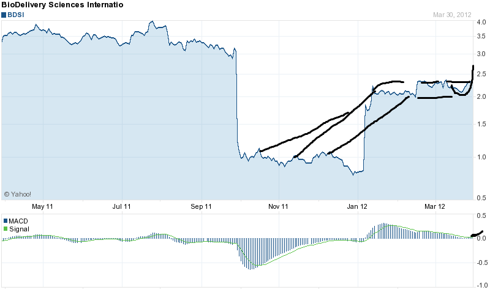 At the very end of the chart, it appears to me a short term cup and handle is forming. I remarked in another article that I saw a similar pattern in the Antares Pharma chart and correctly predicted a break out move near $3.00 a share. Then I saw another pattern form I wrote about in another article that signaled a harder break out might occur. The Cup and handle was longer term in The Antares chart. BSDI is not yet showing a Symmetrical Continuation Triangle, but does show the beginning of a move to over $3 a share in the short term in my opinion.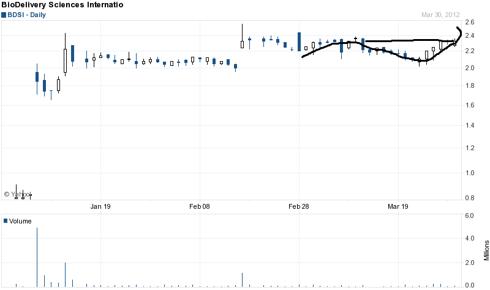 Final opinion: BDSI is a strong short and midterm buy. With a market cap coming in just under $76M, the company is undervalued by about half. Matt Kaplan would be dead on right if the market cap was double right now, equating to a price of $5.14 a share.
Endo has made a considerable investment in BDSI's BEMA Buprenorphine, which if successful, would bring BDSI $180M in milestones, more than enough cash to develop its other products and turn an eventual profit. I look for another partnership or BDSI to possibly go it alone with BEMA Buprenorphine/Naloxone. CEO Sirga estimates market potential of $300M a year from this product alone.
Matt Kaplan's calls are usually rather accurate, and Baker Brothers LLC also does pretty well. Considering these factors, I have bought a few shares and the following are my price target opinions:
Short term: $3.05 (as indicated to me on the chart)
Mid-term: $4.00
Longer mid-term (6-11 months) $5.00
Long-term: Uncertain as it is with most development type bio-pharmas. A successful phase 3 efficacy with BEMA Buprenorphine would likely take this stock over $7.00 a share, then with FDA approval, around $10, but these factors are very uncertain at this time, and too far out to make a long term call. However, assuming everything goes right, a 3 year price target of $15 a share is doable, excluding macro economic events and/or geopolitical events.
*Data sourced from Yahoo Finance.
Disclosure: I am long BDSI, AIS.
Additional disclosure: DISCLAIMER: This article is intended for informational and entertainment use only and should not be construed as professional investment advice. It is my personal opinions only. Always do you own complete due diligence before buying and selling any stock.