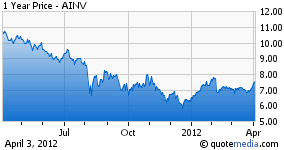 Apollo Global Management (NYSE:APO), the parent of large-cap Business Development Company ("BDC") Apollo Investment Corporation (AINV), announced today it had "purchased approximately $50 million, or approximately 5.9 million newly issued shares, of Apollo Investment Corporation's common stock, at net asset value. Management estimates that NAV per share was approximately $8.45 as of March 31, 2012. The final number of shares and dollar amount will be subject to adjustment based on the final net asset value as of March 31, 2012 to be determined by Apollo's Board of Directors".
Furthermore: "AINV's Investment Advisor, Apollo Investment Management, L.P., or "AIM", is waiving the base management and incentive fees associated with this equity capital for a one year period."
Finally, Apollo announced its intention NOT to raise any additional equity at current price levels, just two months after indicating the board had given the company the green light to explore raising $200mn in new capital. No explanation was given for the change of heart.
No, we're not done yet with our Apollo news. In a separate press release Apollo announced that it was searching for a new chief financial officer to replace their new chief financial officer who was announced in February but who never actually joined the firm due to being unable to be released from his prior employer. There's a whole behind-the-scenes story here presumably, but the bottom line is that Apollo is still in search of a CFO. Please send all resumes to the company.
COLOR US UNIMPRESSED
The stock market appears to have been impressed by the news from Apollo: the stock was up as high as 6.6% over the Friday close, and nearly a $1.0 from the low of a few days ago before an upgrade raised the price.
Apparently, based on comments made by Apollo's management on the last conference call, the company is regularly in touch with the analyst community and large investors, getting feedback about the BDC's future plans. We don't have any such access to Apollo, but the facts as we know them do not cause us to be enthusiastic. We've got three reasons, which we'll expand on:
1.Will They? Won't They? The indecision about whether or not to raise capital underlines the sense of confusion coming from the company. No explanation was given as to the change of heart. Certainly the BDC market is as vibrant as could be hoped for right now with BDCs raising equity and debt left right and center, so general market conditions cannot be the reason. Has there been a strategic shift ? What could have happened in 8 weeks to forgo the need for $150mn in new capital ?
The news about the renewed CFO search only appears to add to a picture of confusion and uncertainty at the company. No word about whether Ed Goldthorpe, who was announced as the new CEO of Apollo, has taken up his post. His name was absent from today's press release and there have been no other announcements about his status with the Company since February.
2. A Modest Vote of Confidence by the Parent. The parent of Apollo Investment has invested $50mn in the stock of the BDC, and at the NAV price, or a 13%-15% premium to the current market price. In addition, the parent has agreed to waive management and incentive fees for a year. To some this might seem a ringing endorsement of their publicly traded subsidiary. In fact, Apollo Management has no obligation to do anything at all.
At the risk of sounding unappreciative, though, we're a little underwhelmed by these steps, which seem more token than substantive. $50mn in new capital is a drop in the bucket with a market capitalization (even after a huge drop in the stock price in the last year) close to $1.5bn. As a % of total capital raised over Apollo's history, it's under 2%, and when you assume AINV will leverage that new equity by 50%, implies under 2% in incremental investment assets. As the press release itself boasts, Apollo Group has $75bn in investment assets. (Here's a link to their website). This $50mn infusion is hardly a game changer for AINV or anything but small change for the parent.
Likewise, the proposed 1 year fee waiver is something of an anti-climax. Two months ago when Apollo announced that its parent would invest $50mn in new equity as part of the $200mn potential equity raise there was no twelve-month limitation on the fee waiver. We calculate that this waiver will be worth about $3mn to Apollo's shareholders. To put that into context, Apollo earns over $100mn a year in management and incentive fees annually. Moreover, AINV has written off over $1bn in failed investments over its history and $330mn just in the last 9 months. From its 52 week high to its current price Apollo's market value has dropped by $930mn. The benefit to shareholders of the 1 year fee waiver, though, will be less than 2 cents a year.
DO THE RIGHT THING IN PARENTHESIS
(We'd have been more impressed if Apollo had reduced is base management fees on a permanent basis on the entire $2.7bn investment portfolio by 0.25% or 0.50%. As it is Apollo remains one of the most expensive BDCs to invest in while sporting one of the worst investment records and largest credit write-offs).
Anyway, getting back to why we were underwhelmed by today's news:
3. The NAV increase in the first quarter was very modest. Today's announcement has given us a sneak peek at Apollo's first quarter NAV, weeks before the data is usually released. Some investors might be encouraged that NAV is up from $8.12 at year-end to an estimated $8.45 as of the end of March. Sorry to be a stick-in-the-mud but we're not excited about a 4% increase given the sea change that has been occurring in loan market valuations since year-end. Apollo, because many of its assets are liquid and tradable, is more affected than the average BDC by changes in market prices for loan assets. We would have expected a larger bounce-back in the company's NAV than seems to have been the case. Moreover, despite much selling off of loss making assets and three years after the official end of the Great Recession, we're concerned that Apollo continues to have a quarter of a billion in unrealized depreciation on its investment assets suggesting that the portfolio is hardly squeaky clean, despite a very benign credit environment.
CONCLUSION
Notwithstanding Apollo's announcement that it would not seek to raise any more capital than the $50mn being contributed by the parent, much uncertainty remains: Who will be the leaders of the BDC? What will be the "new" investment strategy? How will the company improve credit underwriting? What capital will ultimately be needed for the above? Without answers to these questions any investment in Apollo is more than usually a "shot in the dark."
Disclosure: I am long AINV.