Avnet (AVT) is a global distributor of electronic componentry and computer products operating in two business segments: Electronics Marketing and Technology Solutions. In 2011, the company's fiscal year ended July 2nd and all years are in stated in fiscal year ending terms.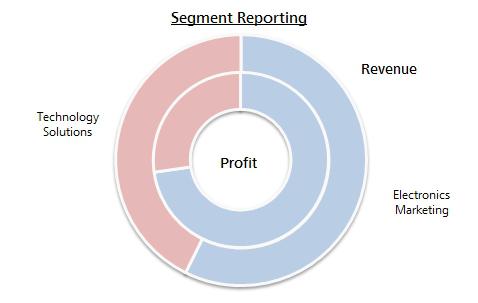 Electronic componentry such as semiconductors, resistors, capacitors and interconnect, and embedded computing products such as processor modules and power supplies are distributed through the Electronics Marketing segment which represented about 57% of revenue and 73% of profit for the TTM period ending 2Q12. Enterprise computer products such servers, software and storage are distributed through the technology solutions segment which comprises 43% of revenue and 37% of profit.
Considering the company as a whole, in 2011 about 54% of revenue was derived from sales of semiconductors, 38% from computer products, 4% from connectors and 4% from capacitors, resistors and other electronic componentry of the sort. Avnet generated 43% of revenue in the Americas, 32% in EMEA and the balance from the Asia Pacific region in 2011. The company has one significant supplier in IBM (NYSE:IBM), representing 11% of sales for 2011.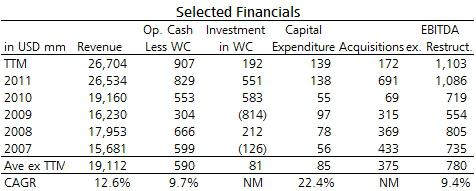 Operating cash flow less the impact of working capital has grown a 9.7% annual rate, in line with growth in EBITDA. Capital expenditure has grown at a faster rate than sales, but represents a relatively small investment in dollar terms. After peaking in 2008, the company's EBITDA decreased about 30% in 2009, before recovering modestly in 2010 and reaching a new high in 2011. As noted, a portion of the growth was due to acquisitions.Since 2007, revenue has grown from $15.7 billion to $26.4 billion, representing a compound growth rate of 12.6%. From 2009 through 2011, the company acquired about $5 billion of revenue, representing about half the growth from the trough.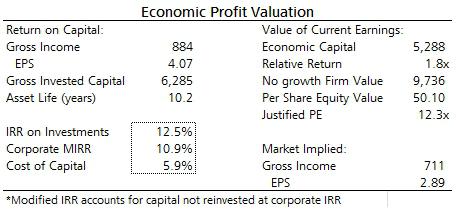 The company's returns on capital as calculated on an IRR basis are 12.5%, which is a fairly healthy level of return for a distribution business. The majority of the economic capital in the business is working capital as is to be expected. The modified IRR is 10.8% based on a reinvestment rate of about 40% in internal projects which take place at the IRR with the remaining 60% being invested at a lower rate, either in acquisitions or in returns to shareholders. Avnet carries a large amount of goodwill, generating some concern that capital invested in the business that carries reinvestment responsibilities is higher than that represented on the balance sheet, but in my view it is safe to say the company is earning above its cost of capital.
Turning to cost of capital itself, a slight upward adjustment has been made from the baseline due to what in my view is the leverage effect brought on by extensive customer financing relative to the value of the firm. However, the overall impact on value is relatively small and Avnet is helped by its large cash balance.
Given economic capital of $5.3 billion and a relative return of 1.8x, the value of the firm based on current earnings is about $9.7 billion while the per share value of the equity is $50.10 for about a 12.3x PE multiple. At current equity prices however, the market is discounting a much lower level of earnings, on the order of $2.89 per share, at least over the long-term. Given the cyclical nature of Avnet's business, this is justified, at least directionally. Taking the view of a six-year business cycle, where two of those years generate half the gross income as today's baseline with the balance at the full amount, the company's cycle-adjusted level of earnings would be about $3.08 per share, above what the equity is implying today.
The true level of earnings over a cycle is difficult to determine, but the valuation exercise is useful to calibrate expectations. On both current earnings and cycle-adjusted earnings the company's shares appear undervalued or at worst, trading right around fair value.
From a trading perspective it is worth noting that while the company's shares are still at 2007 levels, they have reached new highs and are up over 40% since the lows of 2011. In addition, a competitor of the company named Synnex (SNX) recently came out with weak guidance and shares traded off some 15% in a single day. In my view, Avnet has a solid valuation for long-term investors but the next couple of quarters may see some difficulty for the stock based on global economic conditions.
Disclosure: I have no positions in any stocks mentioned, and no plans to initiate any positions within the next 72 hours.