Lockheed Martin Corporation (LMT) is a 100 year old technology company providing products and services in the areas of defense, space, intelligence, homeland security, information technology, and cyber security with interests in a number of countries around the world.
The company employs 140,000 people and is one of the world's largest defense contractors. Over three quarters of all Lockheed Martin's revenue comes from U.S. government contracts. Its business is broken down into 4 units: Aeronautics, Electronic Systems, Information Systems & Global Solutions, and Space Systems.
Recent Performance:
From 2002 to 2011 normalized EPS has grown from $1.18 to $7.85 representing a compound average growth rate of 23%. Over that same time, dividends have grown at 25%. The numbers for the last 5 years are 6% and 21% respectively. Lockheed Martin continues to raise the dividend per share at a hefty rate even when EPS is not rising considerably, and as such the payout ratio has increased over the past 5 years from 22% in 2006 to 42% in 2011.
Free cash flow over the last 10 years totals over $25B versus total net earnings over the same period of $22B. This is fantastic to see - free cash flow exceeding net earnings provides a lot of confidence.
Pension plan contributions can get out of control with companies like Lockheed Martin and it is an important one to watch. In 2011 the company made a significant $2.3B in contributions to their pension plans. This compares to only $1.1B spent on dividends and $2.4B spent on share-repurchases.
Quality Rating:
Source: intrinsic-valuation.com
A low QR score of 49 warrants a closer look. Net debt to equity scores zero predominantly as a result of the huge share-repurchase program that has been in overdrive over the past 7 years. The company has been using its extraordinary cash flow generation to repurchase its own shares, thereby obviously lowering the share count (from 445M in 2005 to 340M in 2011) but also lowering shareholders' equity (from $7.7B in 2005 to $1B in 2011). We don't see Lockheed Martin's debt as a concern.
The poor gross profit margin is a bit surprising - we would expect to see this a bit higher. Net profit margin is only a few percent less than gross meaning the vast majority of Lockheed Martin's total costs comes from producing their products.
The poor free cash flow score is a function of a slightly inconsistent free cash flow over the last 10 years and a lack of serious free cash flow growth - but the reason for the lack of growth is that it has come from a high base - for example in 2002 net earnings were $500M whereas free cash flow was $1.6B.
Intrinsic Value:
Source: intrinsic-valuation.com
A reasonable margin of safety is on offer at the moment, and intrinsic value is forecast to rise. We plug Wall Street analyst estimates into our valuation formula, so the forecast intrinsic value is certainly dependent, amongst other things, on the accuracy of those analyst estimates.
The margin of safety currently on offer may have come about due to a number of investors sitting on the fence pending the result of the presidential election later this year. Lockheed Martin contributes a significant amount of money to election campaigns, and with so much money sourced from the U.S. government, the company would no doubt keep a close eye on the political situation domestically.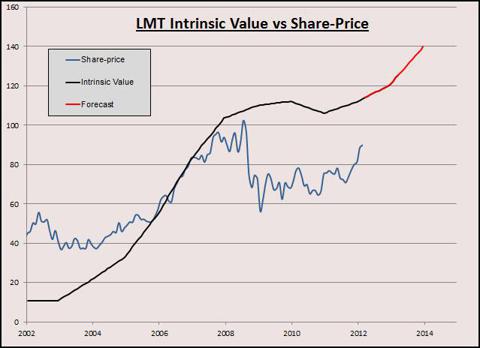 (Click to enlarge)
Companies whose share-price has traveled sideways for a few years generally have impatient shareholders, who after seeing no share-price appreciation for so long sells out. Smart investors realize that a company with a rising intrinsic value and a share-price that has gone sideways for years is a buy - eventually the share-price will catch up to intrinsic value. It always does.
The graph above explains why the company has been aggressive in its share repurchase program over the past few years - repurchasing shares when the share-price is below intrinsic value adds value to shareholders.
Investment Grade Score:
Source: intrinsic-valuation.com
With a margin of safety of 20 and a quality rating of 49, Baxter achieves an investment grade score of 10 which places it at number 117 on the intrinsic-valuation.com Investment Grade Table. Lockheed Martin's dividend provides a floor for the stock meaning a considerable margin of safety and subsequent high investment grade score rarely presents itself.
Conclusion:
Lockheed's future looks secure, even with the threat of military spending cuts. It has a huge amount of backlog from all around the world, and is at the cutting edge of innovation. Most of the executive managers have been with the company for many years and own a significant vested interest in the performance of the company.
Pension commitments need to be monitored closely, but with a dividend yield of 4.5% and a bright future, now looks to be a reasonable time to take a long term position in a strong company.
Lockheed Martin is already a big company with a market cap of around $29B, so we can't expect future growth rates to be super high. But with its dividend and share-repurchase programs well entrenched, combined with a backlog of work that is at record levels, investors should expect to see reasonable EPS (as well as DPS) growth for the company well into the future.
Disclosure: I have no positions in any stocks mentioned, but may initiate a long position in LMT over the next 72 hours.