"I am sure that no man can derive more pleasure from money or power than I do from seeing a pair of basketball goals in some out of the way place."
- James Naismith
Part 10 (see part 1, part 2, part 3, part 4, part 5, part 6, part 7, part 8 and part 9)
Click to enlarge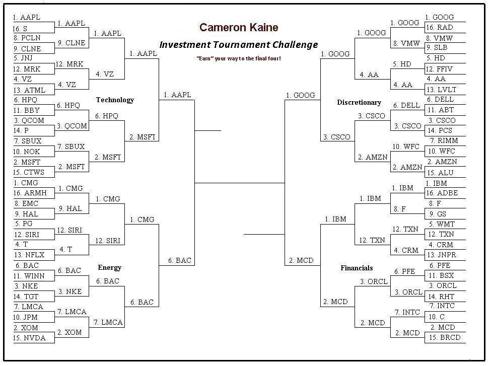 If Dr. Naismith were be alive today to see the mammoth salaries of professional basketball players, he would ask history to remove the above quote from the record books. Yet the players who perform on the court earn only a fraction of the millions of dollars that the owners of the teams draw on an annual basis - all from a pair of basketball goals "in some out of the way place."
As Dr. Naismith had a vision of greatness for the sport he founded, in our investment tournament, many teams shared the same visions but only to have experienced the agonies of defeat. One such team is high flier Chipotle, (CMG) the No. 1 seed in the energy region that suffered a devastating defeat at the hands of Bank of America (BAC) the No. 6 seed in route to its first ever Final Four in team history.
The match-up
For Bank of America, it is hard to imagine there being a bigger surprise in this year's tournament than this once struggling financial villain. But so far in 2012, it is the darling of the Dow components as it has amassed a 72% increase YTD since the end of 2011. It was precisely this level of dominance that it used to overwhelm once sizzling No. 1 seeded Chipotle, which in its own right was coming off an impressive performance against No. 12 seed Sirius XM (SIRI). It looks as if Chipotle just didn't have enough zest and pay down the Bank of America's high interest rates - something that has helped the bank immensely in its most recent performance against Liberty Media (LMCA).
But against Chipotle, BofA used an impressive fourth quarter performance en route to what turned out to be a relatively easy victory. By reporting a profit of $2 billion for the quarter, the bank demonstrated to fans why it is still one to believe in and that an even brighter outlook for the year was indeed possible. This was indeed a remarkable turnaround after having posted a loss of $1.2 billion during the same period last year. Its full year earnings arrived at $1.45 billion compared to a prior loss of $2.24 billion in 2010. It is also interesting to think that not only did nobody thought it would make it this far as the No. 6 seed, but after last year's performance, nobody thought it would even make it to the tournament.
From an investment standpoint, appreciating BofA at current levels requires an extremely patient holding horizon - preferably 12-24 months. After a surge of over 70%, it is a bit challenging to expect higher levels without some pauses or pullbacks. For those who are in for the long haul, to truly consider the optimistic recovery for Bank of America, the best bullish case that I have read so far on the year comes from Fellow Seeking Alpha Contributor Spencer Knight, who offered from both a fundamental as well as a detailed technical perspective on why BofA has a bright 2012.
For Chipotle, the sky continues to be the limit. For fans who were upset by the fact that it was given the No. 1 seed instead of Exxon Mobile (XOM) you can now rest knowing that it has not advanced but that is not to say that it won't come back better and stronger next year. There are many who have been following this story closely and have now appreciated just what a remarkable job Chipotle has done and will continue to do in the foreseeable future. In its latest report for Q4 and full year numbers, the company's revenues increased by 23.7% to $597 million while net income grew by 24% to $58 million. Diluted EPS for the quarter was $1.81. Analysts were expecting EPS of $1.83 in the quarter on revenues of $591 million.
The fact that Chipotle beat estimates on the revenue front and missed on the EPS estimate was not much of a surprise at all. During the quarter, it was clear that the costs of food had an impact on the strong sales figures which came in at 32.2%, up 1.2 percentage points as a result of higher commodity costs. For the full year, food costs were up nearly 2 percentage points. Restaurant operating margins came in at 26% - down a minor 70 basis points as higher food costs were somewhat mitigated by stronger restaurant sales. This was the result of a loyal customer base that the company is starting to build - one where it saw strong customer traffic as well as stronger sales volume.
The company ended the year and unfortunately its hopes of a championship with 1,230 restaurants as it expanded by adding 150 new locations in 2011, including a new dining concept that it calls ShopHouse. As I said there is no doubt that it will be back next year to take a crack at a title, unfortunately it just faced a more dominant team in Bank of America.
What's next?
Well, for Bank of America, its reward for its first ever trip to the Final Four is that it must now prepare to face technology giant Apple (AAPL). But stranger things have happened in the tournament so far so let's not assume that it can't get the job done. Clearly this is not going to be an easy match-up, but then again it is also possible that BofA can use the "us against the world" mentality to play loose as very little is expected from them at this point. Who will win - nobody knows for sure. As they say, that's why they play the games.