The current fragile global economy is facing many risks. There is a risk of another erupting eurozone crisis, slowdown in China and a slower economic recovery in the United States. But the risk posed by the spike in oil prices is more serious and bigger than the others. Iran-Israel conflict is affecting the global economy.
The tension has grown to new heights after Israel has threatened to attack nuclear sites in Iran in the weeks or months to come. The imposed economic sanctions on Iran are also adding fuel to the fire. If attacked, Iran has threatened to close the Strait of Hormuz at the mouth of the Gulf. Almost 35% of the oil sent by sea and 20% of global oil overall is transported through this channel. Any blockade would come with dramatic short-term consequences. China would be hit hard because more than 40% of Chinese oil passes through the Strait of Hormuz. This means Iranian oil is more important to China than Saudi Arabian oil is to America.
If Iran manages to maintain the blockade, there will be no exports from Iran, as most of their important tanker terminals are on the side of the Persian Gulf. Iran is an oil-driven economy, and oil sales accounts for more than 60% of the tax revenue and 80% of the export revenue. In fact, Iran's oil exports have fallen this month by some 300,000 barrels per day, or 14%, the first sizable drop in shipments this year.
The International Monetary Fund has warned the world is not prepared for a new oil crisis. Developed countries have run down their emergency stocks and the spare capacity in the OPEC countries is no more than their average capacity. Asia will suffer the most, because more than 90 percent of their oil dependence is on Middle East crude. Countries like South Korea, which import petroleum but export refined products, would divert their output to their own market, because they would be concerned with securing their own domestic supplies. Exports from countries such as Malaysia and Indonesia could also fall as a short-term response.
If the crisis worsens, it will create a massive gap in global supplies, and oil prices could soar to all-time highs and might reach $200. The "fear premium" created out of this conflict has already added at least $25 to $30 and will add at least $60 to $80 dollars if there is a war between Iran and US-backed Israel.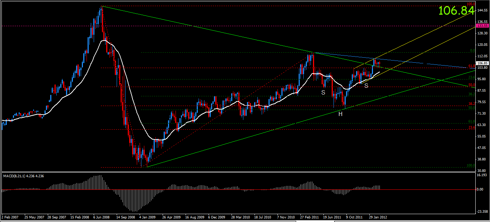 Technically too, on a weekly chart, crude oil has taken support at the 21 moving average since November 2011 and is moving in an upward channel. Until a few weeks ago, it was finding $104 as strong resistance, which is the 61.8% Fibonacci retracement of the down move from the highs of 2008 to the lows of 2009. In early February, it broke that resistance convincingly and is trading above it. This is a typical example of resistance becoming support. It has also broken the downward trend line from the highs of 2008 and has taken the support on the same line. The break out, which happened in early February 2012 on big volumes, has confirmed the inverse head and shoulders pattern with a target of $134. Moving Average Convergence Divergence (MACD) is above the zero line. In fact, it is not showing any divergence with price.
With every passing day, the situation between Iran and Israel is becoming worse. The fresh verbal salvos are making the scenario dangerous, and in anticipation of these events, crude oil prices will go up. It will complete its 100% Fibonacci retracement of the up move from the lows of 2009 to the highs of 2011, around $115. For any up-move, it has to maintain $101 as a strong support and break the upward channel around $112. In that case, $134 looks likely and in case of a full-blown conflict, $200 will be a cakewalk.
No one knows if Israel will attack the Iranian nuclear sites. But the cascading effects to the buildup of the conflict are surely being felt by the world economy. If that happens, what will happen to the global markets and economy? Will it cause another global recession? We have to wait and watch.
Disclosure: I have no positions in any stocks mentioned, and no plans to initiate any positions within the next 72 hours.