When I wrote an article about the custodial brokerage account I opened for my 8-year old, I figured it would set the groundwork for a series of articles that could touch on everything from the particular stocks in the portfolio to the power of starting early and dollar-cost averaging. I did not expect the number of kind comments I received from Seeking Alpha readers. Here's a sampling: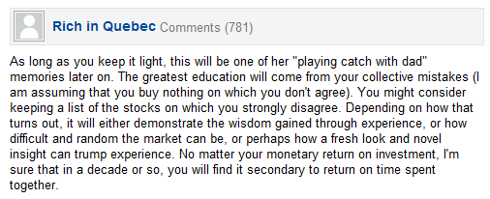 Talk about bringing a tear to your eye. But, as much as I appreciate the kind words and awesome sentiment, I would be remiss if I did not mention something. Every single day of the week, we all come across parents who cannot afford to invest a dime, or very much, for themselves or their children, yet they provide incredible experiences and upbringings for their kids. While it's nice to have the cash to invest for the future, I don't take it for granted. Furthermore, I realize it's not at the top of the list of what my kid expects from me today or anytime soon.
Alright, so on to counting the money. The first buys hit the portfolio this morning. Here they are, courtesy of Sharebuilder:
I showed my daughter the start of her portfolio today. To be honest, she was underwhelmed. She did ask why we had fewer shares of Viacom (VIAB) than we do Madison Square Garden (MSG) and Kraft (KFT). That gave me the opportunity to explain a bit about share prices and dollar cost averaging. And this is where we are right now, at the sometimes-frustrating stages of dollar cost averaging and dividend reinvestment.
At first, I was a bit disappointed about my daughter's less-than-enthusiastic response to the initial purchases. But then I thought about it a bit. Consider something fellow Seeking Alpha contributor Tim McAleenan had to say about getting started:
But when someone is first starting out with dividend growth investing, it might be much harder to find the discipline and motivation to stay the course. After all, if you invest $250 into Johnson & Johnson (JNJ) each month for the next three years, you're likely going to be generating about $320 per year in dividends, or a little more than $25 per month. For some, this could be discouraging. But I don't see it that way.
Tim went on to nicely explain why he does not "see it that way." As I agree with his quantitative assessment, I offer my own qualitative view of the situation.
Very few of us get through life without saying, "if I only knew then what I know now." I could simplistically take that sentiment and apply it to my daughter's lack of interest in fractional shares of VIAB, MSG and KFT. At eight years of age, it does little for her to see a balance in a savings account or a few stocks sitting in a brokerage account. While she's growing and maturing every single day in this regard, she still requires instant gratification. At 36 years of age, I still do in many cases.
Thankfully, I've come around in many areas, particularly when it comes to investing. It does not bother me much to own "just" four or five shares of a stock because I know full well that, assuming my world continues on its present axis (knock on wood), I will have close to 100 or so a year from now, plenty more than that in three to five years and after a decade I will really start to see the benefits of a buy-and-hold philosophy. The need for instant gratification can kill this process before it even has a chance to begin to take hold.
If my daughter had control of this money, as in access to it, her tendency would likely be to spend it. That's perfectly normal. But, I am hoping that this process - little by little, bit by bit, lesson after lesson - will ultimately help the force of instant gratification weaken earlier in life for my daughter than it does for many other people. Hopefully, the fact that she does not realize the power of what we're doing here today will help drive the impact home even harder when she has official control of her (hopefully) much-larger brokerage account 10 years from now at age 18.
Disclosure: I am long KFT, MSG, VIAB.
Additional disclosure: I am long these stocks via a custodial account for my minor child.