A recent, large insider buy caught my eye the other day and put Fortress Investment Group (FIG) back on my radar (I already have a small position in the equity). The stock has a rock bottom valuation and a yield of over 5%. Earnings growth is projected to return strongly in FY2013 and I believe patient investors who pick up this equity on the cheap will be rewarded significantly over the long term.
6 reasons Fortress is a great long term pickup at under $4 a share:
It yields a robust 5.6% and has a solid balance sheet (over $70mm in net cash). It just reinstituted its dividend payment and I would look for further dividend increases if the company hits consensus earnings targets in 2013.
Director David Barry just picked up $1.4 million worth of shares, tripling his stake in the company. Other insiders have not sold a share in over a year.
The mean analysts' price target on the stock is over $5 by the six analysts that cover the stock. Credit Suisse has an "Outperform" rating and a $7 price target on Fortress.
It is selling for less than 6 times forward earnings and has a very low five year projected PEG (.43) as well.
The company should be a major beneficiary of the improving markets, especially as investors and institutions feel more comfortable with risk and move funds from low risk assets.
The stock has long term technical support at just under current prices (See Chart).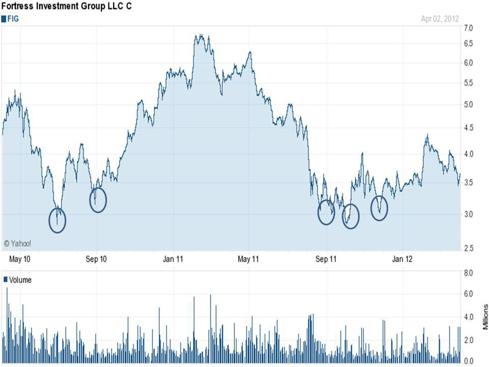 Click to enlarge
(Click to enlarge)
Disclosure: I am long FIG.