Shares of E Commerce China DangDang Inc (DANG), also known as the Amazon.com (AMZN) of China, are up 82% so far in 2012. While this move is impressive, there are three reasons why DANG will continue to rally.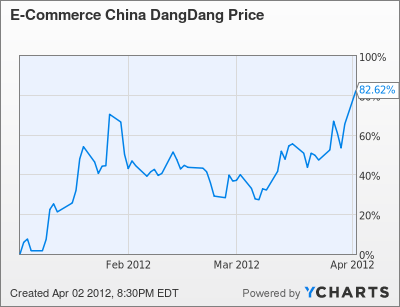 Short Interest
Short interest in DANG currently stands at 7.1 million shares or 13.44% of the shares outstanding. This high short interest represents a possibility for a squeeze higher as DANG continues to rally. Short sellers are likely already starting to feel pressure to cover. As some short start to cover, it will only cause more pain for other short sellers.
Options Activity
Option Monster reported on the high level of bullish options activity recently; 8,800 April 7 calls were purchased against open interest of just 2,271 contracts. Overall, call volume outnumbered put volume by 9-1. The large block trade of 8.800 April 7 calls likely represents institutional money. Institutional money is usually smarter, thus worth following. In summary, the recent options activity points to more upside ahead for DANG over the short term.
Strategic Alliance
Just a few days ago, DANG announced a strategic alliance with Gome Online. Gome Online is a leading electronics retailer in China. DANG will allow the use of its e-commerce platform to sell Gome Online products. DANG Executive Chairwoman Peggy Yu Yu said of the deal:
Given the scale and supply chain advantages of Gome Online in electronics and computers products, we are confident that this category expansion with competitively priced goods will greatly improve our customers' shopping experience. This strategic cooperation will bring about a win-win situation for Dangdang and Gome Online
The alliance with Gome Online will likely prove a major catalyst for DANG going forward. However, it is too early to say what the ultimate upside is from this deal.
Conclusion
While DANG has had a massive run so far in 2012, it remains likely that the stock will continue to rise. The high short interest, bullish options activity, and improving fundamentals point to a higher stock price.
Disclosure: I have no positions in any stocks mentioned, and no plans to initiate any positions within the next 72 hours.