A collar or protected covered call search performed using PowerOptions tools seeking to find the highest returning position with a maximum potential loss of 8% for companies with a stock price in an up trend and near the lower Bollinger band produced the alternative fuel products company Westport Innovations (WPRT) as shown below:
The top two highest returning positions were taken by Westport Innovations, which were then followed by the steel salvage company Schnitzer Steel (SCHN) and the oil and gas drilling company Weatherford International (WFT).
The top returning Westport Innovations protected covered call position has a potential return of 3.1% (59.6% annualized) with a maximum potential loss of 7%, even if the price of the stock goes to zero.
The 8% maximum loss search parameter was used, as a loss of 8% or less can typically be recovered fairly quickly using income generating methods. A protected covered call is an income generating method where a call option is sold against a stock with some of the proceeds from selling the call option used to purchase a protective put option. The search parameters were set to include companies with a 100 day moving average greater than the 200 day moving average in order to find companies with a stock price in an up trend. The %BB (20) search parameter was set for less than 20 in order to find companies with a stock price located near the lower Bollinger band which reflects companies which have recently experienced a pull back in stock price.
Westport Innovations is in the business of marketing products for automotive engines which operate using natural gas. The company also markets a wide range of engines that use natural gas for combustion. Westport also markets products related to natural gas fuel systems. In the company's most recent Q3 2011 earnings conference call (pdf), held on February 29, 2012, CEO David Demers indicated the company is seeing strong demand around the globe and in all market segments. Mr. Demers noted that he believes the year 2011 will be seen as the tipping point where natural gas became globally accepted as the second major transportation fuel. It was noted the industry is at least a year away from realizing long-haul capability for trucks powered by natural gas. Additionally, the trucking industry is developing faster in China than in North America and the differential between the prices of natural gas and diesel fuel in China is substantial, which is positive for Westport Innovations.
Competitors to Westport Innovations include the privately held companies Jasper Engine Exchange and New Flyer Industries.
Westport Innovations is most likely popping up on the radar, as the price of natural gas is at historically low prices due to large supply, which makes converting a truck from operating on diesel to natural gas an attractive proposition. The large supply of natural gas is primarily due to new fracking techniques for drilling and the recent warmer winter. To convert a truck from diesel to natural gas costs in the neighborhood of $50,000, which isn't chump change, but for large trucks the conversion cost can potentially be recouped in as little as a year.
Westport Innovations stock price has doubled over the last year and has recently had a pullback as shown below: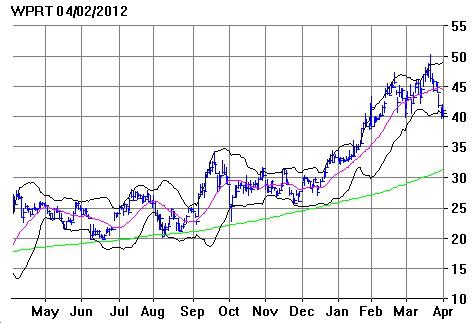 Westport Innovations is not profitable and could be labeled as a "story stock". A story stock is one whose value reflects future earning potential as opposed to current earnings. Westport Innovations future looks bright, but that future could quickly dim if the price of natural gas were to increase significantly or the price of diesel were to drop significantly.
When investing in story stocks, it is often wise to use some type of protection, in case the company runs into some tough times. The highest potential return protective covered call position listed in the table above provides potential income and also protection against a large loss. The specific call option to sell is the 2012 Apr 40 at $1.60 and the put option to purchase is the 2012 Apr 36 at $0.40. A profit/loss graph for one contract of the position is shown below: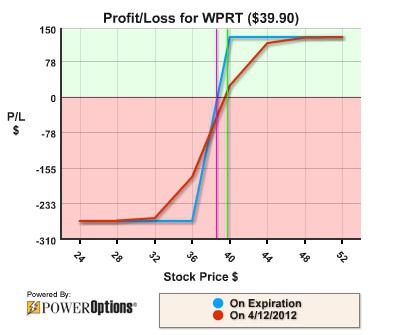 For a stock price less than the $36 strike price of the put option, the position remains unchanged (at expiration) with the maximum potential loss set at 7%, even if the stock price drops to zero. Additionally, if the price of the stock increases to around $45, the position can potentially be rolled in order to realize additional potential return.
Disclosure: I have no positions in any stocks mentioned, and no plans to initiate any positions within the next 72 hours.