Organic food maker Annie's Inc (BNNY) took the market by storm last Wednesday with a popular initial public offering that resulted in an 89% jump of its share price by the day's end. The Berkeley-based company sold 5 million shares at $19/sh, raising $95 million of additional capital. By the time the closing bell rang, the company's market capitalization reflected an enterprise worth a fancy $598 million. As of the close of April 2, 2012, the company's stock last traded at $34.65.
Highly correlated to the trending organic food industry, Annie's was founded in 1989 with the original goal of providing "healthy and delicious" macaroni and cheese. Grown from their own success, the company now provides a wide range of food products that are derived from using natural and organic ingredients. Their list of foods include pasta, pizza, granola bars, cereal, dressings and even BBQ sauce.
The company's success appears to be leveraged by the growing health consciousness around the country along with the growing aversion to processed foods. Despite the evolving popularity of organic products for consumers, the organic foods industry has traditionally had a very slim amount of public companies in which one could invest. The following four companies give some of the largest exposure to the organic trend:

Whole Foods Market (WFM) - Though not directly an organic food producer, the company specializes in the retail selling of organic and natural foods. With its stores branded as a health-oriented shopping experience, the branch locations offer a wide variety of organic products.

United Natural Foods (UNFI) - The company operates as a wholesale distributor of natural and organic foods to specialty stores and supermarkets (such as those like Whole Foods). While not directly a producer of the food products, this low-margin company stands in direct affiliation to the industry.
Hain Celesial (HAIN) - The New York-based producer is a leader in the industry of organic and natural foods. Offering everything from snack foods to yogurts, Hain sells its products to specialty stores and natural food distributors. Operating through a wide range of niche brands, the company stands as a pure-play investment in the industry.
SunOpta (STKL) - The company serves as a vertically integrated manufacturer and distributor of organic and natural food products. Serving as a pure-play option in the organic trend, SunOpta also specializes in food sourcing services and conducts research and development in the pursuit for better food products.
While the competition portrays some relatively strong names, one of the factors that appears to set Annie's apart is how fast the company's earnings are growing. This significant earnings growth is detailed by the company in its S-1 Filing. From a loss of $0.13/sh in 2009, the company's earnings swung to a gain of $0.24/sh in 2010. From 2010 to 2011, the company continued its accelerated earnings growth rate and resulted in a rise from $0.24/sh to $0.61/sh. With 154% earnings growth in the last year alone, the market reaction to the IPO appeared more than justified.
(Click to enlarge)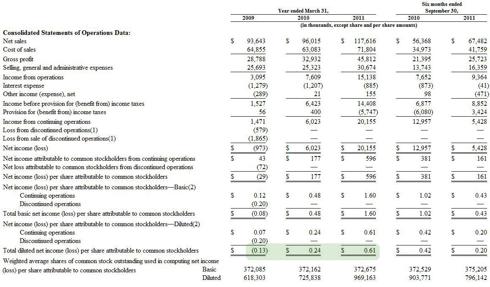 Yet dig a bit deeper and one comes to realize that such a rapid earnings growth rate may prove to be somewhat illusory. Much of the year's recent gains/losses were derived from tax gains/losses based on valuation allowances. Such significant paper events prove to be the difference between that of a good year and that of a relatively bad one. The company declared on the same S-1 filing:
Our provision for income taxes was $3.4 million for the six months ended September 30, 2011 compared to a benefit of $6.1 million for the six months ended September 30, 2010. The benefit for the six months ended September 30, 2010 was the result of a reversal of our valuation allowance on net deferred tax assets of $11.3 million net of a provision for income taxes related to earnings for the period.

As of March 31, 2009 and 2010, we recorded a valuation allowance for the full amount of the net deferred tax assets as we had assessed our cumulative loss position and determined that the future benefits were not more likely than not to be realized as of these dates. Due to our profitability during fiscal 2011 and projected operating results, we determined during fiscal 2011 that it was more likely than not that the deferred tax assets would be realized, and we therefore released substantially all of the valuation allowance. This resulted in our recording a tax benefit during the six months ended September 30, 2010.

Our provision for income taxes was a tax benefit of $5.7 million in fiscal 2011 compared to an expense of $0.4 million in fiscal 2010 due to the reversal of the valuation allowance on net deferred tax assets net of a provision for income taxes on period earnings described above. Our effective tax rate for fiscal 2011 and fiscal 2010 was (39.9%) and 6.2% respectively.
While these tax allocations may skew the bottom line, there still appears to be a solid company in the making. So long as the organic trend endures, Annie's appears to be a refreshing sight for investors looking to capitalize on a greater health awareness in America. Yet with such a strong opening for a lightly followed company, Annie's stock appears to be fated to suffer volatility for some time. Those looking to open a position may first wish to consider opening a position only on the price dips that are sure to ensue.
Disclosure: I have no positions in any stocks mentioned, and no plans to initiate any positions within the next 72 hours.