PharmAthene Inc. (PIP), a bio-defense company, engages in the development and commercialization of medical countermeasures against biological and chemical weapons in the U.S. PharmAthene's lead product development includes three different drugs. The first drug is SparVax. a second generation recombinant protective antigen (rPA) anthrax vaccine. The second drug is Valortim, a fully human monoclonal antibody for the prevention and treatment of anthrax infection. The final drug is Recombinant BChE, a novel bioscavenger for the prevention and treatment of morbidity and mortality associated with exposure to chemical nerve agents. The company has 73 full time employees and is located in Annapolis, MD in the U.S.
PharmAthene reports year-end 2011 results
Year-End 2011 Highlights
Won favorable ruling in Delaware Chancery Court for ST-246 smallpox antiviral: Under last September's ruling, the court awarded PharmAthene the right to receive 50% of the net profits from worldwide sales of SIGA's(NASDAQ:SIGA) ST-246 smallpox antiviral therapeutic and related products over 10 years, once SIGA receives the first $40 million in net profits. SIGA has stated that it expects deliveries of ST-246 to start in the first quarter of 2013. This could result in a near-term revenue stream for PharmAthene.
Increased contract revenues by more then 15% to $24.3 million: For the year ended December 31, 2011, PharmAthene had revenue of $24.3 million, compared to $21.0 million in 2010. Revenues were received primarily from development contracts with the U.S. government for the SparVax and Valortim programs.
Met all anticipated milestones in SparVax anthrax vaccine program: The company achieved important technical milestones in the SparVax anthrax vaccine program which included the demonstration of 36 months of final product stability, completion of the technology transfer of our manufacturing process, and manufacturing of a commercial scale cGMP production run. As a result of this progress, we are now ready to initiate additional Phase 2 testing.
Successfully completed Phase 1 clinical trial of Valortim anthrax anti-toxin: A Phase 1, open-label, dose-escalation clinical trial to evaluate the safety, tolerability, immunogenicity, and pharmacokinetics of a single dose of Valortim in 46 healthy volunteers has been completed. Valortim has received Fast Tract and Orphan Drug designation from the Food and Drug Administration (FDA), indicating that the FDA will facilitate the development and expedite the regulatory review of the product.
Streamlined operations; expect at least 40% reduction in operating cash burn in 2012:
"In late 2011 and early 2012, we took major steps towards increasing our overall operating efficiency and reducing our net cash burn rate. Our efforts will continue in 2012 and we expect to further reduce our monthly operating cash burn by at least 40% compared to 2011 levels, based on currently projected activities on our contracts." (Annual Report)
PharmAthene's mission
PharmAthene was formed in March 2001 to address the urgent biosecurity needs of the U.S. and its allies. Since the terrorist attacks in 2001 and the anthrax exposure to the U.S. population, the vulnerability of the nation to a wide array of threats has come into sharp focus. PharmAthene's mission is to seize leadership in this emerging field by developing a portfolio of products urgently needed by the U.S. and its allies. The company serves the United States Department of Defense, the National Institute of Allergy and Infectious Diseases, the Biomedical Advanced Research and Development Authority, and the National Institute of Health.
Chart of PharmAthene, Inc.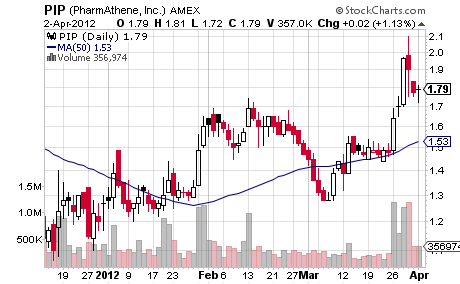 PharmAthene traded sideways for the last six months after it fell from last year's highs. Now it seems to be trending higher since early March. Then it had a breakout to new highs last week. The company has a cash reserve of about $20 million so it has no reason to raise money right now. I see higher prices in the future supported by the improving financial condition of PharmAthene.
Disclosure: I have no positions in any stocks mentioned, but may initiate a long position in PIP over the next 72 hours.