NovaBay Pharmaceuticals (NBY) is taking a less risky road developing its lead Aganocide compound to mimic the body's natural defenses against infections from pink eye, urinary catheter blockage and encrustation (UCBE) and against a highly contagious skin infection called impetigo.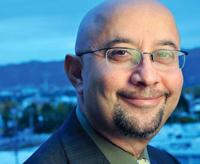 Dr. Ron Najafi
"We have a risk-mitigated strategy, multiple catalysts and multiple opportunities and a lower barrier to entry with a higher chance of success," CEO Dr. Ron Najafi says in an interview with BioTuesdays.com. "Plus, we are developing topical anti-infectives, so our products don't have to enter the body through the bloodstream."
Dr. Najafi explains that in the past 15 years, some 30% of anti-infective products that progressed beyond Phase 1 safety studies became commercial products. That compares with barely a 5% success rate in areas such as cardiovascular disease and oncology.
"Once an anti-infective compound has been shown to be effective in the lab at killing bacteria, viruses or fungi and then demonstrated safety in humans, the rest of the development path involves showing efficacy in humans at a tolerated dose; it's very straightforward," he says.
According to Dr. Najafi, the road to regulatory approval for anti-infectives is well paved and well traveled, with FDA guidance in the space, which isn't always the case in other therapeutic areas. Moreover, clinical trials for anti-infectives are shorter and less expensive, he adds, which can remove the risk of things going wrong, such as patients dying or dropping out of clinical trials.
Mimicking the mechanism of action that human white blood cells use against infections, NovaBay's Aganocides possess a reduced likelihood that bacteria or viruses will be able to develop resistance, which is critical for advanced anti-infectives.
"We are not developing antibiotics; we are developing non-antibiotic anti-infectives," he contends. "We make this distinction, because our Aganocides are truly differentiated from traditional antibiotics, which allow microorganisms to develop resistance over time."
Having demonstrated therapeutic proof-of-concept in three Phase II clinical studies, NovaBay is developing its NVC-422 compound as a gel for dermatology, as an eye drop for ophthalmology and as an irrigation solution for urology.
In addition to its Aganocide product line, NovaBay also has developed a second anti-infective, which it calls NeutroPhase. It is a solution of pure hypochlorous acid, which is an anti-bacterial compound also produced naturally by white blood cells to combat infection in the body.
Two Distinct Anti-Infective Product Lines (Estimated Market Sizes)
"Our product is differentiated from other forms of hypochlorous acid, the best known of which is Dakin solution, by virtue of the fact that NeutroPhase is pure hypochlorous acid, which is far more potent," Dr. Najafi says.
NeutroPhase has been cleared by the FDA as a wound cleanser for patients with chronic non-healing wounds, including pressure ulcers, stasis ulcers, leg ulcers, diabetic foot ulcers, post-surgical wounds, first and second degree burns, abrasions and minor irritations of the skin. There are some six million patients in the U.S. who suffer from chronic non-healing wounds.
Last January, NovaBay signed a marketing agreement with Pioneer Pharma of Shanghai to distribute NeutroPhase in China in exchange for pre-launch payments of $1.3 million. Following regulatory approval in China, NovaBay will export NeutroPhase for sale in mainland China. NovaBay has retained rights to the product in other Chinese markets such as Hong Kong, Macau and Taiwan.
Dr. Najafi says NovaBay is also looking for regional marketing partners for NeutroPhase in the U.S. and Europe. Last September, Russell Hoon joined NovaBay as VP of advanced wound care, to manage partnering efforts for NeutroPhase in the U.S. and abroad.
"We should see revenue this year primarily from partnerships and in 2013, we should receive revenue from sales of products through our partners," Dr. Najafi predicts, adding it would not economically feasible for NovaBay to build its own sales force for the huge wound healing market.
However, NovaBay is evaluating the potential of building its own sales force if NVC-422 is cleared to treat UCBE and associated urinary tract infections. The company estimates that in the U.S. alone, there are 330,000 patients who are permanently catheterized, giving rise to a market that could be as high as $300 million a year in the U.S.
Last November, NovaBay disclosed that in Part 1 of its two-part Phase IIb trial, NVC-422 was able to prevent catheter blockage in 80% of patients with spinal cord injury. Part 2 of the study is currently underway using an advanced formulation of NVC-422 to treat patients under the same study protocol, with results expected in June or July this year.
"Our plan is to partner this program in Europe and Asia and then move into a Phase 3 trial in the U.S. around the beginning of 2013," Dr. Najafi says.
NovaBay expects the new formulation of NVC-422 to reduce the number of required catheter irrigations, from the current standard of care of two or three treatments a day to only three treatments a week. "We anticipate that this dramatic decrease in the number of treatments, as well as improved continence, will greatly enhance the quality of life for patients and their caregivers," he says.
Dr. Najafi points out that another key differentiator for NVC-422 is that it is the "only therapy" with the potential to reduce morbidity and mortality by killing the pathogens responsible for the formation of bladder stones and UCBE. "By maintaining catheter patentcy and reducing the number of catheter changes, we also expect treatment with NVC-422 will further improve the quality of life for these patients by lowering the potential risk for urinary tract infection."
NovaBay's pink eye or viral conjunctivitis program was originally partnered with ophthalmology giant Alcon, which returned NVC-422 to NovaBay after a clinical study did not meet its original endpoints. After further analysis, NovaBay found clinically significant results from a large subgroup of patients with the sight-threatening form of adenoviral conjunctivitis.
"That's the basis of our global Phase 2b study, which should get underway in the second quarter this year, initially starting in the U.S., and then followed by Brazil and India," Dr. Najafi says.
"Depending on the conversations we might have with the FDA and depending [on] whether the endpoints we pick for this study are accepted by them, the trial could be one of our two pivotal trials required for registration," he adds.
Last October, David Stroman joined NovaBay from Alcon to become the senior VP of ophthalmic drug development. He will oversee development of NVC-422 in ophthalmic indications, including adenoviral conjunctivitis.
There is no FDA-approved treatment for viral conjunctivitis, and the company figures the market potential of NVC-422 to be an estimated $300 million a year.
In dermatology, NovaBay's impetigo program has been partnered with industry leader Galderma S.A. of Switzerland, which expects to begin a global Phase 2b trial with the NVC-422 gel early in the second half of this year. "Like our viral conjunctivitis program, we're hoping the trial will qualify as one of two pivotal Phase 3 trials," Dr. Najafi says.
The company has the potential to receive up to $62 million in milestones from Galderma and escalating double-digit royalties on net sales. NovaBay figures impetigo has a worldwide market potential of $600 million a year.
Aganocide® Clinical Program Timelines
"We're heading toward several value inflection points with NeutroPhase and our Aganocide pipeline, which has the potential to become a logical and much needed alternative to traditional topical antibiotics that currently address large global markets," Dr. Najafi says.
Disclosure: I have no positions in any stocks mentioned, and no plans to initiate any positions within the next 72 hours.