By Josh Constine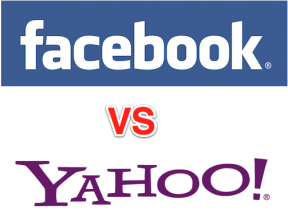 In response to being sued by Yahoo (YHOO) for patent infringement last month, Facebook (FB) today filed counter-claims against Yahoo for infringing 10 of its own patents. Facebook says the following Yahoo features and properties violate its intellectual property: Yahoo Home Page, Yahoo's Content Optimization and Relevance Engine ("C.O.R.E."), the Yahoo Flickr photo sharing service, and advertisements displayed throughout Yahoo. Facebook also denied the original claims against it from Yahoo, seeks damages for Yahoo's infringement, and requests a trial by jury.
The two lawsuits could effectively end up causing a stalemate between the companies that could prevent Facebook from having to pay exorbitant patent licensing fees to Yahoo or having to shut down some of its services. Facebook's legal response and full counter-claim can be seen here and below.
Facebook shared a statement from its General Counsel Ted Ullyot explaining, "From the outset, we said we would defend ourselves vigorously against Yahoo's lawsuit, and today we filed our answer as well as counter-claims against Yahoo for infringing ten of Facebook's patents. While we are asserting patent claims of our own, we do so in response to Yahoo's short-sighted decision to attack one of its partners and prioritize litigation over innovation."
Facebook's response asks that Yahoo's suit against it be dismissed with prejudice, claims it does not infringe on Yahoo's patents, says Yahoo's claims are invalid and/or unenforceable, says Yahoo has infringed on Facebook's patents, asks damages be awarded for this infringement, asks that Yahoo pay for all costs of the lawsuits, and that Yahoo be prevented from suing over the same patents in the future.
Yahoo's response to the New York Times Dealbook regarding Facebook's counter-claims was "A Yahoo representative said in a statement: "We have only just received Facebook's answer and counterclaims, but on their face we believe they are without merit and nothing more than a cynical attempt to distract from the weakness of its defense."
So here's the story so far. On February 27th, Yahoo announced claims that Facebook was infringing on 10 of its patents. On March 13th, Yahoo formally began suing Facebook, leading many in the tech industry to criticize Yahoo for patent trolling rather than innovating. The move was especially dastardly considering Facebook's viral channels have led to huge referral traffic boosts for Yahoo's news properties over the last few months.
Many of the patents Yahoo is suing Facebook for are vague, and could be interpreted to cover social technology found in wide variety of popular websites (though one patent for unified messaging was more specific and possibly more enforceable). Facebook purchased 750 patents from IBM on March 22nd, seemingly to defend itself. However, most and possibly all of the patents from Facebook's countersuit come from its own employees or elsewhere, not IBM.
Now the legal teams of the two companies will have to analyze each other's claims and consider whether to negotiate and settle the dispute or let it go to trial.
Here's the list of patents Facebook is suing Yahoo for infringing:
U.S. Patent No. 7,827,208: "Generating a Feed of Stories Personalized for Members of a Social Network"
U.S. Patent No. 7,945,653: "Tagging Digital Media"
U.S. Patent No. 6,288,717: "Headline Posting Algorithm"
U.S. Patent No. 6,216,133: "Method for Enabling a User to Fetch a Specific Information Item from a Set of Information Items and a System for Carrying Out Such a Method"
U.S. Patent No. 6,411,949: "Customizing Database Information for Presentation with Media Selections"
U.S. Patent No. 6,236,978: "System and Method for Dynamic Profiling of Users in One-to-One Applications"
U.S. Patent No. 7,603,331: "System and Method for Dynamic Profiling of Users in One-to-One
Applications and for Validating User Rules"
U.S. Patent No. 8,103,611: "Architectures, Systems, Apparatus, Methods, and Computer- Readable Medium for Providing Recommendations to Users and Applications Using Multidimensional Data"
U.S. Patent No. 8,005,896: "System for Controlled Distribution of User Profiles Over a Network"
U.S. Patent No. 8,150,913: "System for Controlled Distribution of User Profiles Over a Network"